Abstract
Background
Over the years, the techniques of performing abdominoplasty have been modified and altered. Some of these modifications include progressive tension suturing and preservation of sub-Scarpa fat. These alterations have been done to decrease the risk of postoperative seroma and hematoma formation. Abdominoplasty, without the use of drains, is well documented in the literature. Here, the authors describe that raising superficial flaps (in the sub-Scarpa fat plane) will reduce seroma formation risk. As a result, the use of drains and tension suturing can be avoided altogether.
Methods
A retrospective study was conducted from January 2015 to January 2018. The data of patients were extracted from admission files and operative notes. All the procedures were done under general anesthesia using the same operative technique by a single surgeon at the same institute. This article describes the operative technique used, observations, and result in comparison to the literature.
Results
A total of 100 patients were included in the study for over three years; 89% were females, and the average age was 40 years, with a mean BMI of 25.1 kg/m2. Liposuction was performed concomitantly in 56 patients, and rectus plication was done in 47. The overall complication rate was 14%, with the incidence of seroma and hematoma formation being 6% and 2%, respectively. This is comparable to the incidence found in the literature. The average hospital stay was 1.7 days, and the patients were followed for up to 6 months.
Conclusion
Abdominoplasty, when performed in superficial planes with preservation of sub-Scarpa fat, is safe in terms of improved flap vascularity and beneficial in reducing the risk of seroma and hematoma formation. It can be safely performed without drains or progressive tension suturing and reduces the operative time required, patient discomfort, and hospital-stay period.
Level of Evidence IV
This journal requires that authors assign a level of evidence to each article. For a full description of these Evidence-Based Medicine ratings, please refer to the Table of Contents or the online Instructions to Authors www.springer.com/00266.
Access options
Buy single article
Instant access to the full article PDF.
US$ 39.95
Tax calculation will be finalised during checkout.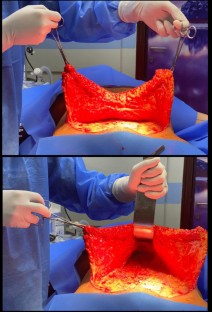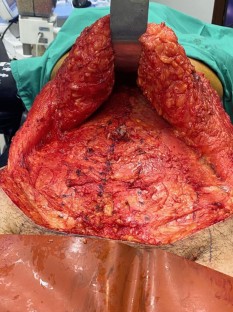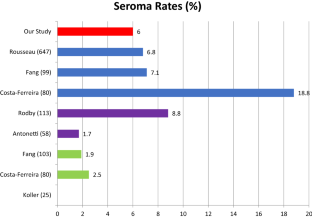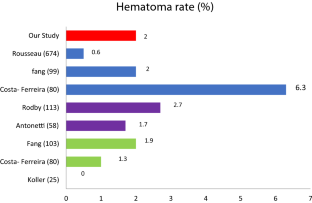 References
1.

Awf A. Quaba, F.R.C.S. (2015) (Plast.) Samantha Conlin, M.B.Ch.B. Omar Quaba, F.R.C.S.(Plast.). The No-Drain, No-Quilt Abdominoplasty: A Single-Surgeon Series of 271 Patients. Plast. Reconstr. Surg. 135: 751,

2.

Antonetti JW, Antonetti AR (2010) Reducing seroma in outpatient abdominoplasty: analysis of 516 consecutive cases. AesthetSurg J. 30:418–425

3.

Vasconez LO, De La Torre JI (2005) Abdominoplasty. In: Mathes SJ, Hentz VR (eds) Plastic Surgery, 2nd edn. Saunders, Philadelphia, pp 87–117

4.

Fang RC, Lin SJ, Mustoe TA (2010) Abdominoplasty flap elevation in a more superficial plane: decreasing the need for drains. PlastReconstr Surg. 125:677–682

5.

Le Louarn C (1996) Partial subfascialabdominoplasty. Aesthetic Plast Surg. 20:123–127

6.

Pollock H, Pollock T (2000) Progressive tension sutures: a technique to reduce local complications in abdominoplasty. PlastReconstr Surg. 105:2583–2586

7.

Warner JP, Gutowski KA (2009) Abdominoplasty with progressive tension closure using a barbed suture technique. AesthetSurg J. 29:221–225

8.

Saldanha OR (2011) Discussion: abdominoplasty with suction undermining and plication of the superficial fascia without drains: a report of 113 consecutive patients. PlastReconstr Surg. 128:982–983

9.

Khan UD (2008) Risk of seroma with simultaneous liposuction and abdominoplasty and the role of progressive tension sutures. Aesthetic Plast Surg. 32:93–99; discussion 100

10.

Pollock TA, Pollock H (2012) Progressive tension sutures in abdominoplasty: a review of 597 consecutive cases. AesthetSurg J. 32:729–742

11.

Stoff A, Reichenberger MA, Richter DF (2007) Comparing the ultrasonically activated scalpel (Harmonic) with high-frequency electrocautery for postoperative serous drainage in massive weight loss surgery. PlastReconstr Surg. 120:1092–1093

12.

Huger WE Jr (1979) The anatomic rationale for abdominal lipectomy. Am Surg. 45:612–617

13.

Matarasso A (1991) Abdominolipoplasty: a system of classification and treatment for combined abdominoplasty and suctionassistedlipectomy. Aesthetic Plast Surg. 15:111–121

14.

Zimman OA, Butto CD, Ahualli PE (2001) Frequency of seroma in abdominal lipectomies. PlastReconstr Surg. 108:1449–1451

15.

Kosins AM, Scholz T, Cetinkaya M, Evans GRD (2013) Evidence-based value of subcutaneous surgical wound drainage: the largest systematic review and metaanalysis. PlastReconstr Surg. 132:443–450

16.

Chaouat M, Levan P, Lalanne B, Buisson T, Nicolau P, Mimoun M (2000) Abdominal dermolipectomies: early postoperative complications and long-term unfavorable results. PlastReconstr Surg. 106:1614–1618

17.

Rodby KA, Stepniak J, Eisenhut N, Lentz CW III (2011) Abdominoplasty with suction undermining and plication of the superficial fascia without drains: a report of 113 consecutive patients. PlastReconstr Surg. 128:973–981

18.

Stewart KJ, Stewart DA, Coghlan B, Harrison DH, Jones BM, Waterhouse N (2006) Complications of 278 consecutive abdominoplasties. J PlastReconstrAesthet Surg. 59:1152–1155

19.

Aly A (2010) Editorial comment on "No-drain abdominoplasty with progressive tension sutures." ClinPlast Surg. 37:525

20.

Costa-Ferreira A, Rebelo M, Silva A, Vásconez LO, Amarante J (2013) Scarpa fascia preservation during abdominoplasty: randomized clinical study of efficacy and safety. PlastReconstr Surg. 131:644–651

21.

Rousseau P, Vincent H, Potier B, Arnaud D, Darsonval V (2011) Diathermocoagulation in cutting mode and large flap dissection. PlastReconstr Surg. 127:2093–2098

22.

Felmerer G, Muehlberger T, Berens von Rautenfeld D, Vogt PM. The lymphatic system of the deep inferior epigastric artery perforator flap: An anatomical study. Br J Plast Surg. 2002;55:335–339

23.

Koller M, Hintringer T (2012) Scarpa fascia or rectus fascia in abdominoplasty flap elevation: a prospective clinical trial. Aesthetic Plast Surg. 36:241–243

24.

Özdoğan M, Yilmaz KB, Özaslan C, Gürer A, Gülbahar Ö, Ersoy E (2008) Scalpel versus electrocautery dissections: the effect on wound complications and pro-inflammatory cytokine levels in wound fluid. Turkish J Med Sci. 38:000–000
Ethics declarations
Conflicts of interest
The authors declare that they have no conflicts of interest to disclose.
Human and animal rights
This article does not contain any studies with human participants or animals performed by any of the authors.
Informed consent
For this type of study, formal consent is not required, as it is a retrospective study.
Additional information
Publisher's Note
Springer Nature remains neutral with regard to jurisdictional claims in published maps and institutional affiliations.
About this article
Cite this article
Khan, F.A.A., Fatima, M. Abdominoplasty without Drains or Progressive Tension Suturing. Aesth Plast Surg (2021). https://doi.org/10.1007/s00266-021-02177-8
Received:

Accepted:

Published:
Keywords
Abdominoplasty

Sub-scarpa fat preservation

No-drain technique

No quilting