Abstract
Background
Patients are looking for procedures which are minimally invasive and consequently incur minimal downtime. However, these procedures are not usually long lasting and have limited outcomes both esthetically and functionally. For these reasons, the number of patients seeking surgical rhinoplasty and who have previous nasally injected hyaluronic acid is increasing.
Methods
The aim of this article is to provide the surgeon with information for both the identification and surgical approach for those patients who seek nasal cosmetic surgery, and who have previously been treated with nasal injections of hyaluronic acid filler.
Results
We present cases that illustrate the use of this approach and suggest three possible patient management.
Conclusions
There are three possible approaches: wait HA to be naturally reabsorbed; apply hyaluronidase before the surgery or proceed to rhinoplasty with no prior application of hyaluronidase. The physician must be aware of this progression and know how to manage each case to optimize the surgical outcome.
Level of Evidence IV
This journal requires that authors assign a level of evidence to each article. For a full description of these Evidence-Based Medicine Ratings, please refer to Table of Contents or online Instructions to Authors www.springer.com/00266.
Access options
Buy single article
Instant access to the full article PDF.
US$ 39.95
Tax calculation will be finalised during checkout.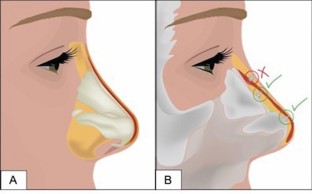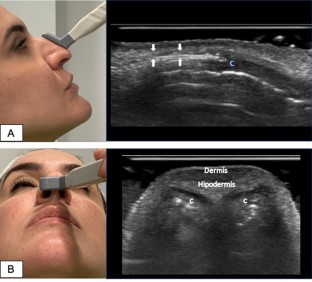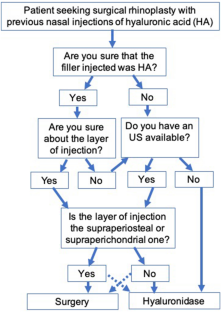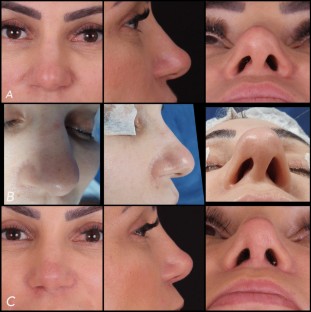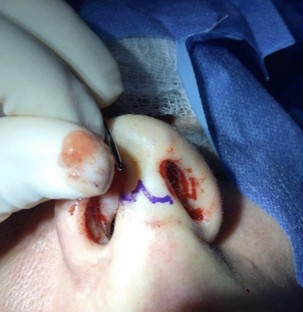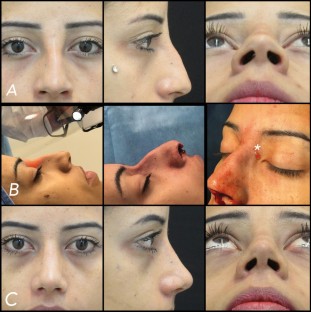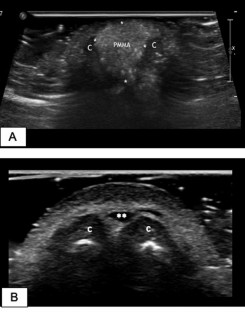 References
1.

American Society of Plastics Surgeons (2018) Plastic surgery statistics report. 2018 plastic surgery statistics, ASPS Public Relations

2.

Thomas WW, Bucky L, Friedman O (2016) Injectables in the nose: facts and controversies. Facial Plast Surg Clin N Am 24:379–389

3.

Kontis TC (2017) Nonsurgical rhinoplasty. JAMA Facial Plast Surg 19:430–431

4.

Greene JJ, Sidle DM (2015) The hyaluronic acid fillers: current understanding of the tissue device interface. Facial Plast Surg Clin N Am 23:423–432

5.

Ramos HHA, Bernardino IPL, Rocha RCC (2020) Hyaluronic acid filler in the treatment for drooping tip: anatomical concepts and clinical results. Aesthet Plast Surg. https://doi.org/10.1007/s00266-020-01836-6

6.

Liew S, Scamp T, de Maio M, Halstead M, Johnston N, Silberberg M, Rogers JD (2016) Efficacy and safety of a hyaluronic acid filler to correct aesthetically detracting or deficient features of the Asian nose: a prospective, open-label, long-term study. Aesthet Surg J 36(7):760–772

7.

Daniel RK, Letourneau A (1988) Rhinoplasty: nasal anatomy. Ann Plast Surg 20:5–13

8.

Dey JK, Recker CA, Olson MD, Bowen AJ, Panda A, Kostandy PK, Lane JI, Hamilton GS 3rd (2019) Assessing nasal soft-tissue envelope thickness for rhinoplasty: normative data and a predictive algorithm. JAMA Facial Plast Surg 21:511–517

9.

Tansatit T, Apinuntrum P, Phetudom T (2017) Facing the worst risk: Confronting the dorsal nasal artery, implication for non-surgical procedures of nasal augmentation. Aesthet Plast Surg 41:191–198

10.

Lee W, Kim J-S, Oh W, Koh I-S, Yang E-J (2019) Nasal dorsum augmentation using soft tissue filler injection. J Cosmet Dermatol. https://doi.org/10.1111/jocd.13018

11.

Cavallieri FA (2020) Advantages of sonography in fillers and complications. In: Bard RL (ed) Image Guided Dermatologic Treatments. Springer International Publishing, Cham, pp 93–101. https://doi.org/10.1007/978-3-030-29236-2_9

12.

Jones D, Tezel A, Borrell M (2010) In vitro resistance to degradation of hyaluronic acid dermal fillers by ovine testicular hyaluronidase. Dermatol Surg 36:804–809

13.

Landau M (2015) Hyaluronidase caveats in treating filler complications. Dermatol Surg 41:S347

14.

Herrmann JL, Hoffmann RK, Ward CE, Schulman JM, Grekin RC (2018) Biochemistry, physiology, and tissue interactions of contemporary biodegradable injectable dermal fillers. Dermatol Surg 44(1):S19–S31

15.

Quezada-Gaón N, Wortsman X (2016) Ultrasound-guided hyaluronidase injection in cosmetic complications. J Eur Acad Dermatol Venereol 30:e39–e40
Funding
The authors received no financial support for the research, authorship, and publication of this article.
Ethics declarations
Conflict of interest
The authors declare no potential conflicts of interest with respect to the research, authorship, and publication of this article.
Ethical Approval
This article does not contain any studies with human participants or animals performed by any of the authors.
Informed Consent
All patients provided written consent for the use of their images.
Additional information
Publisher's Note
Springer Nature remains neutral with regard to jurisdictional claims in published maps and institutional affiliations.
Supplementary information
About this article
Cite this article
Ramos, H.H.A., Freire, L., Cavallieri, F. et al. Management of Patients Seeking Surgical Rhinoplasty with Previous Nasal Injections of Hyaluronic Acid. Aesth Plast Surg (2021). https://doi.org/10.1007/s00266-021-02136-3
Received:

Accepted:

Published:
Keywords
Rhinoplasty

Nose

Filler

Nonsurgical rhinoplasty

Surgical rhinoplasty

Hyaluronic acid filler

injectables