Abstract
Background
Increased scrotal laxity is a poorly defined entity often associated with discomfort while wearing loose clothes, walking, doing sports and during intercourse. In our experience, this condition is produced by an enlarged scrotal bag hanging more than 1–2 cm below the tip of the penis and can be associated with persistent penoscrotal webbing. Our objective was to perform a systematic literature review addressing the diversity of this entity and its surgical treatment, as well as propose a diagnostic and therapeutic approach.
Methods
A systematic search strategy was performed following PRISMA guidelines under the terms: Scrotum(Mesh), Plastic Surgery(Mesh), Reduction Surgery, Scrotoplasty, Ventral Phalloplasty, Scrotomegaly, Penoscrotal Web, Webbed Penis(Mesh), Scrotal Lifting, Scrotopexy and Scrotal Tuck. Articles referring to scrotum reduction or plasty in male genital rejuvenation context and ventral phalloplasty related to adult penoscrotal webbing correction were considered eligible for analysis. A management algorithm and surgical technique is proposed along with the results.
Results
A total of 1430 articles were found. After removing duplicates and applying inclusion and exclusion criteria, 11 articles were eligible for analysis. Most articles corresponded to case reports or surgical technique descriptions. Based on correcting excessive scrotal skin and/or penoscrotal webbing, we propose a vertical midline scrotal skin resection and a penoscrotal junction Z plasty, respectively.
Conclusions
Aesthetic scrotoplasty and scrotal rejuvenation surgical techniques still remain as entities poorly addressed in the international literature. More reported experiences are needed in order to complement our proposed management algorithm and develop a nomenclature, diagnostic and treatment consensus.
Level of Evidence IV
This journal requires that authors assign a level of evidence to each article. For a full description of these Evidence-Based Medicine ratings, please refer to Table of Contents or the online Instructions to Authors www.springer.com/00266. Genital Surgery
Access options
Buy single article
Instant access to the full article PDF.
US$ 39.95
Tax calculation will be finalised during checkout.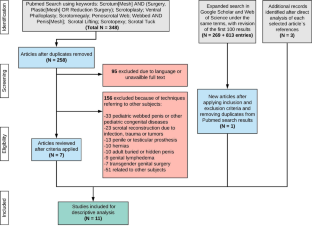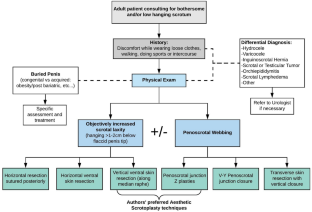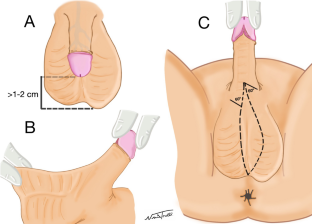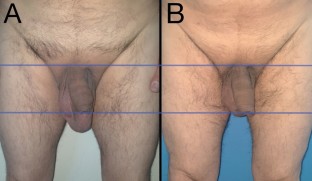 References
1.

(2019) ISAPS International Survey on Aesthetic / Cosmetic Procedures Performed in 2018. https://www.isaps.org/medical-professionals/isaps-global-statistics/. Accessed 20 Jun 2020

2.

Alter GJ, Salgado CJ, Chim H (2011) Aesthetic surgery of the male genitalia. Semin Plast Surg 25:189–195

3.

Liguori G, Ollandini G, Napoli R et al (2012) Anatomy of the scrotum. In: Bertolotto M, Trombetta C (eds) Scrotal pathology. Springer, Heidelberg, pp 27–34

4.

Cohen PR (2018) Scrotal rejuvenation. Cureus 10:e2316

5.

Cohen PR (2019) Nonsurgical rejuvenation of scrotal laxity: the sutures can raise by orienting threads in an upward manner (SCROTUM) procedure. Skinmed 17:118–120

6.

Cohen PR (2018) Genital rejuvenation: the next frontier in medical and cosmetic dermatology. Dermatol Online J 24:3

7.

Lorenzo AJ, Sowerby RJ, Kanaroglou N (2015) Preliminary report on a new surgical technique for the management of bothersome scrotomegaly in selected adolescent males. J Pediatr Urol 11:295–298

8.

Ehle JJ, Hutcheson JC, Snyder HM 3rd, Cooper CS (2000) Idiopathic congenital dysmorphic megascrotum. Urol Int 65:218–219

9.

Glanz S (1968) Adult congenital penile deformity. Case rep Plast Reconstr Surg 41:579–580

10.

Alter GJ (2007) Correction of penoscrotal web. J Sex Med 4:844–847

11.

Chang S-J, Liu S-P, Hsieh J-T (2008) Correcting penoscrotal web with the V-Y advancement technique. J Sex Med 5:249–250

12.

Gil T, Metanes I, Aman B et al (2010) The five-flap technique for the correction of post-circumcision peno-scrotal webbing. J Plast Reconstr Aesthet Surg 63:e325–e326

13.

Agrawal R, Chaurasia D, Jain M (2010) Webbed penis: a rare case. Kathmandu Univ Med J 8:95–96

14.

Chen Y-B, Ding X-F, Luo C et al (2012) A new plastic surgical technique for adult congenital webbed penis. J Zhejiang Univ Sci B 13:757–760

15.

El-Koutby M, Mohamed Amin EG (2010) Webbed penis: a new classification. J Indian Assoc Pediatr Surg 15:50–52

16.

Borsellino A, Spagnoli A, Vallasciani S et al (2007) Surgical approach to concealed penis: technical refinements and outcome. Urology 69:1195–1198

17.

Perlmutter AD, Chamberlain JW (1972) Webbed penis without chordee. J Urol 107:320–321

18.

Redman JF (1985) A Technique for the correction of penoscrotal fusion. J Urol 133:432–433

19.

Bonitz RP, Hanna MK (2016) Correction of congenital penoscrotal webbing in children: a retrospective review of three surgical techniques. J Pediatr Urol 12:161.e1–5

20.

Aulia I, Yessica EC (2020) Surgical management of male genital lymphedema: a systematic review. Arch Plast Surg 47:3–8

21.

Tela UM, Ibrahim MB (2012) Scrotal calcinosis: a case report and review of pathogenesis and surgical management. Case Rep Urol 2012:475246

22.

Deverill SJ, Menzies-Wilson R, Rees RW (2020) Point of technique: limited anterior scrotectomy and scrotoplasty for multiple epidermoid cysts of the scrotum. J Clin Urol 46:205141582092782

23.

Hofer MD, Dumanian GA, Felício J, Martins FE (2020) Updates in the management of benign and malignant scrotal conditions: issues on surgical ablation and reconstruction. AME Med J 5:27–27

24.

Lee KCJ, Brock GB (2013) Strategies for maintaining penile size following penile implant. Transl Androl Urol 2:67–73

25.

Miranda-Sousa A, Keating M, Moreira S et al (2007) Concomitant ventral phalloplasty during penile implant surgery: a novel procedure that optimizes patient satisfaction and their perception of phallic length after penile implant surgery. J Sex Med 4:1494–1499

26.

Maizels M, Zaontz M, Donovan J et al (1986) Surgical correction of the buried penis: description of a classification system and a technique to correct the disorder. J Urol 136:268–271

27.

Alter GJ (2012) Pubic contouring after massive weight loss in men and women: correction of hidden penis, mons ptosis, and labia majora enlargement. Plast Reconstr Surg 130:936–947

28.

Tausch TJ, Tachibana I, Siegel JA et al (2016) Classification system for individualized treatment of adult buried penis syndrome. Plast Reconstr Surg 138:703–711
Acknowledgement
Authors would like to thank Dr. Juan Enrique Berner for his contribution revising the final version of this manuscript.
Funding
The authors received no financial support for the research, authorship or publication of this article.
Ethics declarations
Conflict of Interest
The authors declared that they have no conflict of interest.
Ethical Approval
All procedures performed involving human participants were in accordance with the ethical standards of the institutional and/or national research committee and with the 1964 Helsinki Declaration and its later amendments or comparable ethical standards.
Informed Consent
Patient pictures have been anonymized and authorized for publication after filling the institutional consent form.
Copyright Information
This article's content has not been published, submitted or presented elsewhere. Illustrations were done by author Alfonso Navia and therefore rights are given by the author to the present journal.
Additional information
Publisher's Note
Springer Nature remains neutral with regard to jurisdictional claims in published maps and institutional affiliations.
Electronic supplementary material
Below is the link to the electronic supplementary material.
Our preferred aesthetic scrotoplasty technique is shown in a 65-year-old healthy male consulting with objective scrotal laxity and penoscrotal webbing. (MP4 91842 kb)
About this article
Cite this article
Thomas, C., Navia, A. Aesthetic Scrotoplasty: Systematic Review and a Proposed Treatment Algorithm for the Management of Bothersome Scrotum in Adults. Aesth Plast Surg 45, 769–776 (2021). https://doi.org/10.1007/s00266-020-01998-3
Received:

Accepted:

Published:

Issue Date:
Keywords
Aesthetic scrotoplasty

Scrotum reduction surgery

Scrotal lifting

Scrotomegaly

Scrotopexy