Abstract
Background
Dermal fillers are increasingly popular for facial rejuvenation and enhancement, including effacement of nasolabial folds (NLFs) and marionette lines and lip augmentation. This study aimed to evaluate casual observer perception of physical and interpersonal traits of subjects who receive filler treatment.
Methods
An anonymous survey of 8 before/after treatment photographical sets was administered in Likert scale format (1–7) using online crowdsourcing. Three sets of photographs were before/after NLF/ marionette line treatment, three of lip augmentation, and two internal controls. Respondents were surveyed on personal demographics, as well as perceptions of subject photographs across nine domains (facial symmetry, confidence, likeability, youthfulness, trustworthiness, attractiveness, intelligence, approachability, happiness).
Results
In total, 260 respondents completed the survey. The majority were male (63.1%), Caucasian (58.1%), 18–34 years old (58.1%), and college graduates (66.2%). Respondents rated photographs with line filler treatment and lip filler treatment as significantly improved compared to the pre-treatment photographs across all nine trait domains [p < 0.001, for all]. No differences were found between the control photosets [p > 0.05, for all]. Middle-aged respondents (35–55 years) were more likely to perceive treated filler photographs as more youthful than younger respondents (18–34 years) [p < 0.006] Additionally, respondents with lower educational attainment (high-school graduate or less) were more likely to perceive treated patients as less intelligent compared to higher-educated respondents (college/postgraduates) [p < 0.05, for both].
Conclusion
The use of dermal fillers for treatment of NLF/marionette lines and lip augmentation have significant associations with the perception of improved attractiveness and several personality traits. Additionally, casual observer demographic subgroups may influence perceptions.
Level of Evidence IV
This journal requires that authors assign a level of evidence to each article. For a full description of these Evidence-Based Medicine ratings, please refer to the Table of Contents or the online Instructions to Authors www.springer.com/00266.
Access options
Buy single article
Instant access to the full article PDF.
US$ 39.95
Tax calculation will be finalised during checkout.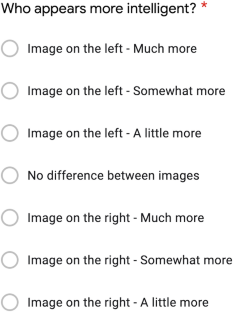 References
1.

Willis J, Todorov A (2006) First impressions: making up your mind after a 100-ms exposure to a face. Psychol Sci 17(7):592–598

2.

Todorov A, Olivola CY, Dotsch R, Mende-Siedlecki P (2015) Social attributions from faces: determinants, consequences, accuracy, and functional significance. Annu Rev Psychol 66:519–545

3.

Snyder M, Berscheid E, Glick P (1985) Focusing on the exterior and the interior: Two investigations of the initiation of personal relationships. J Pers Soc Psychol 48(6):1427–1439

4.

Bruce V, Young A (1998) In the eye of the beholder: the science of face perception. Oxford University Press, New York

5.

Zebrowitz LA (2017) First Impressions from faces. Curr Dir Psychol 26(3):237–242

6.

Rhodes G (2006) The evolutionary psychology of facial beauty. Annu Rev Psychol 57:199–226

7.

Rydell RJ, McConnell AR, Mackie DM, Strain LM (2006) Of Two minds: forming and changing valence-inconsistent implicit and explicit attitudes. Psychol Sci 17(11):954–958

8.

Mann TC, Ferguson MJ (2015) Can we undo our first impressions? The role of reinterpretation in reversing implicit evaluations. J Pers Soc Psychol 108(6):823–849

9.

Dayan S, Clark K, Ho AA (2004) Altering first impressions after facial plastic surgery. Aesthetic Plast Surg 28(5):301–306

10.

Wilson AJ, Taglienti AJ, Chang CS, Low DW, Percec I (2016) Current applications of facial volumization with fillers. Plast Reconstr Surg 137(5):872e–e889

11.

Mckee D, Remington K, Swift A, Lambros V, Comstock J, Lalonde D (1289e) Effective rejuvenation with hyaluronic acid fillers: current advanced concepts. Plast Reconstr Surg 143(6):1277e–1289e

12.

Carruthers A, Carruthers J (2007) Non-animal-based hyaluronic acid fillers: scientific and technical considerations. Plast Reconstr Surg 120(6 Suppl):33S–40S

13.

Rohrich RJ, Bartlett EL, Dayan E (2019) Practical approach and safety of hyaluronic acid fillers. Plast Reconstr Surg Glob Open 7(6):e2172–e2172

14.

Bater KL, Ishii LE, Papel ID et al (2017) Association between facial rejuvenation and observer ratings of youth, attractiveness, success, and health. JAMA Facial Plast Surg 19(5):360–367

15.

Dayan SH, Arkins JP, Patel AB, Gal TJ (2010) A double-blind, randomized, placebo-controlled health-outcomes survey of the effect of botulinum toxin type a injections on quality of life and self-esteem. Dermatol Surg 36(Suppl 4):2088–2097

16.

Lu SM, Hsu DT, Perry AD et al (2018) The public face of rhinoplasty: impact on perceived attractiveness and personality. Plast Reconstr Surg 142(4):881–887

17.

Kwart DG, Foulsham T, Kingstone A (2012) Age and beauty are in the eye of the beholder. Perception 41(8):925–938

18.

Mazzaferro DM, Wes AM, Naran S, Pearl R, Bartlett SP, Taylor JA (2017) Orthognathic surgery has a significant effect on perceived personality traits and emotional expressions. Plast Reconstr Surg 140(5):971–981

19.

Samson N, Fink B, Matts PJ, Dawes NC, Weitz S (2010) Visible changes of female facial skin surface topography in relation to age and attractiveness perception. J Cosmet Dermatol 9(2):79–88

20.

Grablowitz D, Sulovsky M, Höller S, Ivezic-Schoenfeld Z, Chang-Rodriguez S, Prinz M (2019) Safety and efficacy of princess(®) filler lidocaine in the correction of nasolabial folds. Clin Cosmet Investig Dermatol 12:857–864

21.

Weinkle SH, Werschler WP, Teller CF et al (2018) Impact of comprehensive, minimally invasive, multimodal aesthetic treatment on satisfaction with facial appearance: the harmony study. Aesthet Surg J 38(5):540–556

22.

Gordon RA, Crosnoe R, Wang X (2013) Physical attractiveness and the accumulation of social and human capital in adolescence and young adulthood: assets and distractions. Monogr Soc Res Child Dev 78(6):1–137

23.

Ward B, Ward M, Paskhover B (2018) Google trends as a resource for informing plastic surgery marketing decisions. Aesthet Plast Surg 42(2):598–602

24.

Harrar H, Myers S, Ghanem AM (2018) Art or science? An evidence-based approach to human facial beauty a quantitative analysis towards an informed clinical aesthetic practice. Aesthet Plast Surg 42(1):137–146

25.

Popenko NA, Tripathi PB, Devcic Z, Karimi K, Osann K, Wong BJF (2017) A quantitative approach to determining the ideal female lip aesthetic and its effect on facial attractiveness. JAMA Facial Plast Surg 19(4):261–267

26.

Kruger J, Dunning D (1999) Unskilled and unaware of it: how difficulties in recognizing one's own incompetence lead to inflated self-assessments. J Pers Soc Psychol 77(6):1121–1134
Funding
No funding was received for the research or production of this study.
Ethics declarations
Conflict of interest
Dr. Bloom is a consultant, clinical investigator, trainer and is on the speaker's bureau of Allergan. All other authors report no relevant disclosures to this study.
Informed Consent
All respondents were briefed with informed consent prior to the survey.
Human and Animal Rights
All procedures performed in studies involving human participants were in accordance with the ethical standards of the institutional and/or national research committee and with the 1964 Helsinki Declaration and its later amendments or comparable ethical standards.
Additional information
Publisher's Note
Springer Nature remains neutral with regard to jurisdictional claims in published maps and institutional affiliations.
About this article
Cite this article
Othman, S., Cohn, J.E., Daggumati, S. et al. The Impact of Dermal Fillers on Perceived Personality Traits and Attractiveness. Aesth Plast Surg 45, 273–280 (2021). https://doi.org/10.1007/s00266-020-01888-8
Received:

Accepted:

Published:

Issue Date:
Keywords
Dermal filler

Hyaluronic acid filler

Nasolabial folds

Marionette lines

Perception

Personality

Lip augmentation

Attractiveness