Abstract
Background
Breast reshaping or mastopexy following massive weight loss can be challenging. The LOPOSAM (lower pole subglandular advancement mastoplasty) technique has shown promising results for correction of ptotic, wide, lateralized and deflated breasts following massive weight loss.
Materials and Methods
We compared the LOPOSAM technique to the mastopexy technique after massive weight loss described by Rubin JP, in a randomized trial. The main outcome measure was the total operative time. Secondary outcomes measures were socio-economic factors; length of hospital stay, numbers of sutures used, secondary corrective procedures, post-operative sick leave and surgeon- and patient-reported appearance of the breasts.
Results
We included 22 women: 11 operated on by the LOPOSAM technique and 11 by the technique described by Rubin JP. The total operative time was 84.8 (SD 12.2) minutes in the LOPOSAM group and 99.1 (SD 23.5) in the Rubin JP group (p = 0.074). There were no differences related to days with drains, length of hospital stay or sick leave between the two groups. The surgeon- and the patient-reported appearance of the breasts changed significantly between the pre-operative and the 12-month post-operative assessments.
Conclusion
The LOPOSAM technique is a safe and quick surgical procedure for correction of ptotic, wide, lateralized and deflated breasts following massive weight loss and seems to provide results comparable to the better-known Rubin JP's technique. There was a trend that the LOPOSAM technique was faster to perform, however, not significant. The breast appearance improved significantly using both techniques when assessed by both surgeons and patients.
Level of Evidence IV
This journal requires that authors assign a level of evidence to each article. For a full description of these Evidence-Based Medicine ratings, please refer to the Table of Contents or the online Instructions to Authors www.springer.com/00266.
Access options
Buy single article
Instant access to the full article PDF.
US$ 39.95
Tax calculation will be finalised during checkout.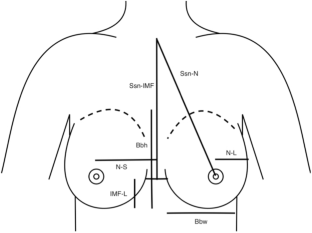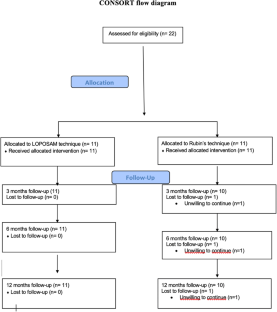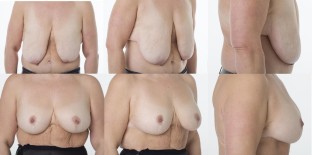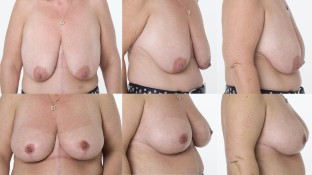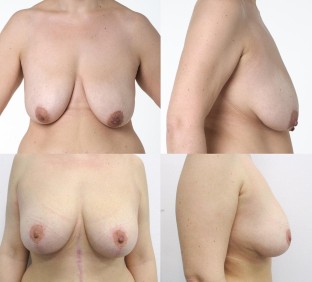 References
1.

Gilmartin J, Bath-Hextall F, Maclean J, Stanton W, Soldin M (2016) Quality of life among adults following bariatric and body contouring surgery: a systematic review. JBI Database Syst Rev Implement Rep. 14(11):240–270

2.

Toma T, Harling L, Athanasiou T, Darzi A, Ashrafian H (2018) Does body contouring after bariatric weight loss enhance quality of life? A systematic review of QOL Studies. Obes Surg 28(10):3333–3341

3.

Ikander P, Gad D, Gunnarsson GL, Boljanovic S, Salzberg A, Sorensen JA et al (2017) Simple reshaping of the breast in massive weight loss patients: promising preliminary results. Ann Plast Surg 78(2):145–148

4.

Rubin JP (2006) Mastopexy after massive weight loss: dermal suspension and total parenchymal reshaping. Aesthet Surg J 26(2):214–222

5.

Rubin JP, Gusenoff JA, Coon D (2009) Dermal suspension and parenchymal reshaping mastopexy after massive weight loss: statistical analysis with concomitant procedures from a prospective registry. Plast Reconstr Surg 123(3):782–789

6.

Biomath.info. Unpaired t-test. http://biomath.info/power/ttest.htm. Accessed June 2015

7.

Harris PA, Taylor R, Thielke R, Payne J, Gonzalez N, Conde JG (2009) Research electronic data capture (REDCap)–a metadata-driven methodology and workflow process for providing translational research informatics support. J Biomed Inform 42(2):377–381

8.

Harris PA, Taylor R, Minor BL, Elliott V, Fernandez M, O'Neal L et al (2019) The REDCap consortium: building an international community of software platform partners. J Biomed Inform 95:103208

9.

Soderman M, Ikander P, Boljanovic S, Gunnarsson GL, Sorensen JA, Thomsen JB (2019) Utilizing the lateral excess for autologous augmentation in massive weight loss patients. Gland Surg 8(Suppl 4):S271–S275

10.

Kwei S, Borud LJ, Lee BT (2006) Mastopexy with autologous augmentation after massive weight loss: the intercostal artery perforator (ICAP) flap. Ann Plast Surg 57(4):361–365

11.

Hammond DC, O'Connor EA (2014) The lower island flap transposition (LIFT) technique for control of the upper pole in circumvertical mastopexy. Plast Reconstr Surg 134(4):655–660

12.

Losken A (2010) Breast reshaping following massive weight loss: principles and techniques. Plast Reconstr Surg 126(3):1075–1085

13.

Calvert JW, Dickinson BP, Patel A, Brenner K (2011) Lateral breast flap with superomedial pedicle breast lift. Aesthet Surg J. 31(6):658–666

14.

Migliori F (2011) Upside-down augmentation mastopexy. Aesthetic Plast Surg 35(4):593–600

15.

Hamdi M, Van Landuyt K, Blondeel P, Hijjawi JB, Roche N, Monstrey S (2009) Autologous breast augmentation with the lateral intercostal artery perforator flap in massive weight loss patients. J Plast Reconstr Aesthet Surg 62(1):65–70

16.

Losken A, Holtz DJ (2007) Versatility of the superomedial pedicle in managing the massive weight loss breast: the rotation-advancement technique. Plast Reconstr Surg 120(4):1060–1068

17.

D'Aniello C, Cuomo R, Grimaldi L, Brandi C, Sisti A, Tassinari J et al (2017) Superior pedicle mammaplasty without parenchymal incisions after massive weight loss. J Investig Surg Off J Acad Surg Res 30(6):410–420

18.

Miotto GC, Eaves FF 3rd (2015) The circumrotational technique for mastopexy. Aesthet Surg J 35(7):796–809

19.

Persichetti P, Tenna S, Brunetti B, Aveta A, Segreto F, Marangi GF (2012) Anterior intercostal artery perforator flap autologous augmentation in bariatric mastopexy. Plast Reconstr Surg 130(4):917–925

20.

Hardy KL, Davis KE, Constantine RS, Chen M, Hein R, Jewell JL et al (2014) The impact of operative time on complications after plastic surgery: a multivariate regression analysis of 1753 cases. Aesthet Surg J. 34(4):614–622

21.

Kim BD, Ver Halen JP, Grant DW, Kim JY (2014) Anesthesia duration as an independent risk factor for postoperative complications in free flap surgery: a review of 1305 surgical cases. J Reconstr Microsurg 30(4):217–226

22.

Kim JY, Khavanin N, Rambachan A, McCarthy RJ, Mlodinow AS, De Oliveria GS Jr. et al (2015) Surgical duration and risk of venous thromboembolism. JAMA Surg 150(2):110–117

23.

Mlodinow AS, Khavanin N, Ver Halen JP, Rambachan A, Gutowski KA, Kim JY (2015) Increased anaesthesia duration increases venous thromboembolism risk in plastic surgery: a 6-year analysis of over 19,000 cases using the NSQIP dataset. J Plast Surg Hand Surg. 49(4):191–197
Acknowledgements
Authors acknowledge OPEN, Open Patient data Explorative Network, Odense University Hospital, Region of Southern Denmark". www.sdu.dk/ki/open.
Ethics declarations
Conflict of interest
The authors declare that they have no conflict of interest.
Ethical Approval
All procedures performed in studies involving human participants were in accordance with the ethical standards of the institutional and/or national research committee and with the 1964 Helsinki declaration and its later amendments or comparable ethical standards". The study protocol was approved by the National Committee on Health Research Ethics (project ID S-20150106) and the General Data Protection Regulation (15/40002). It was registered at ClinicalTrials.gov (NCT02572271).
Informed Consent
Informed consent was obtained from all patients.
Additional information
Publisher's Note
Springer Nature remains neutral with regard to jurisdictional claims in published maps and institutional affiliations.
About this article
Cite this article
Ikander, P., Sørensen, J.A. & Thomsen, J.B. Mastopexy with Autologous Augmentation in Women After Massive Weight Loss: A Randomized Clinical Trial. Aesth Plast Surg 45, 127–134 (2021). https://doi.org/10.1007/s00266-020-01642-0
Received:

Accepted:

Published:

Issue Date:
Keywords
Mastopexy

Massive weight loss

Breasts

Surgical technique

Time

Women