Abstract
New developments in artificial intelligence (AI) offer opportunities to enhance plastic surgery practice, research, and education. In this article, we review relevant AI tools and applications, including machine learning, reinforcement learning, and natural language processing. Our own Markov decision process for keloid treatment illustrates how these models are developed and can be used to enhance decision-making in clinical practice. Finally, we discuss challenges of implementing AI and knowledge gaps that must be addressed to successfully apply AI in plastic surgery.
Level of Evidence V This journal requires that authors assign a level of evidence to each article. For a full description of these Evidence-Based Medicine ratings, please refer to the Table of Contents or the online Instructions to Authors www.springer.com/00266.
Access options
Buy single article
Instant access to the full article PDF.
US$ 39.95
Tax calculation will be finalised during checkout.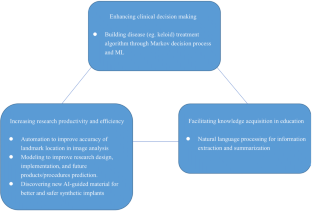 References
1.

Poole D, Mackworth A, Goebel R (1998) Computational intelligence: a logical approach. Oxford University Press, Oxford

2.

Silver D, Huang A, Maddison CJ, Guez A, Sifre L, van den Driessche G, Schrittwieser J, Antonoglou I, Panneershelvam V, Lanctot M, Dieleman S, Grewe D, Nham J, Kalchbrenner N, Sutskever I, Lillicrap T, Leach M, Kavukcuoglu K, Graepel T, Hassabis D (2016) Mastering the game of Go with deep neural networks and tree search. Nature 529:484–489

3.

De Luna P, Wei J, Bengio Y, Aspuru-Guzik A, Sargent E (2017) Use machine learning to find energy materials. Nature 552:23–27

4.

Musib M, Wang F, Tarselli MA, Yoho R, Yu KH, Andres RM, Greenwald NF, Pan X, Lee CH, Zhang J, Dutton-Regester K, Johnston JW, Sharafeldin IM (2017) Artificial intelligence in research. Science 357:28–30

5.

Cyranoski D (2018) China enters the battle for AI talent. Nature 553:260–261

6.

Ramesh AN, Kambhampati C, Monson JR, Drew PJ (2004) Artificial intelligence in medicine. Ann R Coll Surg Engl 86:334–338

7.

Hosny A, Parmar C, Quackenbush J, Schwartz LH, Aerts H (2018) Artificial intelligence in radiology. Nat Rev Cancer 18(8):500–510

8.

Gulshan V, Peng L, Coram M, Stumpe MC, Wu D, Narayanaswamy A, Venugopalan S, Widner K, Madams T, Cuadros J, Kim R, Raman R, Nelson PC, Mega JL, Webster DR (2016) Development and validation of a deep learning algorithm for detection of diabetic retinopathy in retinal fundus photographs. JAMA 316:2402–2410

9.

Kanevsky J, Corban J, Gaster R, Kanevsky A, Lin S, Gilardino M (2016) Big data and machine learning in plastic surgery: a new frontier in surgical innovation. Plast Reconstr Surg 137:890e–897e

10.

Peek N, Combi C, Marin R, Bellazzi R (2015) Thirty years of artificial intelligence in medicine (AIME) conferences: a review of research themes. Artif Intell Med 65:61–73

11.

Hirschberg J, Manning CD (2015) Advances in natural language processing. Science 349:261–266

12.

Aloimonos Y, Rosenfeld A (1991) Computer vision. Science 253:1249–1254

13.

Spyropoulos CD (2000) AI planning and scheduling in the medical hospital environment. Artif Intell Med 20:101–111

14.

Alagoz O, Hsu H, Schaefer AJ, Roberts MS (2010) Markov decision processes: a tool for sequential decision making under uncertainty. Med Decis Mak 30:474–483

15.

Sanchez-Lengeling B, Aspuru-Guzik A (2018) Inverse molecular design using machine learning: generative models for matter engineering. Science 361:360–365

16.

Shortreed SM, Laber E, Lizotte DJ, Stroup TS, Pineau J, Murphy SA (2011) Informing sequential clinical decision-making through reinforcement learning: an empirical study. Mach Learn 84:109–136

17.

Sears ED, Chung KC (2010) Decision analysis in plastic surgery: a primer. Plast Reconstr Surg 126:1373–1380

18.

Hogendoorn W, Moll FL, Sumpio BE, Hunink MG (2016) Clinical decision analysis and markov modeling for surgeons: an introductory overview. Ann Surg 264:268–274

19.

Zuo KJ, Saun TJ, Forrest CR (1306e) Facial recognition technology: a primer for plastic surgeons. Plast Reconstr Surg 143:1298e–1306e

20.

Becker AS, Marcon M, Ghafoor S, Wurnig MC, Frauenfelder T, Boss A (2017) Deep learning in mammography: diagnostic accuracy of a multipurpose image analysis software in the detection of breast cancer. Invest Radiol 52:434–440

21.

Mjolsness E, DeCoste D (2001) Machine learning for science: state of the art and future prospects. Science 293:2051–2055

22.

Levites HA, Thomas AB, Levites JB, Zenn MR (2019) The use of emotional artificial intelligence in plastic surgery. Plast Reconstr Surg 144:499–504

23.

Curtarolo S, Hart GL, Nardelli MB, Mingo N, Sanvito S, Levy O (2013) The high-throughput highway to computational materials design. Nat Mater 12:191–201

24.

Yang D, Zhang S, Yan Z, Tan C, Li K, Metaxas D (2015) Automated anatomical landmark detection ondistal femur surface using convolutional neural network. Biomedical Imaging (ISBI). In: 2015 IEEE 12th international symposium on: IEEE, pp 17–21

25.

O'Connell RL, Stevens RJ, Harris PA, Rusby JE (2015) Review of three-dimensional (3D) surface imaging for oncoplastic, reconstructive and aesthetic breast surgery. Breast 24:331–342

26.

Lee J, Kawale M, Merchant FA, Weston J, Fingeret MC, Ladewig D, Reece GP, Crosby MA, Beahm EK, Markey MK (2011) Validation of stereophotogrammetry of the human torso. Breast Cancer (Auckl) 5:15–25

27.

Deo RC (2015) Machine learning in medicine. Circulation 132:1920–1930

28.

Shah SJ (2017) Innovative clinical trial designs for precision medicine in heart failure with preserved ejection fraction. J Cardiovasc Transl Res 10:322–336

29.

Zeevi D, Korem T, Zmora N, Israeli D, Rothschild D, Weinberger A, Ben-Yacov O, Lador D, Avnit-Sagi T, Lotan-Pompan M, Suez J, Mahdi JA, Matot E, Malka G, Kosower N, Rein M, Zilberman-Schapira G, Dohnalova L, Pevsner-Fischer M, Bikovsky R, Halpern Z, Elinav E, Segal E (2015) Personalized nutrition by prediction of glycemic responses. Cell 163:1079–1094

30.

Choe KS, Stucki-McCormick SU (2000) Chin augmentation. Facial Plast Surg 16:45–54

31.

Aspuru-Guzik A, Persson K (2018) Materials acceleration platform: accelerating advanced energy materials discovery by integrating high-throughput methods and artificial intelligence. Mission Innovation: Innovation Challenge 6

32.

Butler KT, Davies DW, Cartwright H, Isayev O, Walsh A (2018) Machine learning for molecular and materials science. Nature 559:547–555

33.

Bancroft GN, Basu CB, Leong M, Mateo C, Hollier LH Jr, Stal S (2008) Outcome-based residency education: teaching and evaluating the core competencies in plastic surgery. Plast Reconstr Surg 121:441e–448

34.

Moltaji S, Alkhatib AH, Liu H, Murphy J, Gallo L, Karpinski M, Mowakket S, Thoma A (2018) introducing knowledge translation to plastic surgery: turning evidence into practice. Plast Reconstr Surg 142:760e–769e

35.

Sarker A, Molla D, Paris C (2015) Automatic evidence quality prediction to support evidence-based decision making. Artif Intell Med 64:89–103

36.

Kohli M, Geis R (2018) Ethics, artificial intelligence, and radiology. J Am Coll Radiol 15:1317–1319

37.

Cabitza F, Rasoini R, Gensini GF (2017) Unintended consequences of machine learning in medicine. JAMA 318:517–518
Acknowledgement
Dr. Chung reports grants from National Institute of Arthritis and Musculoskeletal and Skin Diseases and the National Institute on Aging, grants from National Institute of Arthritis and Musculoskeletal and Skin Diseases, outside the submitted work.
Ethics declarations
Conflict of interest
The authors declare that they have no conflict of interest.
Human and Animal Rights
This article does not contain any studies with human participants or animals performed by any of the authors.
Informed Consent
For this type of study, informed consent is not required.
Additional information
Publisher's Note
Springer Nature remains neutral with regard to jurisdictional claims in published maps and institutional affiliations.
About this article
Cite this article
Liang, X., Yang, X., Yin, S. et al. Artificial Intelligence in Plastic Surgery: Applications and Challenges. Aesth Plast Surg 45, 784–790 (2021). https://doi.org/10.1007/s00266-019-01592-2
Received:

Accepted:

Published:

Issue Date:
Keywords
Artificial intelligence

Decision-making

Plastic surgery