Abstract
Background
There is a relative lack of evidence on optimal products and techniques for nose treatment with hyaluronic acid (HA) fillers. This study assessed the efficacy and safety of nasal reshaping with Vycross HA fillers, using a free software (Face Master) to measure facial parameters.
Methods
This was a prospective, open-label, single-center study of consecutive adult patients treated in the nose (bony and cartilaginous dorsum and/or columella) with VYC-20 or VYC-17.5. A maximum of 1 mL of filler was used. All patients (except one) had at least 12 months of follow-up.
Results
Sixty-two patients were enrolled (57 females; 5 males) with a mean age of 29.0 ± 9.2 years. A mean of 0.55 ± 0.22 mL of filler (range 0.2–1.0 mL) was injected during initial treatment; 12 patients required touch-up with 0.15 ± 0.08 mL of filler (range 0.1–0.3 mL). Using Face Master, mean nasofrontal angle increased from 143.6 ± 6.3° pre-treatment to 147.3 ± 6.7° post-treatment (mean change 3.7 ± 2.8°), and mean nasolabial angle increased from 85.3 ± 6.1° to 88.5 ± 6.1° (mean change 3.2 ± 2.6°). Mean patient satisfaction (0–10 scale) increased from 2.4 ± 1.7 pre-treatment to 9.4 ± 0.8 post-treatment (mean improvement 7.1 ± 2.1). Complications were minor and transient: pain, n = 3 (4.8%); edema, n = 3 (4.8%); hematoma, n = 2 (3.2%).
Conclusions
Non-surgical nasal reshaping with VYC-20 or VYC-17.5 appeared to be efficacious and safe; Face Master objectively demonstrated meaningful changes in key nasal angles.
Level of Evidence IV
This journal requires that authors assign a level of evidence to each article. For a full description of these Evidence-Based Medicine ratings, please refer to the Table of Contents or the online Instructions to Authors www.springer.com/00266.
Access options
Buy single article
Instant access to the full article PDF.
US$ 39.95
Tax calculation will be finalised during checkout.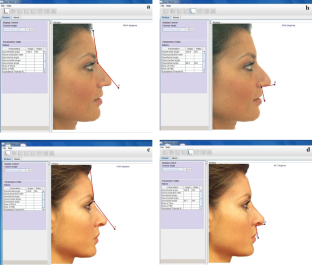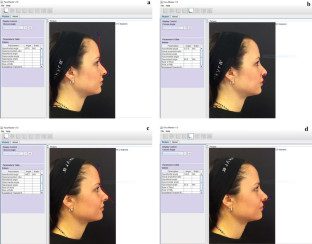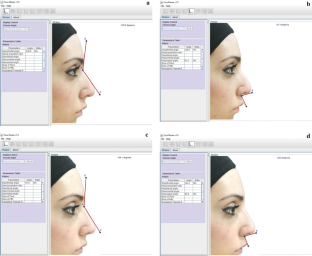 References
1.

Hatch CD, Wehby GL, Nidey NL, Moreno Uribe LM (2017) Effects of objective 3-dimensional measures of facial shape and symmetry on perceptions of facial attractiveness. J Oral Maxillofac Surg 75:1958–1970

2.

Przylipiak M, Przylipiak J, Terlikowski R et al (2018) Impact of face proportions on face attractiveness. J Cosmet Dermatol 17:954–959

3.

American Society of Plastic Surgeons. 2018 National Plastic Surgery Statistics. Available at: www.plasticsurgery.org/documents/News/Statistics/2018/plastic-surgery-statistics-report-2018.pdf. Accessed 11 Sept 2019

4.

Few J, Cox SE, Paradkar-Mitragotri D, Murphy DK (2015) A multicenter, single-blind randomized, controlled study of a volumizing hyaluronic acid filler for midface volume deficit: Patient-reported outcomes at 2 years. Aesthet Surg J 35:589–599

5.

Goodman GJ, Swift A, Remington BK (2015) Current concepts in the use of Voluma, Volift, and Volbella. Plast Reconstr Surg 136:139S–148S

6.

Philipp-Dormston WG, Eccleston D, De Boulle K et al (2014) A prospective, observational study of the volumizing effect of open-label aesthetic use of Juvéderm® VOLUMA® with Lidocaine in mid-face area. J Cosmet Laser Ther 16:171–179

7.

Philipp-Dormston WG, Hilton S, Nathan M (2014) A prospective, open-label, multicenter, observational, postmarket study of the use of a 15 mg/mL hyaluronic acid dermal filler in the lips. J Cosmet Dermatol 13:125–134

8.

Humphrey S, Carruthers J, Carruthers A (2015) Clinical experience with 11,460 ml of a 20-mg/mL, smooth, highly cohesive, viscous hyaluronic acid filler. Dermatol Surg 41:1060–1067

9.

Raspaldo H, Chantrey J, Belhaouari L et al (2015) Lip and perioral enhancement: a 12-month prospective, randomized, controlled study. J Drugs Dermatol 14:1444–1452

10.

Calvisi L, Gilbert E, Tonini D (2017) Rejuvenation of the perioral and lip regions with two new dermal fillers: the Italian experience with Vycross™ technology. J Cosmet Laser Ther 19:54–58

11.

Geronemus RG, Bank DE, Hardas B et al (2017) Safety and effectiveness of VYC-15L, a hyaluronic acid filler for lip and perioral enhancement: one-year results from a randomized, controlled study. Dermatol Surg 43:396–404

12.

Li D, Wang X, Wu Y et al (2017) A randomized, controlled, multicenter study of Juvéderm Voluma for enhancement of malar volume in Chinese subjects. Plast Reconstr Surg 139:1250e–1259e

13.

Monheit G, Beer K, Hardas B et al (2018) Safety and effectiveness of the hyaluronic acid dermal filler VYC-17.5L for nasolabial folds: results of a randomized, controlled study. Dermatol Surg 44:670–678

14.

Liew S, Scamp T, de Maio M et al (2016) Efficacy and safety of a hyaluronic acid filler to correct aesthetically detracting or deficient features of the Asian nose: a prospective, open-label, long-term study. Aesthet Surg J 36:760–772

15.

Rauso R, Colella G, Zerbinati N, Salti G (2017) Safety and early satisfaction assessment of patients seeking nonsurgical rhinoplasty with filler. J Cutan Aesthet Surg 10:207–214

16.

Bertossi D, Lanaro L, Dorelan S et al (2019) Nonsurgical rhinoplasty: nasal grid analysis and nasal injecting protocol. Plast Reconstr Surg 143:428–439

17.

Ozkul T, Ozkul MH, Akhtar R et al (2009) A software tool for measurement of facial parameters. Open Chem Biomed Methods J 2:69–74

18.

Armijo BS, Brown M, Guyuron B (2012) Defining the ideal nasolabial angle. Plast Reconstr Surg 129:759–764

19.

Prantl L, Brandl D, Ceballos P (2017) A proposal for updated standards of photographic documentation in aesthetic medicine. Plast Reconstr Surg Glob Open 5:e1389

20.

Bertossi D, Cavallini M, Cirillo P et al (2018) Italian consensus report on the aesthetic use of onabotulinum toxin A. J Cosmet Dermatol 17:719–730

21.

Mohamed WS, El-Shazly MM, El-Sonbaty MAH, Eloteify MM (2013) Objective versus subjective assessment for rhinoplasty. Egypt J Plast Reconstr Surg 37:73–79

22.

de Maio M, DeBoulle K, Braz A et al (2017) Facial assessment and injection guide for botulinum toxin and injectable hyaluronic acid fillers: focus on the midface. Plast Reconstr Surg 140:540e–550e

23.

McCleve DE, Goldstein JC (1995) Blindness secondary to injections in the nose, mouth, and face: cause and prevention. Ear Nose Throat J 74:182–188

24.

Rayess HM, Svider PF, Hanba C et al (2018) A cross-sectional analysis of adverse events and litigation for injectable fillers. JAMA Facial Plast Surg 20:207–214

25.

Heydenrych I, Kapoor KM, De Boulle K et al (2018) A 10-point plan for avoiding hyaluronic acid dermal filler-related complications during facial aesthetic procedures and algorithms for management. Clin Cosmet Investig Dermatol 11:603–611

26.

Jasin ME (2013) Nonsurgical rhinoplasty using dermal fillers. Facial Plast Surg Clin N Am 21:241–252

27.

Johnson ON 3rd, Kontis TC (2016) Nonsurgical rhinoplasty. Facial Plast Surg 32:500–506

28.

Wang LL, Friedman O (2017) Update on injectables in the nose. Curr Opin Otolaryngol Head Neck Surg 25:307–313
Acknowledgements
The authors thank Dr. Timothy Ryder from Biological Communications Limited (London, UK) for assistance in editing and submitting the final draft, funded by Allergan at the request of the investigator. Neither honoraria nor payments were made for authorship.
Ethics declarations
Conflict of interest
The authors declare no potential conflicts of interest with respect to the research, authorship, and publication of this article.
Ethical Approval
The study was conducted in accordance with the Declaration of Helsinki.
Informed Consent
All subjects provided written informed consent.
Additional information
Publisher's Note
Springer Nature remains neutral with regard to jurisdictional claims in published maps and institutional affiliations.
About this article
Cite this article
Santorelli, A., Marlino, S. Non-surgical Rhinoplasty with Hyaluronic acid Fillers: Predictable Results Using Software for the Evaluation of Nasal Angles. Aesth Plast Surg 44, 919–926 (2020). https://doi.org/10.1007/s00266-019-01579-z
Received:

Accepted:

Published:

Issue Date:
Keywords
Face Master

Hyaluronic acid

Nasal reshaping

VYC-20

Vycross