Abstract
Objective To explore an optimal surgical approach for different types of labia minora hypertrophy and to design a better personalized surgical treatment plan for patients. Methods Forty-five patients with labia minora treated in our department from January 2014 to January 2019 were the study participants. Depending upon the appearance of the labia minora, they were divided into length labia minora hypertrophy, width labia minora hypertrophy, overall labia minora hypertrophy, and labia hypertrophy combined with clitoris foreskin. By combining the characteristics of the patient's labia minora hypertrophy and the aesthetic requirements for postoperative appearance, we designed a personalized treatment plan for each group of patients. The surgical approaches include upper pedicle flap wedge resection, upper and lower pedicle flap similar to wedge resection, lower pedicle flap pedicle wedge resection, and labia minora combined with clitoris foreskin surgery. We followed up the postoperative results, recovery, and complication rates for a period of 3 months. Results All patients who underwent surgery had good wound healing. The labia minora had good bilateral symmetry, moderate size, and desired appearance. The scar of the surgical incision was also not obvious. The postoperative labia minora felt normal without any serious complications. Overall, the treatment effect was satisfactory. Conclusion There are many surgical methods for the reduction in the labia minora. Our findings suggest that in order to achieve better results, a personalized surgical plan should be designed considering the patient's unique type of hypertrophy and the individual aesthetic requirements.
Level of Evidence IV
This journal requires that authors assign a level of evidence to each article. For a full description of these Evidence-Based Medicine ratings, please refer to the Table of Contents or the online Instructions to Authors www.springer.com/00266.
Access options
Buy single article
Instant access to the full article PDF.
US$ 39.95
Tax calculation will be finalised during checkout.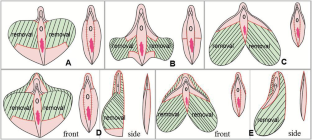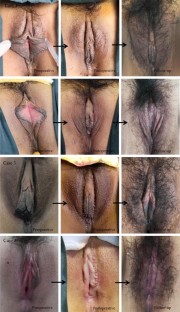 References
1.

Boulos S, Rubin AI, Yan AC et al (2018) Unilateral hypertrophy of the labia minora: a case series. Pediatr Dermatol 35(3):e198–e199

2.

Wei W (1999) Plastic surgery. Zhejiang Science and Technology Press, Hangzhou, pp 1606–2000

3.

Sir E, Güngör M, Üçer O, Aksoy A (2018) Evaluation of sexual function in women with labia minora hypertrophy: a preliminary study. Rev Int Androl 16(2):45–49

4.

Clerico C, Lari A, Mojallal A, Boucher F (2017) Anatomy and aesthetics of the labia minora: the ideal vulva? Aesthet Plast Surg 41(3):714–719

5.

Cayrac M, Rouzier R (2012) Evaluation of labia minora reduction by longitudinal resection. Gynecol Obstet Fertil 40(10):561–565

6.

Pauls RN (2014) We are the correct physicians to treat women requesting labioplasty. Am J Obstet Gynecol 211(3):218–221

7.

Cosmetic Surgery National Data Bank Statistics (2018) Cosmetic surgery national data bank statistics. Aesthet Surg J 38(3):1–24

8.

Oranges CM, Schaefer KM, Haug M et al (2017) Psychological outcomes of labiaplasty: a prospective study. Plast Reconstr Surg 140(3):506e–507e

9.

Cao YJ, Li FY, Li SK et al (2012) A modified method of labia minora reduction: the de-epithelialised reduction of the central and posterior labia minora. J Plast Reconstr Aesthet Surg 65(8):1096–1102

10.

Hunter JG (2016) Labia minora, labia majora, and clitoral hood alteration: experience-based recommendations. Aesthet Surg J 36(1):71–79

11.

Georgiou CA, Benatar M et al (2015) A cadaveric study of the arterial blood supply of the labia minora. Plast Reconstr Surg 136(1):167–178

12.

Shih C, Cold CJ, Yang CC (2013) Cutaneous corpuscular receptors of the human glans clitoris: descriptive characteristics and comparison with the glans penis. J Sex Med 10(7):1783–1789

13.

Alter GJ (2008) Aesthetic labia minora and clitoral hood reduction using extended central wedge resection. Plast Reconstr Surg 122(6):1780–1789

14.

Trichot C, Thubert T, Faivre E et al (2011) Surgical reduction of hypertrophy of the labia minora. Int J Gynaecol Obstet 115(1):40–43
Acknowledgements
Thanks to Dr. Shen Weimin and Dr. Yang Tianrong for providing technical guidance.
Ethics declarations
Conflict of interest
The authors declare that they have no conflicts of interest to disclose.
Statement of Human and Animal Rights, or Ethical Approval
The Ethics Committee of the First Affiliated Hospital of Chongqing Medical University approved the study. It is also studied in accordance with the ethical guidelines established in the Helsinki Declaration.
Informed Consent
All patients gave informed consent to the study and publication and have signed relevant informed consent.
Financial Disclosure
No financial support for this study.
Additional information
Publisher's Note
Springer Nature remains neutral with regard to jurisdictional claims in published maps and institutional affiliations.
About this article
Cite this article
Yang, E., Hengshu, Z. Individualized Surgical Treatment of Different Types of Labia Minora Hypertrophy. Aesth Plast Surg 44, 579–585 (2020). https://doi.org/10.1007/s00266-019-01545-9
Received:

Accepted:

Published:

Issue Date:
Keywords
Labia minora hypertrophy

Types

Personalized surgery