Abstract
Background
Haematoma after gynaecomastia surgery is the most common early complication. It may necessitate a return to the theatre and cause increased infection risk, poor wound or delayed healing, and abnormal scar. Strategies to avoid haematoma range from perioperative blood pressure control to the use of tranexamic acid and compressive dressings.
Objective
To demonstrate a new technique that would avoid haematoma or limit its expansion should it occur, after gynaecomastia surgery.
Methods
One hundred and forty-nine patients had surgery for gynaecomastia between 2018 and 2019 by the senior author. External quilting sutures are used to obliterate any dead space following liposuction and piecemeal excision to address fatty, stromal, and glandular components. No drains are used. Patients receive cooling therapy before discharge, and they reattend clinic the following day for suture removal.
Results
Two patients had haematomas which were managed conservatively and healed well. Fine suture tracks, which were observed in another two patients, became unnoticeable at 3 months. Overall, the complication rate in our cohort was 2.7% (haematoma 1.3%, temporary suture track 1.3%).
Conclusions
Our method is useful in minimising haematoma. It limits expansion of haematoma should it occur. Suture track is the other transient complication. This new technique in gynaecomastia correction is simple, yields good results, and gives the surgeon another option to deal with haematoma.
Level of Evidence IV
This journal requires that authors assign a level of evidence to each article. For a full description of these Evidence-Based Medicine ratings, please refer to the Table of Contents or the online Instructions to Authors www.springer.com/00266.
This is a preview of subscription content, log in to check access.
Access options
Buy single article
Instant access to the full article PDF.
US$ 39.95
Tax calculation will be finalised during checkout.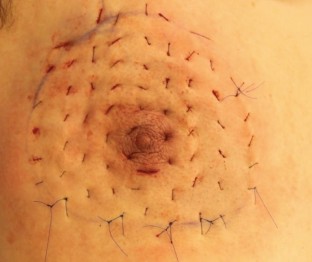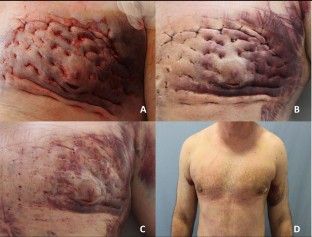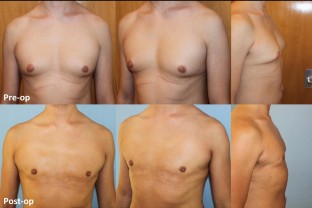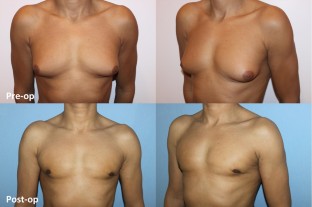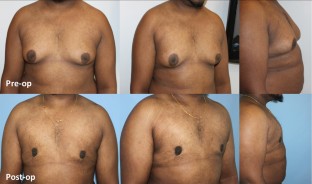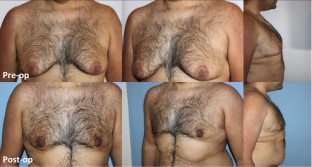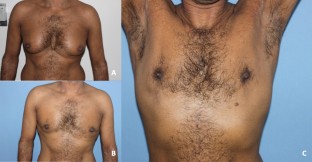 References
1.

Chavoushi SH, Ghabili K, Kazemi A, Aslanabadi A, Babapour S, Ahmedli R et al (2012) Surgery for gynecomastia in the Islamic golden age: Al-Tasrif of Al-Zahrawi (936-1013 AD). ISRN Surg 2012:934965

2.

Gurunluoglu R, Gurunluoglu A (2001) Paulus Aegineta, a seventh century encyclopedist and surgeon: his role in the history of plastic surgery. Plast Reconstr Surg 108(7):2072–2079

3.

Narula HS, Carlson HE (2014) Gynaecomastia–pathophysiology, diagnosis and treatment. Nat Rev Endocrinol 10(11):684–698

4.

Nuttall FQ (1979) Gynecomastia as a physical finding in normal men. J Clin Endocrinol Metab 48(2):338–340

5.

Brown RH, Chang DK, Siy R, Friedman J (2015) Trends in the surgical correction of gynecomastia. Semin Plast Surg 29(2):122–130

6.

Letterman G, Schurter M (1969) The surgical correction of gynecomastia. Am Surg 35(5):322–325

7.

Rohrich RJ, Ha RY, Kenkel JM, Adams WP Jr (2003) Classification and management of gynecomastia: defining the role of ultrasound-assisted liposuction. Plast Reconstr Surg 111(2):909–923 (discussion 24-5)

8.

Simon BE, Hoffman S, Kahn S (1973) Classification and surgical correction of gynecomastia. Plast Reconstr Surg 51(1):48–52

9.

Lista F, Ahmad J (2008) Power-assisted liposuction and the pull-through technique for the treatment of gynecomastia. Plast Reconstr Surg 121(3):740–747

10.

Hodgson EL, Fruhstorfer BH, Malata CM (2005) Ultrasonic liposuction in the treatment of gynecomastia. Plast Reconstr Surg 116(2):646–653 (discussion 54-5)

11.

Webster JP (1946) Mastectomy for gynecomastia through a semicircular intra-areolar incision. Ann Surg 124(3):557–575

12.

Morselli PG, Morellini A (2012) Breast reshaping in gynecomastia by the "pull-through technique": considerations after 15 years. Eur J Plast Surg 35(5):365–371

13.

Prado AC, Castillo PF (2005) Minimal surgical access to treat gynecomastia with the use of a power-assisted arthroscopic-endoscopic cartilage shaver. Plast Reconstr Surg 115(3):939–942

14.

Ohyama T, Takada A, Fujikawa M, Hosokawa K (1998) Endoscope-assisted transaxillary removal of glandular tissue in gynecomastia. Ann Plast Surg 40(1):62–64

15.

Letterman G, Schurter M (1972) Surgical correction of massive gynecomastia. Plast Reconstr Surg 49(3):259–262

16.

Wiesman IM, Lehman JA Jr, Parker MG, Tantri MD, Wagner DS, Pedersen JC (2004) Gynecomastia: an outcome analysis. Ann Plast Surg 53(2):97–101

17.

Colombo-Benkmann M, Buse B, Stern J, Herfarth C (1999) Indications for and results of surgical therapy for male gynecomastia. Am J Surg 178(1):60–63

18.

Steele SR, Martin MJ, Place RJ (2002) Gynecomastia: complications of the subcutaneous mastectomy. Am Surg 68(2):210–213

19.

Cabell CEMM (2003) Surgical complications and emergencies. In: Nouri KLKS (ed) Techniques in dermatologic surgery. Mosby, Philadelphia, pp 85–101

20.

Hood K, Ganesh Kumar N, Higdon KK (2018) Hematomas in Aesthetic Surgery. Aesthet Surg J 38:1013–1025

21.

Cabas Neto J, Rodriguez Fernandez DE, Boles MM (2013) A new technique of external quilting sutures: their importance in preventing hematomas in cervicofacial rhytidectomies. Plast Reconstr Surg 131(1):121e

22.

Neto JC, Rodriguez Fernandez DE, Boles M (2013) Reducing the incidence of hematomas in cervicofacial rhytidectomy: new external quilting sutures and other ancillary procedures. Aesthet Plast Surg 37(5):1034–1039

23.

Rho NK, Shin JH, Jung CW, Park BS, Lee YT, Nam JH et al (2008) Effect of quilting sutures on hematoma formation after liposuction with dermal curettage for treatment of axillary hyperhidrosis: a randomized clinical trial. Dermatol Surg Off Publ Am Soc Dermatol Surg 34(8):1010–1015

24.

Chuo CB, Srivastava S (2010) Management of groin seromas with external quilting sutures and open drainage. J Plast Reconstr Aesthet Surg JPRAS 63(6):e551–e552

25.

Liang et al (2016) Running barbed suture quilting reduces abdominal drainage in perforator-based breast reconstruction. J Plast Reconstr Aesthet Surg JPRAS 69(1):42–47

26.

Baroudi R, Ferreira CA (1998) Seroma: how to avoid it and how to treat it. Aesthet Surg J 18:439–441

27.

Andrades P, Prado A, Danilla S et al (2007) Progressive tension sutures in the prevention of postabdominoplasty seroma: a prospective, randomized, double-blind clinical trial. Plast Reconstr Surg 120:935–946

28.

Bercial ME et al (2012) Suction drains, quilting sutures and fibrin sealant in the prevention of seroma formation in abdominoplasty: which is the best strategy? Aesthet Plast Surg 36:370
Funding
The authors received no financial or material support.
Ethics declarations
Conflict of interest
The authors declare that they have no conflict of interest.
Ethical Approval
All procedures performed in studies involving human participants were in accordance with the ethical standards of the institutional and/or national research committee and with the 1964 Helsinki Declaration and its later amendments or comparable ethical standards.
Informed Consent
Informed consent was obtained from all patients.
Additional information
Publisher's Note
Springer Nature remains neutral with regard to jurisdictional claims in published maps and institutional affiliations.
Electronic supplementary material
Below is the link to the electronic supplementary material.
Supplementary material 1 (MP4 45340 kb)
About this article
Cite this article
Murugesan, L., Karidis, A. External Quilting: New Technique to Avoid Haematoma in Gynaecomastia Surgery. Aesth Plast Surg 44, 45–51 (2020). https://doi.org/10.1007/s00266-019-01537-9
Received:

Accepted:

Published:

Issue Date:
Keywords
Gynaecomastia

External quilting

Haematoma