Abstract
Background
High-definition liposculpture is a novel surgical technique widely accepted among plastic surgeons. The aim of this article is to describe surgical outcomes with a special emphasis on complications in high-definition liposculpture patients.
Methods
An historical cohort of patients who underwent high-definition liposculpture from two senior surgeons was reviewed. Technique, patient selection criteria, preoperative marks and surgical outcomes are described. Postoperative complications are discussed.
Results
A total of 417 patients underwent high-definition liposculpture between 2015 and 2018. Primary liposuction and secondary liposuction were performed in 308 (74%) and 109 (26%), respectively. Combined surgeries were performed in 121 cases (29%). There were no systemic complications. Local complications included hyperpigmentation (n = 276), seroma (n = 125), nodular fibrosis (n = 83), unsatisfactory definition in superficial liposuction areas (n = 16), unnatural appearance of body contour (n = 17), VASER-related burns (n = 3) and Mondor's syndrome (n = 2). Most patients (94%) were satisfied with the results.
Conclusion
High-definition liposculpture is a body contouring technique that has shown excellent results. Despite non-serious complications were frequent, most complications were local and safely treated without affecting surgical outcome. To know these complications will help to recognize them earlier and to adjust patient expectation about the postoperative period.
Level of Evidence IV
This journal requires that authors assign a level of evidence to each article. For a full description of these Evidence-Based Medicine ratings, please refer to the Table of Contents or the online Instructions to Authors www.springer.com/00266.
Access options
Buy single article
Instant access to the full article PDF.
US$ 39.95
Tax calculation will be finalised during checkout.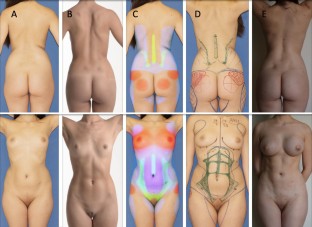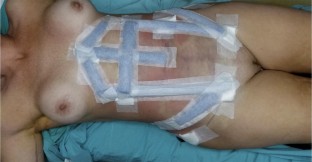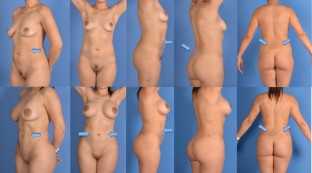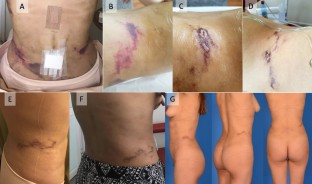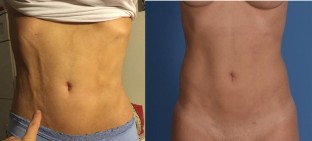 References
1.

ISAPS (2016) Global statistics [Internet]. www.isaps.org. Accessed Mar 2019

2.

Kim YH, Cha SM, Naidu S (2011) Analysis of postoperative complications for superficial liposuction: a review of 2398 cases. Plast Reconstr Surg 127(2):863–871

3.

Avelar J (1989) Regional distribution and behavior of the subcutaneous tissue concerning selection and indication for liposuction. Aesthet Plast Surg 13(3):155–165

4.

Illouz Y-G (1989) Surgical implications of "fixed points": a new concept in plastic surgery. Aesthet Plast Surg 13(3):137–144

5.

Gasperoni C, Salgarello M, Emiliozzi P, Gargani G (1990) Subdermal liposuction. Aesthet Plast Surg 14(2):137–142

6.

Mentz HA, Gilliland MD, Patronella CK (1993) Abdominal etching: differential liposuction to detail abdominal musculature. Aesthet Plast Surg 17(4):287–290

7.

Hoyos AE, Prendergast PM (2014) High definition body sculpting: art and advanced lipoplasty techniques. Springer, Berlin

8.

Hoyos AE, Millard JA (2007) VASER-assisted high-definition liposculpture. Aesthet Surg J 27(6):594–604

9.

Hoyos A, Perez M (2012) Arm dynamic definition by liposculpture and fat grafting. Aesthet Surg J 32:974–987

10.

Hoyos A, Perez M (2012) Dynamic-definition male pectoral reshaping and enhancement in slim, athletic, obese, and gynecomastic patients through selective fat removal and grafting. Aesthet Plast Surg 36(5):1066–1077

11.

Chia CT, Theodorou SJ, Hoyos AE, Pitman GH (2015) Radiofrequency-Assisted Liposuction Compared with Aggressive Superficial, Subdermal Liposuction of the Arms: A Bilateral Quantitative Comparison. Plast Reconstr Surg Glob Open 3(7):e459

12.

Hoyos AE, Perez ME, Castillo L (2013) Dynamic definition mini-lipoabdominoplasty combining multilayer liposculpture, fat grafting, and muscular plication. Aesthet Surg J 33(4):545–560

13.

Hoyos A, Perez ME, Guarin DE, Montenegro A (2018) A report of 736 high-definition lipoabdominoplasties performed in conjunction with circumferential VASER liposuction. Plast Reconstr Surg 142(3):662–675

14.

Danilla S (2017) Rectus abdominis fat transfer (RAFT) in lipoabdominoplasty: a new technique to achieve fitness body contour in patients that require tummy tuck. Aesthet Plast Surg 41(6):1389–1399

15.

Danilla S, Dominguez C, Cuneo N, Lopez L, Leon E, Cisternas JP, Erazo C, Andrades P, Sepulveda S (2018) Variation in the number of metamers of rectus abdominis muscle. A high definition lipoesculture guide. Cir Plast Iberolatinoam 44:5

16.

Cansancao AL, Condé-Green A, David JA, Cansancao B, Vidigal RA (2018) Use of tranexamic acid to reduce blood loss in liposuction. Plast Reconstr Surg 141(5):1132–1135

17.

Jewell ML, Fodor PB, de Souza Pinto EB, Al Shammari MA (2002) Clinical application of VASER-assisted lipoplasty: a pilot clinical study. Aesthet Surg J 22(2):131–146

18.

Mendieta C (2007) Gluteal reshaping. Aesthet Surg J 27(6):641–655

19.

Mateu LP, Hernandez JJC (1997) Cutaneous hyperpigmentation caused by liposuction. Aesthet Plast Surg 21(4):230–232

20.

Dixit V, Wagh M (2013) Unfavourable outcomes of liposuction and their management. Indian J Plast Surg 46(2):377

21.

Shiffman MA, Di Giuseppe A (2016) Prevention and treatment of liposuction complications, 2nd illustrated edn. Springer, Berlin, p 948

22.

Baxter R (1999) Histologic effects of ultrasound-assisted lipoplasty. Aesthet Surg J 19(2):109–114

23.

Triana L, Triana C, Barbato C, Zambrano M (2009) Liposuction: 25 years of experience in 26,259 patients using different devices. Aesthet Surg J 29(6):509–12. https://doi.org/10.1016/j.asj.2009.09.008

24.

Firooz A, Tehranchi-Nia Z, Ahmed AR (1995) Benefits and risks of intralesional corticosteroid injection in the treatment of dermatological diseases. Clin Exp Dermatol 20(5):363–370

25.

Danilla S, Cuevas P, Aedo S, Dominguez C, Jara R, Calderón ME et al (2016) Introducing the body-QoL®: a new patient-reported outcome instrument for measuring body satisfaction-related quality of life in aesthetic and post-bariatric body contouring patients. Aesthet Plast Surg 40(1):19–29

26.

Suijker J, Troncoso E, Pizarro F, Montecinos S, Villarroel G, Erazo C et al (2018) Long-term quality-of-life outcomes after body contouring surgery: phase IV results for the body-QoL® cohort. Aesthet Surg J 38(3):279–288

27.

Danilla S, Dominguez C, Cuevas P, Calderón ME, Rios MA, Andrades P et al (2014) The body-QoL®: measuring patient reported outcomes in body contouring surgery patients. Aesth Plast Surg 38(3):575–583

28.

Klassen AF, Cano SJ, Alderman A, Soldin M, Thoma A, Robson S et al (2016) The BODY-Q: a patient-reported outcome instrument for weight loss and body contouring treatments. Plast Reconstr Surg Glob Open 4(4):e679
Funding
The authors do not have any commercial interest and received no financial support for the research, authorship and publication of this article.
Ethics declarations
Conflict of interest
The authors declare that they have no conflicts of interest.
Ethical Approval
All procedures performed in studies involving human participants were in accordance with the ethical standards of the institutional and/or national research committee and with the 1964 Helsinki Declaration and its later amendments or comparable ethical standards. This article does not contain any studies with animals performed by any of the authors.
Informed Consent
For this type of study, formal consent is not required.
Additional information
Publisher's Note
Springer Nature remains neutral with regard to jurisdictional claims in published maps and institutional affiliations.
Electronic supplementary material
Below is the link to the electronic supplementary material.
Supplementary material 1 (MP4 102640 kb)
About this article
Cite this article
Danilla, S., Babaitis, R.A., Jara, R.P. et al. High-Definition Liposculpture: What are the Complications and How to Manage Them?. Aesth Plast Surg 44, 411–418 (2020). https://doi.org/10.1007/s00266-019-01475-6
Received:

Accepted:

Published:

Issue Date:
Keywords
Body contouring

Liposculpture

Aesthetic surgery

High-definition liposculpture

Liposuction