Abstract
Donor-site seroma persisting for > 3 weeks is the most common complication of latissimus dorsi (LD) flaps for breast reconstruction after mastectomy. Conservative treatment is insufficient for refractory seroma resolution. We report the results of surgical intervention for refractory donor-site seroma. Between January 2012 and April 2018, 319 patients undergoing breast reconstruction using an LD flap at our hospital were treated with conservative therapy if seroma was found. Refractory seroma of > 3 months' duration was observed in five patients (1.6%). Before surgery, the precise location and extent of the capsule were determined using chest computed tomography, and surgical intervention was planned. An en bloc capsulectomy was performed after confirming the internal capsule. Simultaneously, a quilting suture, bolster suture, and fibrin sealant were applied to prevent recurrence. The mean age of the patients with refractory seroma was 45.4 ( ± 7.3) years, and their mean body mass index was 31.0 ( ± 6.2) kg/m2. All patients underwent breast reconstruction with an extended LD flap or extended LD flap with a silicone implant after total mastectomy. During the follow-up period of ≥ 10.4 months, a mean of 34.4 ( ± 10.4) needle aspiration procedures were performed, and a mean of 12.8 ( ± 2.2) cc of seroma fluid was removed each time. Intraoperatively, the formation of a capsule with a well-defined border was confirmed; all patients showed complete resolution of donor-site seroma within 4 weeks after surgical intervention. Refractory donor-site seroma occurrence was rare in the cases assessed. Surgical intervention was successful in cases of refractory donor-site seroma unsuccessfully treated with conservative therapy and is thus one of the most effective methods for complete resolution of refractory seroma.
Level of Evidence IV This journal requires that authors assign a level of evidence to each article. For a full description of these Evidence-Based Medicine ratings, please refer to the Table of Contents or the online Instructions to Authors www.springer.com/00266.
Access options
Buy single article
Instant access to the full article PDF.
USD 39.95
Price excludes VAT (USA)
Tax calculation will be finalised during checkout.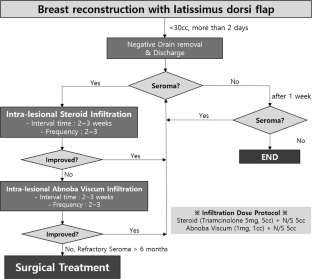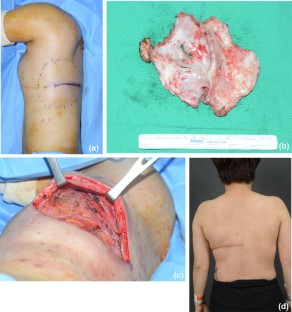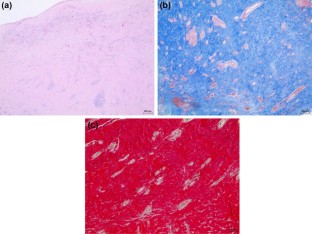 References
Llewellyn-Bennett R, Greenwood R, Benson JR et al (2012) Randomized clinical trial on the effect of fibrin sealant on latissimus dorsi donor-site seroma formation after breast reconstruction. Br J Surg 99:1381–1388

Abdalla HM, Shalaan MA, Fouad FA et al (2006) Immediate breast reconstruction with expander assisted latissimus dorsi flap after skin sparing mastectomy. J Egypt Natl Canc Inst 18:134–140

Zisun K, Sang Gue K, Jung Ho R et al (2012) Skin-sparing mastectomy and immediate latissimus dorsi flap reconstruction: a retrospective analysis of the surgical and patient-reported outcomes. World J Surg Oncol 10:259–266

Berthet G, Faure C, Dammacco MA et al (2018) Tolerance of latissimus dorsi in immediate breast reconstruction without implant to radiotherapy. J Plast Reconstr Aesthet Surg 71:15–20

Daltrey I, Thomson H, Hussien M et al (2006) Randomized clinical trial of the effect of quilting latissimus dorsi flap donor site on seroma formation. Br J Surg 93:825–830

Weinrach JC, Cronin ED, Smith BK et al (2004) Preventing seroma in the latissimus dorsi flap donor site with fibrin sealant. Ann Plast Surg 53:12–16

Randolph LC, Barone J, Angelats J et al (2005) Prediction of postoperative seroma after latissimus dorsi breast reconstruction. Plast Reconstr Surg 116:1287–1290

Butler CE (2006) Treatment of refractory donor-site seromas with percutaneous instillation of fibrin sealant. Plast Reconstr Surg 117:976–985

Eser M, Gökçeimam M, Eyvaz K et al (2014) Effect of local bleomycin sulfate application on seroma formation in a rat mastectomy and axillary lymph node dissection model. Eur J Pharmacol 723:375–380

Taghizadeh R, Shoaib T, Hart AM, Weiler-Mithoff EM (2008) Triamcinolone reduces seroma re-accumulation in the extended latissimus dorsi donor site. J Plast Reconstr Aesthetic Surg 61:636–642

Pan Y (2015) The use of OK-432 to prevent seroma in extended latissimus dorsi flap donor site after breast reconstruction. J Surg Res 193:492–496

Brzezienski MA, Jarrell JA 4th, Mooty RC (2013) Classification and management of seromas in immediate breast reconstruction using the tissue expander and acellular dermal matrix technique. Ann Plast Surg 70:488–492

Germann G, Steinau HU (1996) Breast reconstruction with the extended latissimus dorsi flap. Plast Reconstr Surg 97:519–526

Lee JW, Chang TW (1999) Extended latissimus dorsi musculocutaneous flap for breast reconstruction: experience in Oriental patients. Br J Plast Surg 52:365–372

Chang DW, Youssef A, Cha S et al (2002) Autologous breast reconstruction with the extended latissimus dorsi flap. Plast Reconstr Surg 110:751–759

Hammond DC (2007) Latissimus dorsi flap breast reconstruction. Clin Plast Surg 34:75–82

Clough KB, Louis-Sylvestre C, Fitoussi A et al (2002) Donor site sequelae after autologous breast reconstruction with an extended latissimus dorsi flap. Plast Reconstr Surg 109:1904–1911

Landis LV, Brzezienski MA, Gao C, Lee T (2016) The Effect of progressive-tension closure on donor site seroma formation in delayed latissimus dorsi flaps for breast reconstruction. Ann Plast Surg 76:170–173

Jeon BJ, Lee TS, Lim SY, Pyon JK, Mun GH, Oh KS, Bang SI (2012) Risk factors for donor-site seroma formation after immediate breast reconstruction with the extended latissimus dorsi flap: a statistical analysis of 120 consecutive cases. Ann Plast Surg 69:145–147

Gruber S, Whitworth AB, Kemmler G, Papp C (2011) New risk factors for donor site seroma formation after latissimus dorsi flap breast reconstruction: 10-year period outcome analysis. J Plast Reconstr Aesthet Surg 64:69–74
Ethics declarations
Conflict of interest
The authors declare that they have no conflicts of interest to disclose.
Human and Animal Rights
This article does not contain any studies with human participants or animals performed by any of the authors.
Ethical Approval
All procedures performed in studies involving human participants were in accordance with the ethical standards of the institutional and/or national research committee and with the 1964 Helsinki Declaration and its later amendments or comparable ethical standards.
Informed Consent
Informed consent is not required for this type of study.
Additional information
Publisher's Note
Springer Nature remains neutral with regard to jurisdictional claims in published maps and institutional affiliations.
About this article
Cite this article
Lee, J.S., Hong, H.K., Kim, J.S. et al. Surgical Intervention for Refractory Donor-Site Seroma After Immediate Breast Reconstruction with Latissimus Dorsi Flap. Aesth Plast Surg 43, 1515–1522 (2019). https://doi.org/10.1007/s00266-019-01458-7
Received:

Accepted:

Published:

Issue Date:

DOI: https://doi.org/10.1007/s00266-019-01458-7
Keywords