Abstract
Background
Platelet-rich plasma (PRP) contains a variety of growth factors and proteins that can accelerate tissue repair. Androgenic alopecia is a genetic disorder characterized by atrophy of hair follicles and hair loss. At present, PRP injections for hair restoration have become a popular though controversial practice. We conducted a meta-analysis to compare the differences between patients treated with local injections of PRP and control group subjects to explore the effectiveness of PRP treatment for androgenic alopecia.
Materials and Methods
We searched PubMed, EMBASE and the Cochrane Library until Jan 2019 for human studies evaluating the efficacy of PRP for the treatment of androgenic alopecia.
Results
We retrieved 132 papers; 11 articles matched our inclusion criteria and comprised 262 androgenic alopecia patients. Through a meta-analysis, we found a significantly locally increased hair number per cm2 after PRP injections in the treatment group versus the control group (mean difference 38.75, 95% CI 22.22–55.28, P < .00001). Similarly, a significantly increased terminal hair density was found in the PRP group compared with the control group (mean difference 22.83, 95% CI 0.28–45.38, P = 0.05).
Conclusion
Most studies suggest that subcutaneous injection of PRP is likely to reduce hair loss, increase hair diameter and density in patients with androgenic alopecia. Because of the low quality of the studies, small sample sizes, different treatment regimens and possible publication bias, the results of this meta-analysis should be interpreted with caution. Furthermore, more randomized controlled studies should be performed.
Level of Evidence III
This journal requires that authors assign a level of evidence to each article. For a full description of these Evidence-Based Medicine ratings, please refer to the Table of Contents or the online Instructions to Authors www.springer.com/00266.
This is a preview of subscription content, log in to check access.
Access options
Buy single article
Instant access to the full article PDF.
US$ 39.95
Price includes VAT for USA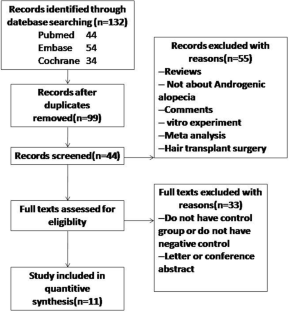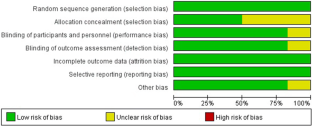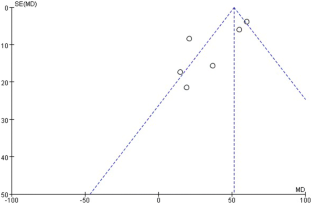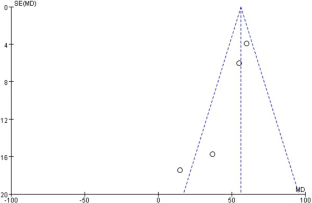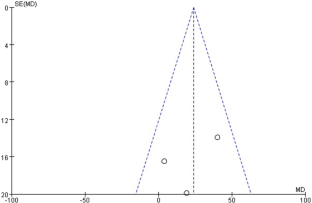 References
1.

Stefanato CM (2010) Histopathology of alopecia: a clinicopathological approach to diagnosis. Histopathology 56:24–38

2.

Tabolli S, Sampogna F, di Pietro C, Mannooranparampil TJ, Ribuffo M, Abeni D (2013) Health status, coping strategies, and alexithymia in subjects with androgenetic alopecia: a questionnaire study. Am J Clin Dermatol 14:139–145

3.

Sclafani AP, Azzi J (2015) Platelet preparations for use in facial rejuvenation and wound healing: a critical review of current literature. Aesthetic Plast Surg 39:495–505

4.

Savovic J, Weeks L, Sterne JA, Turner L, Altman DG, Moher D, Higgins JP (2014) Evaluation of the Cochrane Collaboration's tool for assessing the risk of bias in randomized trials: focus groups, online survey, proposed recommendations and their implementation. System Rev 3:37

5.

Takikawa M, Nakamura S, Nakamura S, Ishirara M, Kishimoto S, Sasaki K, Yanagibayashi S, Azuma R, Yamamoto N, Kiyosawa T (2011) Enhanced effect of platelet-rich plasma containing a new carrier on hair growth. Dermatol Surg 10:11–12. https://doi.org/10.1111/j.1524-4725.2011.02123.x

6.

Cervelli V, Garcovich S, Bielli A, Cervelli G, Curcio BC, Scioli MG, Orlandi A, Gentile P (2014) The effect of autologous activated platelet rich plasma (AA-PRP) injection on pattern hair loss: clinical and histomorphometric evaluation. Biomed Res Int 2014:760709

7.

Gentile P, Garcovich S, Bielli A, Scioli MG, Orlandi A, Cervelli V (2015) The effect of platelet-rich plasma in hair regrowth: a randomized placebo-controlled trial. Stem Cells Trans Med 4:1317–1323

8.

Abaroa F, Reyes K, Barrera D, Castelan E, Montemayor B, Izabal G, Perez I, Moreno A (2016) Histological findings of follicular units in patients with androgenetic alopecia before and after application of autologous platelet-rich plasma. Dermatologia Revista Mexicana 62:97–105

9.

Alves R, Grimalt R (2016) Randomized placebo-controlled, double-blind, half-head study to assess the efficacy of platelet-rich plasma on the treatment of androgenetic alopecia. Dermatol Surg 42:491–497

10.

Mapar MA, Shahriari S, Haghighizadeh MH (2016) Efficacy of platelet-rich plasma in the treatment of androgenetic (male-patterned) alopecia: a pilot randomized controlled trial. J Cosmet Laser Ther 18:452–455

11.

Puig CJ, Reese R, Peters M (2016) Double-blind, placebo-controlled pilot study on the use of platelet-rich plasma in women with female androgenetic alopecia. Dermatol Surg 42:1243–1247

12.

Gentile P, Cole JP, Cole MA, Garcovich S, Bielli A, Scioli MG, Orlandi A, Insalaco C, Cervelli V (2017) Evaluation of not-activated and activated PRP in hair loss treatment: role of growth factor and cytokine concentrations obtained by different collection systems. Int J Mol Sci 18:408

13.

Kachhawa D, Vats G, Sonare D, Rao P, Khuraiya S, Kataiya R (2017) A spilt head study of efficacy of placebo versus platelet-rich plasma injections in the treatment of androgenic alopecia. J Cutan Aesthet Surg 10:86–89

14.

Tawfik AA, Osman MAR (2017) The effect of autologous activated platelet-rich plasma injection on female pattern hair loss: a randomized placebo-controlled study. J Cosmet Dermatol 17(1):47–53

15.

Rodrigues BL, Montalvao SAL, Cancela RBB, Silva FAR, Urban A, Huber SC, Junior J, Lana J, Annichinno-Bizzacchi JM (2019) Treatment of male pattern alopecia with platelet-rich plasma: a double-blind controlled study with analysis of platelet number and growth factor levels. J Am Acad Dermatol 80:694–700

16.

Clinkinbeard T, Ghoshal S, Craddock S, Creed Pettigrew L, Guttmann RP (2013) Calpain cleaves methionine aminopeptidase-2 in a rat model of ischemia/reperfusion. Brain Res 1499:129–135

17.

Marx RE (2004) Platelet-rich plasma: evidence to support its use. J Oral Maxillofac Surg 62:489–496

18.

Li ZJ, Choi HI, Choi DK, Sohn KC, Im M, Seo YJ, Lee YH, Lee JH, Lee Y (2012) Autologous platelet-rich plasma: a potential therapeutic tool for promoting hair growth. Dermatol Surg 38:1040–1046

19.

Dohan Ehrenfest DM, Rasmusson L, Albrektsson T (2009) Classification of platelet concentrates: from pure platelet-rich plasma (P-PRP) to leucocyte- and platelet-rich fibrin (L-PRF). Trends Biotechnol 27:158–167

20.

Giusti I, Rughetti A, D'Ascenzo S, Millimaggi D, Pavan A, Dell'Orso L, Dolo V (2009) Identification of an optimal concentration of platelet gel for promoting angiogenesis in human endothelial cells. Transfusion 49:771–778

21.

Dhurat R, Sukesh M (2014) Principles and methods of preparation of platelet-rich plasma: a review and author's perspective. J Cutan Aesthet Surg 7:189–197

22.

Ince B, Yildirim MEC, Dadaci M, Avunduk MC, Savaci N (2018) Comparison of the efficacy of homologous and autologous platelet-rich plasma (PRP) for treating androgenic alopecia. Aesthetic Plast Surg 42:297–303

23.

Leitner GC, Gruber R, Neumuller J, Wagner A, Kloimstein P, Hocker P, Kormoczi GF, Buchta C (2006) Platelet content and growth factor release in platelet-rich plasma: a comparison of four different systems. Vox Sang 91:135–139

24.

Farid CI, Abdelmaksoud RA (2016) Platelet-rich plasma microneedling versus 5% topical minoxidil in the treatment of patterned hair loss. J Egypt Women's Dermatol Soc. https://doi.org/10.1097/01.ewx.0000472824.29209.a8

25.

Blumeyer A, Tosti A, Messenger A, Reygagne P, Del Marmol V, Spuls PI, Trakatelli M, Finner A, Kiesewetter F, Trueb R, Rzany B, Blume-Peytavi U (2011) Evidence-based (S3) guideline for the treatment of androgenetic alopecia in women and in men. J Deutsch Dermatol Ges 9(Suppl 6):S1–57
Ethics declarations
Conflict of interest
The authors declare that they have no conflicts of interest to disclose.
Human and Animal Rights
This article does not contain any studies with human participants or animals performed by any of the authors.
Informed Consent
For this type of study informed consent is not required.
Additional information
Publisher's Note
Springer Nature remains neutral with regard to jurisdictional claims in published maps and institutional affiliations.
About this article
Cite this article
Mao, G., Zhang, G. & Fan, W. Platelet-Rich Plasma for Treating Androgenic Alopecia: A Systematic Review. Aesth Plast Surg 43, 1326–1336 (2019). https://doi.org/10.1007/s00266-019-01391-9
Received:

Accepted:

Published:

Issue Date:
Keywords
Androgenic alopecia

Platelet-rich plasma

Meta-analysis