Abstract
Background
Breast augmentation with implants is one of the most commonly performed plastic surgical procedures, but has potential complications—asymmetry, implant displacement, rippling and wrinkling, capsular contracture, late seromas, and benign and malignant tumors—and potential financial costs. The auto-augmentation procedure, with mastopexy and lipofilling, is a second option to offer to patients who do not desire to continue with breast implants in secondary procedures.
Objective
This study aimed to present a series of patients who intended to quit having breast implants, and they went to an auto-augmentation procedure, with mastopexy and lipofilling.
Method
The study included patients who underwent a mastopexy plus lipofilling following breast implant removal. The indications for the surgical procedure were: desire of not having breast implants anymore and smaller breasts, capsular contracture, and implant rupture. The surgical procedure is detailed. Fat grafting and mastopexy are done immediately at the time of explantation.
Results
A total of 26 patients (mean age 59.1 years) underwent mastopexy plus lipofilling following breast implant removal. The mean follow-up was 18 months. The mean amount of lipofilling was 258 cc. No major complications were observed, no infection, dehiscence, hematoma, or seroma. One patient had an oil cyst which was handled with resection.
Conclusion
The auto-augmentation procedure after implant removal with local flaps and lipofilling is the better option for patients in whom breast implants are not an option anymore. Complication and reoperation rates are low and patient satisfaction is good.
Level of Evidence IV
This journal requires that authors assign a level of evidence to each article. For a full description of these Evidence-Based Medicine ratings, please refer to the Table of Contents or the online Instructions to Authors www.springer.com/00266.
Access options
Buy single article
Instant access to the full article PDF.
US$ 39.95
Tax calculation will be finalised during checkout.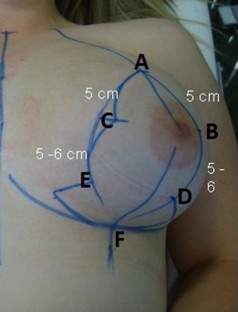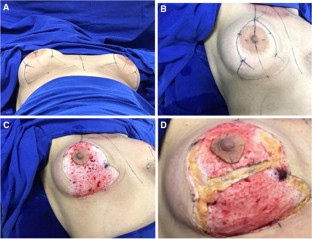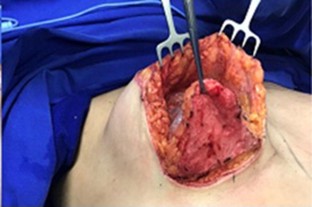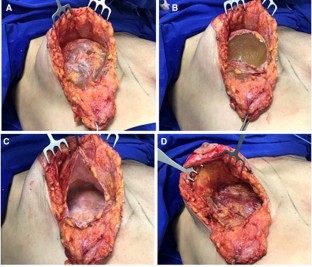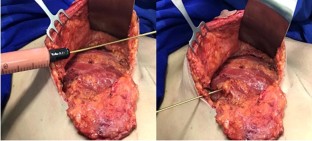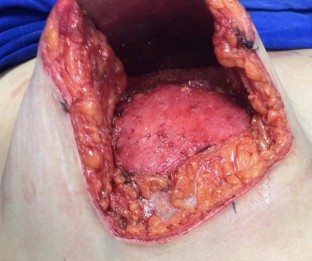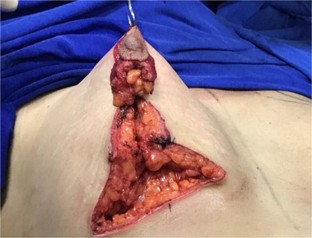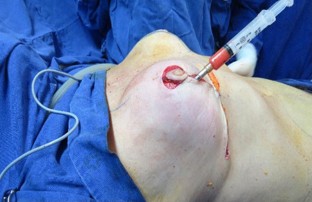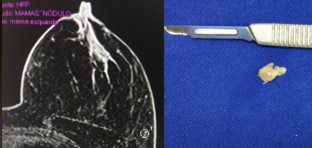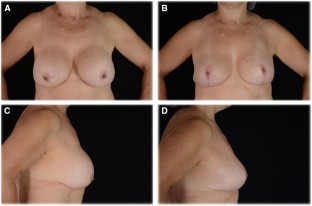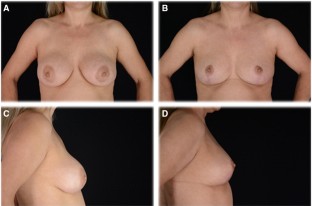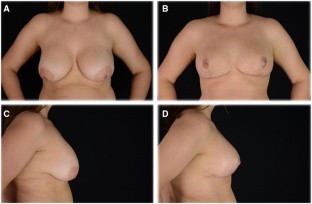 References
1.

Araco A, Gravante G, Araco F, Delogu D, Cervelli V, Walgenbach K (2007) A retrospective analysis of 3,000 primary aesthetic breast augmentations: postoperative complications and associated factors. Aesthet Plast Surg 31(5):532–539

2.

Nahabedian MY, Patel K (2009) Management of common and uncommon problems after primary breast augmentation. Clin Plast Surg 36(1):127–138

3.

Hölmich LR, Friis S, Fryzek JP, Vejborg IM, Conrad C, Sletting S et al (2003) Incidence of silicone breast implant rupture. Arch Surg 138(7):801–806

4.

Doren EL, Miranda RN, Selber JC, Garvey PB, Liu J, Medeiros LJ et al (2017) United States epidemiology of breast implant-associated anaplastic large cell lymphoma. Plast Reconstr Surg 139(5):1042–1050

5.

Schmitt WP, Eichhorn MG, Ford RD (2016) Potential costs of breast augmentation mammaplasty. J Plast Reconstr Aesthet Surg 69(1):55–60

6.

Uysal CA, Borman H (2014) Megavolume autologous fat transfer. Plast Reconstr Surg 134(4):656e–7e. http://content.wkhealth.com/linkback/openurl?sid=WKPTLP:landingpage&an=00006534-201410000-00049

7.

Forster NA, Künzi W, Giovanoli P (2013) The reoperation cascade after breast augmentation with implants: what the patient needs to know. J Plast Reconstr Aesthet Surg 66(3):313–322

8.

Wolf CF, Gu NY, Doctor JN, Manner PA, Leopold SS (2011) Comparison of one and two-stage revision of total hip arthroplasty complicated by infection: a Markov expected-utility decision analysis. J Bone Joint Surg Am 93(7):631–639

9.

Cunningham B (2007) The Mentor core study on silicone MemoryGel breast implants. Plast Reconstr Surg 120(Supplement 1):19S–29S

10.

Spear SL, Murphy DK, Slicton A, Walker PS (2007) Inamed silicone breast implant core study results at 6 years. Plast Reconstr Surg 120(Supplement 1):8S–16S

11.

Hönig JF, Frey HP, Hasse FM, Hasselberg J (2010) Inferior pedicle autoaugmentation mastopexy after breast implant removal. Aesthet Plast Surg 34(4):447–454

12.

Gurunluoglu R, Sacak B, Arton J (2013) Outcomes analysis of patients undergoing autoaugmentation after breast implant removal. Plast Reconstr Surg 132(2):304–315

13.

Al Sufyani MA, Al Hargan AH, Al Shammari NA, Al Sufyani MA (2016) Autologous fat transfer for breast augmentation. Dermatol Surg 42(11):1235–1242

14.

Keech JA Jr, Creech BJ (1997) Anaplastic T-cell lymphoma in proximity to a saline-filled breast implant. Plast Reconstr Surg 100(2):554–555

15.

Loch-Wilkinson A, Beath KJ, Knight RJW et al (2017) Breast implant-associated anaplastic large cell lymphoma in Australia and New Zealand: high-surface-area textured implants are associated with increased risk. Plast Reconstr Surg 140(4):645–654

16.

De Boer M, Van Leeuwen FE, Hauptmann M, Overbeek LIH, de Boer JP, Hijmering NJ, Sernee A, Klazen CAH, Lobbes MBI, Van der Hulst RRWJ, Rakhorst HA, de Jong D (2018) Breast implants and the risk of anaplastic large-cell lymphoma in the breast. JAMA Oncol 4(3):335–341. https://doi.org/10.1001/jamaoncol.2017.4510

17.

Clemens MW, Brody GS, Mahabir RC, Miranda RN (2018) How to diagnose and treat breast implant-associated anaplastic large cell lymphoma. Plast Reconstr Surg 141(4):586–599

18.

Largo RD, Tchang LA, Mele V et al (2014) Efficacy, safety and complications of autologous fat grafting to healthy breast tissue: a systematic review. J Plast Reconstr Aesthet Surg 67:437–448

19.

Choi M, Small K, Levovitz C, Lee C, Fadl A, Karp NS (2013) The volumetric analysis of fat graft survival in breast reconstruction. Plast Reconstr Surg 131:185–191

20.

Delay E, Garson S, Tousson G et al (2009) Fat injection to the breast: technique, results, and indications based on 880 procedures over 10 years. Aesthet Surg J 29:360–376

21.

Hamza A, Lohsiriwat V, Rietjens M (2013) Lipofilling in breast cancer surgery. Gland Surg 2:7–14

22.

Ho Quoc C, Taupin T, Guerin N, Delay E (2015) Volumetric evaluation of fat resorption after breast lipofilling. Ann Chir Plast Esthet 60(6):495–499

23.

Graf R, Tolazzi AR, Balbinot P, Pazio A, Valente PM, da Silva Freitas R (2016) Influence of the pectoralis major muscle sling in chest wall-based flap suspensions after vertical mammaplasty: 10 year follow-up. Aesthet Surg J 36:1113–1121

24.

Sampaio MMC, Fraga M, Ferreira AP, Barros ACSD (2013) Structured mammaplasty: a new approach for obtaining breast symmetry. Plast Reconstr Surg 131(2):300e–302e
Ethics declarations
Conflict of interest
The authors declare that they have no conflicts of interest to disclose.
Informed Consent
Informed consent was obtained from all individual participants included in the study.
Additional information
Publisher's Note
Springer Nature remains neutral with regard to jurisdictional claims in published maps and institutional affiliations.
Electronic supplementary material
Below is the link to the electronic supplementary material.
Supplementary material 1 (MP4 325784 kb)
About this article
Cite this article
Graf, R.M., Closs Ono, M.C., Pace, D. et al. Breast Auto-augmentation (Mastopexy and Lipofilling): An Option for Quitting Breast Implants. Aesth Plast Surg 43, 1133–1141 (2019). https://doi.org/10.1007/s00266-019-01387-5
Received:

Accepted:

Published:

Issue Date:
Keywords
Secondary mammoplasty

Lipofilling

Auto-augmentation

Breast