Abstract
Introduction
The aim of this randomized controlled study was to analyze the long-term results of patients undergoing rhinoplasty because of severe septal deviation and to evaluate the stability of results.
Materials and Methods
The study was performed with a randomized design. Patients were randomly divided into four groups: group 1, spreader flaps were used in combination with spreader grafts; group 2, spreader flaps were used alone; group 3, spreader grafts were used alone; and group 4, neither spreader flaps nor grafts flaps were used. Patients answered the Italian version of the FACE-Q rhinoplasty module. Anthropometric measurements were performed by AutoCAD for MAC. We determined the angle of deviation, and we compared the pre- and postoperative angles and compared patient satisfaction in the four groups using the Chi-squared test for unpaired data. Two plastic surgeons reviewed all the postoperative photographs of the study patients and rated the photographs on a scale of 1 to 5.
Results
A total of 264 patients who underwent primary rhinoplasty between January 2010 and September 2016 satisfied the inclusion criteria and were finally enrolled in this study. Anthropometric measurements revealed statistically significant differences (P < 0.01) between the preoperative and postoperative values for the angle of septal deviation in group 1 versus the other groups. Over the long-term follow-up, group 1 maintained an angle close to 180 degrees (P < 0.01). Group 1 and group 3 were more satisfied compared with groups 2 and 4 (P < 0.01). According to evaluations by the 2 reviewers, group 1 and group 3 were the most satisfactory outcomes (P < 0.01).
Conclusions
This was the first randomized study to show that the combined use of the spreader flap and spreader graft is the best choice for a good long-term outcome and durable correction of septal deviation.
Level of Evidence IV
This journal requires that authors assign a level of evidence to each article. For a full description of these Evidence-Based Medicine ratings, please refer to the Table of Contents or the online Instructions to Authors www.springer.com/00266.
This is a preview of subscription content, log in to check access.
Access options
Buy single article
Instant access to the full article PDF.
US$ 39.95
Price includes VAT for USA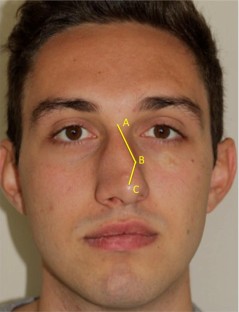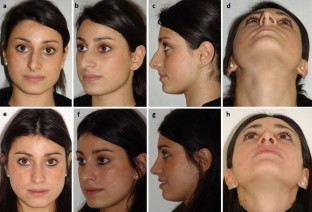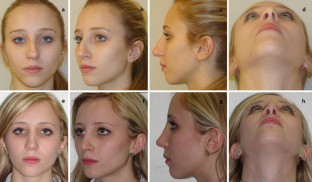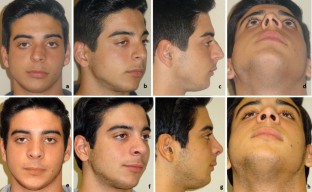 References
1.

East C, Kwame I, Hannan SA (2016) Revision rhinoplasty: what can we learn from error patterns? an analysis of revision surgery. Facial Plast Surg 32(4):409–415

2.

Calvert JW, Patel AC, Daniel RK (2014) Reconstructive rhinoplasty: operative revision of patients with previous autologous costal cartilage grafts. Plast Reconstr Surg 133:1087–1096

3.

Kridel RW, Soliemanzadeh P (2006) Tip grafts in revision rhinoplasty. Facial Plast Surg Clin North Am 14(331–41):vi

4.

Calvert JW, Patel AC, Daniel RK (2014) Reconstructive rhinoplasty: operative revision of patients with previous autologous costal cartilage grafts. Plast Reconstr Surg 133:1087–1096

5.

Wu PS, Hamilton GS 3rd (2016) Extracorporeal septoplasty: external and endonasal techniques. Facial Plast Surg 32(1):22–28

6.

Atespare A, Boyaci Z (2016) The use of spreader grafts in revision septoplasty. J Craniofac Surg 27:1656–1660

7.

Most SP, Rudy SF (2017) Septoplasty: basic and advanced techniques. Facial Plast Surg Clin North Am 25:161–169

8.

Kim DY, Nam SH, Alharethy SE, Jang YJ (2017) Surgical outcomes of bony batten grafting to correct caudal septal deviation in septoplasty. JAMA Facial Plast Surg 19:470–475

9.

Klassen AF, Cano SJ, East CA, Baker SB, Badia L, Schwitzer JA, Pusic AL (2016) Development and psychometric evaluation of the FACE-Q scales for patients undergoing rhinoplasty. JAMA Facial Plast Surg 18:27–35

10.

Schwitzer JA, Sher SR, Fan KL, Scott AM, Gamble L, Baker SB (2015) Assessing patient-reported satisfaction with appearance and quality of life following rhinoplasty using the FACE-Q appraisal scales. Plast Reconstr Surg 135(5):830e–837e

11.

Mladina R (1987) The role of maxillar morphology in the development of pathological septal deformities. Rhinology 25:199–205

12.

Cottle MH, Loring RM, Fischer GG, Gaynon IE (1958) The maxilla-premaxilla approach to extensive nasal septum surgery. AMA Arch Otolaryngol 68:301–313

13.

Barone M, Cogliandro A, Di Stefano N, Aronica R, Tambone V, Persichetti P (2017) Linguistic validation of the "FACE-Q Rhinoplasty Module" in Italian. Eur Arch Otorhinolaryngol 274(3):1771–1772

14.

https://www.autodesk.com/products/autocad/overview. Accessed 11 Oct 2018

15.

Sheen JH (1984) Spreader graft: a method of reconstructing the roof of the middle nasal vault following rhinoplasty. Plast Reconstr Surg 73:230

16.

Ismail A, Hussein W, Elwany S (2018) Combining spreader grafts with suture suspension for management of narrow internal nasal valve angles. Turk Arch Otorhinolaryngol 56:25–29

17.

Görgülü T, Özer CM, Kargi E (2015) The accordion suture technique: a modified rhinoplasty spreader flap. J Craniomaxillofac Surg 43(6):796–802

18.

Oneal RM, Berkowitz RL (1998) Upper lateral cartilage spreader flaps in rhinoplasty. Aesthet Surg J 37:371

19.

Seyhan A (1997) Method for middle vault reconstruction in primary rhinoplasty: upper lateral cartilage bending. Plast Reconstr Surg 100:1941

20.

Lerma J (1995) Reconstruction of the middle vault: the "lapel" technique. Cir Plast Ibero Latinoam 21:207

21.

Rohrich RJ (1999) Treatment of the nasal hump with preservation of the cartilaginous framework (Discussion). Plast Reconstr Surg 103:173

22.

Guyuron B, Uzzo CD, Scull H (1999) A practical classification of septonasal deviation and an effective guide to septal surgery. Plast Reconstr Surg 104:2202

23.

Saedi B, Amali A, Gharavis V, Yekta BG, Most SP (2014) Spreader flaps do not change early functional outcomes in reduction rhinoplasty: a randomized control trial. Am J Rhinol Allergy 28:70–74

24.

Fayman MS, Potgieter E (2004) Nasal middle vault support: a new technique. Aesthetic Plast Surg 28:375

25.

Boccieri A, Macro C, Pascali M (2005) The use of spreader grafts in primary rhinoplasty. Ann Plast Surg 55:127–131

26.

Arslan E, Aksoy A (2007) Upper lateral cartilage-sparing component dorsal hump reduction in primary rhinoplasty. Laryngoscope 117:990–996

27.

Byrd HS, Meade RA, Gonyon DL Jr (2007) Using the autospreader flap in primary rhinoplasty. Plast Reconstr Surg 119:1897–1902

28.

Gruber RP, Melkun ET, Woodward JF, Perkins SW (2011) Dorsal reduction and spreader flaps. Aesthet Surg J 31:456–464

29.

Moubayed SP, Most SP (2016) The autospreader flap for midvault reconstruction following dorsal hump resection. Facial Plast Surg 32(1):36–41

30.

Kovacevic M, Wurm J (2015) Spreader flaps for middle vault contour and stabilization. Facial Plast Surg Clin North Am 23(1):1–9

31.

Wurm J, Kovacevic M (2013) A new classification of spreader flap techniques. Facial Plast Surg 29:506–514

32.

Sowder JC, Thomas AJ, Gonzalez CD, Limaye NS, Ward PD (2017) Use of spreader flaps without dorsal hump reduction and the effect on nasal function. JAMA Facial Plast Surg 19(4):287–292

33.

Guo BY, Liao DH, Li XY, Zeng YJ, Yang QH (2007) Age and gender related changes in biomechanical properties of healthy human costal cartilage. Clin Biomech (Bristol, Avon) 22(3):292–297

34.

Alkan Z, Acioglu E, Yigit O, Bekem A, Azizli E, Unal A, Sahin F (2012) Determining the most suitable costal cartilage level for rhinoplasty: an experimental study. Otolaryngol Head Neck Surg 146(3):377–381

35.

Griffin MF, Premakumar Y, Seifalian AM, Szarko M, Butler PE (2016) Biomechanical characterisation of the human auricular cartilages; implications for tissue engineering. Ann Biomed Eng 44:3460–3467

36.

Eames BF, Schneider RA (2008) The genesis of cartilage size and shape during development and evolution. Development 135:3947–3958
Ethics declarations
Conflict of interest
The authors declare that they have no conflicts of interest to disclose.
Ethical Approval
This study was approved by the Ethics Committee of our University.
Informed Consent
Each study patient provided written informed consent before participating in the study.
Additional information
Publisher's Note
Springer Nature remains neutral with regard to jurisdictional claims in published maps and institutional affiliations.
About this article
Cite this article
Barone, M., Cogliandro, A., Salzillo, R. et al. Role of Spreader Flaps in Rhinoplasty: Analysis of Patients Undergoing Correction for Severe Septal Deviation with Long-Term Follow-Up. Aesth Plast Surg 43, 1006–1013 (2019). https://doi.org/10.1007/s00266-019-01343-3
Received:

Accepted:

Published:

Issue Date:
Keywords
FACE-Q

NOSE-Q

Rhinoplasty

Nose

Spreader flap

Graft