Abstract
Background
Since the beginning of the last century, when the aesthetic rejuvenating surgery was first described, there have been great changes in tactics and methods for solving the problems of age-related facial changes. Since the first description of the superficial muscular aponeurotic system (SMAS), there have been two main approaches to influencing this structure. These are various types of SMAS plications and different in-depth and technique sub-SMAS liftings. Each of these approaches has its advantages and disadvantages.
Methods
We have developed and applied a face-lift technique that combines the advantages of both approaches. We call it the triple-S lift, which is based on three basic principles:
1.

A short scar technique;

2.

The safety SMAS (limited sub-SMAS dissection to anterior border of the masseter muscle);

3.

The support system (a complex of ligatures in the sub-SMAS layer, which allows lifting and plication of the medial part of the SMAS simultaneously)
According to this method, there were 93 operations performed on 8 men and 85 women aged 38 to 72 years.
Results
The first clinical applications produced good results. The patients noted a high degree of satisfaction, and the level of complications was quite low. Since the technique has been performed for a short period of time, we demonstrate results of the 2-year period.
Conclusion
The described technique requires further study, but the first results suggest that this type of a surgical intervention is safe, easy to execute, and may be an option to choose for surgical correction of facial aging changes.
Level of Evidence IV
This journal requires that authors assign a level of evidence to each article. For a full description of these Evidence-Based Medicine ratings, please refer to the Table of Contents or the online Instructions to Authors www.springer.com/00266.
Access options
Buy single article
Instant access to the full article PDF.
US$ 39.95
Tax calculation will be finalised during checkout.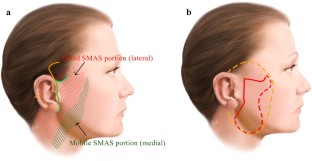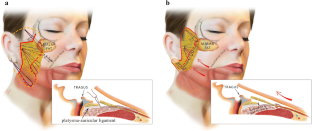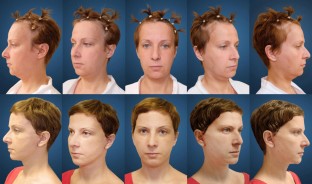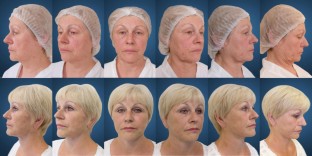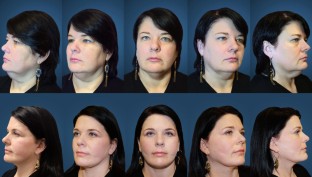 References
1.

Lassus C (1997) Cervicofacial rhytidectomy: the superficial plane. Aesth Plast Surg 21:25–31

2.

Min-Hee Ryu, Moon VA, Yin W (2018) The inclusion of orbicularis oculi muscle in the SMAS flap in Asian facelift: anatomical consideration of orbicularis muscle and zygomaticus major muscle. Aesth Plast Surg 42:471–478

3.

Gosain AK, Amarante MT, Hyde JS, Yousif NJ (1996) A dynamic analysis of changes in the nasolabial fold using magnetic resonance imaging: implications for facial rejuvenation and facial animation surgery. Plast Reconstr Surg 98:622–636

4.

Hamra ST (2000) Prevention and correction of the "facelifted" appearance. Facial Plast Surg 16:215–229

5.

Hamra ST (1990) The deep-plane rhytidectomy. Plast Reconstr Surg 861:53–616

6.

Hamra ST (1992) Composite rhytidectomy. Plast Reconstr Surg 90:1–13

7.

Hamra ST (2001) Correcting the unfavorable outcomes following face-lift surgery. Clin Plast Surg 28:621–638

8.

Mendelson BC (2009) Facelift anatomy, SMAS, retaining ligaments, and facial spaces. In: Aston SJ, Steinbrech DS, Walden JL (eds) Aesthetic plastic surgery. Elsevier, London, pp 53–72

9.

Owsley JQ (1993) Lifting the malar fat pad for correction of prominent nasolabial folds. Plast Reconstr Surg 91:463–474 (discussion 475–466)

10.

Owsley JQ (1995) Elevation of the malar fat pad superficial to the orbicularis oculi muscle for correction of prominent nasolabial folds. Clin Plast Surg 22:279–293

11.

Owsley JQ (1997) Face lift. Plast Reconstr Surg 100:514–519

12.

Owsley JQ, Zweifler M (2002) Midface lift of the malar fat pad: technical advances. Plast Reconstr Surg 110(2):674–685 (discussion 686–687)

13.

Panfilov DE (2003) MIDI face-lift and tricuspidal SMAS-flap. Aesth Plast Surg 27:27–37

14.

Paul MD (2017) The anterior SMAS approach for facelifting and for buccal fat pad removal. Aesth Plast Surg. https://doi.org/10.1007//s00266-017-0921-0

15.

Prado A, Andrades P, Danilla S, Castillo P, Leniz P (2006) A clinical retrospective study comparing two short-scar face lifts: minimal access cranial suspension versus lateral SMASectomy. Plast Reconstr Surg 117:1413–1425 (discussion 1426–1427)

16.

Robbins LB, Brothers DB, Marshall DM (1995) Anterior SMAS application for the treatment of prominent nasomandibular folds and restoration of normal cheek contour. Plast Reconstr Surg 96:1279–1287

17.

Sundine MJ, Kretsis V, Connell BF (2010) Longevity of SMAS facial rejuvenation and support. Plast Reconstr Surg 126:229–237

18.

Stuzin JM, Baker TJ, Gordon HL, Baker TM (1995) Extended SMAS dissection as an approach to midface rejuvenation. Clin Plast Surg 22:295–311

19.

Tonnard P, Verpaele A, Monstrey S, Van Landuyt K, Blondeel P, Hamdi M, Matton GA (2002) Minimal access cranial suspension lift: a modified S-lift. Plast Reconstr Surg 1096:2074–2086

20.

Yousif N, Gosain A, Matloub H et al (1994) The nasolabial fold: an anatomic and histologic reappraisal. Plast Reconstr Surg 93:60

21.

Yousif N, Mendelson BC (1995) Anatomy of the midface. Clin Plast Surg 22:227–240

22.

Baker DC (1997) Lateral SMASectomy. Plast Reconstr Surg 100(2):509–513

23.

Basile FV, Basile AR, Basile VV (2012) Triple-anchoring sub-SMAS face-lift. Aesthet Plast Surg 36:526–533

24.

Connell BF, Semlacher RA (1997) Contemporary deep layer facial rejuvenation. Plast Reconstr Surg 100:1513

25.

Guyuron B (2005) Modified temporal incision for facial rhytidectomy: an 18-year experience. Plast Reconstr Surg 115:609

26.

Mitz V, Peyronie M (1976) The superficial aponeurotic system (SMAS) in the parotid and cheek area. Plast Reconstr Surg 58:80–88

27.

Berry MG, Daivies D (2010) Platysma-SMAS placation facelift. J Plast Reconstr Aesthet Surg 63(5):793–800

28.

Choucair RJ, Hamra ST (2008) Extended superficial musculo-aponeurotic system dissection and composite rhytidectomy. Clin Plast Surg 35(4):607–622

29.

Jacono AA, Parikh SS (2011) The minimal access deep plane extended vertical facelift. Aesthet Surg J 318:874–890

30.

Marten TJ (2008) High SMAS facelift: combined single flap lifting of the jawline, cheek, and midface. Clin Plast Surg 35:569–603

31.

Chang S, Pusic A, Rohrich RJ (2011) A systematic review of comparison of efficacy and complication rates among face-lift techniques. Plast Reconstr Surg 127(1):423–433

32.

Matarasso A, Elkwood A, Rankin M, Elkowitz M (2000) National plastic surgery survey: facelift techniques and complications. Plast Reconstr Surg 106:1185–1195 (discussion 1196)

33.

Abboushi N, Yezhelyev M, Symbas J, Nahai F (2012) Facelift complications and the risk of venous thromboembolism: a single center's experience. Aesthet Surg J 32:413–420

34.

Baker TJ, Gordon HL (1967) Complications of rhytidectomy. Plast Reconstr Surg 40:31–39

35.

Grover R, Jones BM, Waterhouse N (2001) The prevention of hematoma following rhytidectomy: a review of 1078 consecutive facelifts. Br J Plast Surg 54:481–486

36.

Rammos CK, Mohan AT, Maricevich MA et al (2015) Is the SMAS flap facelift safe? A comparison of complications between the sub-SMAS approach versus the subcutaneous approach with or without SMAS plication in aesthetic rhytidectomy at an academic institution. Aesthet Plast Surg 39(6):870–876

37.

Baker DC (2001) Minimal incision rhytidectomy (short scar face-lift) with lateral SMASectomy. Aesthet Surg J 21:68–79

38.

Labbe´ D, Franco RG, Nicolas J (2006) Platysma suspension and platysmaplasty during neck lift: anatomical study and analysis of 30 cases. Plast Reconstr Surg 117:2001–2007

39.

Adamson PA, Dahiya R, Litner J (2007) Midface effects of the deep-plane vs. the superficial musculoaponeurotic system plication face-lift. Arch Fac Plast Surg 9(1):9–11

40.

Becker FF, Bassichis BA (2004) Deep-plane face-lift vs superficial musculoaponeurotic system plication face-lift: a comparative study. Arch Facial Plast Surg 6(1):8–13

41.

Jacono AA, Stong BC (2010) Anatomic comparison of the deep plane face-lift and the transtemporal midface-lift. Arch Facial Plast Surg 12(5):339–341

42.

Miller AJ, Graham HD 3rd (1997) Comparison of conventional and deep plane facelift. J La State Med Soc 149(11):406–411

43.

Noon BR (2006) Suture suspension malarplasty with SMAS plication and modified SMASectomy: a simplified approach to midface lifting. Plast Reconstr Surg 117:792
Ethics declarations
Conflict of interest
The authors declare that they have no conflict of interest in this paper.
Ethical Approval
This article does not contain any studies with human participants or animals performed by any of the authors.
Informed Consent
The patients provided their consent for publication of their photographs.
Additional information
Publisher's Note
Springer Nature remains neutral with regard to jurisdictional claims in published maps and institutional affiliations.
About this article
Cite this article
Belyi, I., Tymofii, O. & Barannik, M. Triple-S Lift for Facial Rejuvenation. Aesth Plast Surg 43, 1204–1211 (2019). https://doi.org/10.1007/s00266-019-01319-3
Received:

Accepted:

Published:

Issue Date:
Keywords
Face-lift

Triple-S lift

SMAS

Face rejuvenation

Skin laxity