Abstract
Background
Over the years, many techniques have been described to correct tear trough deformity (TTD). Fat-repositioning lower blepharoplasty via a transconjunctival approach is increasingly applied due to its satisfactory rejuvenating effect. However, those methods have disadvantages such as a complicated surgical approach, residual scar, and long recovery time.
Objectives
We modified the surgical technique of fat-repositioning transconjunctival lower blepharoplasty with an effective but easy internal fixation method via a supraperiosteal approach.
Methods
From January 2014 to December 2017, 110 patients underwent bilateral modified lower blepharoplasty with fat-repositioning. Preoperatively, the grade of TTD was evaluated according to Barton's grading system. Postoperative results and complications were assessed during the follow-up period.
Results
TTD was ameliorated in 97.73% of the cases; the remaining 2.27% cases with no improvement underwent revision and achieved Grade 0 on Barton's grading system thereafter. All patients were satisfied with the final outcome. Few postoperative complications were observed, none of which led to a permanent condition. Three cases of local depression and one case of local bulge were treated with surgical refinements. One case of postoperative hemorrhage was healed by electrocautery.
Conclusions
Our modified method of transconjunctival lower blepharoplasty with fat repositioning is safe and effective to improve TTD without severe orbital skin laxity.
Level of Evidence IV
This journal requires that authors assign a level of evidence to each article. For a full description of these Evidence-Based Medicine ratings, please refer to the Table of Contents or the online Instructions to Authors www.springer.com/00266.
This is a preview of subscription content, log in to check access.
Access options
Buy single article
Instant access to the full article PDF.
US$ 39.95
Price includes VAT for USA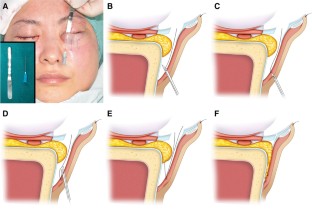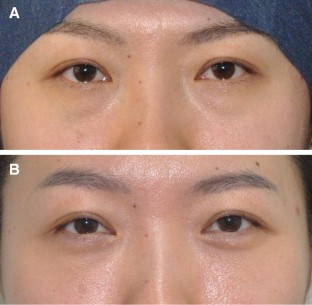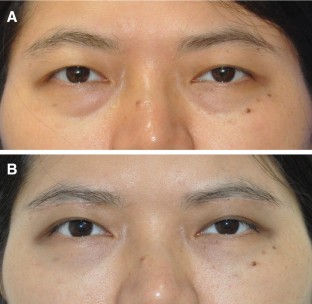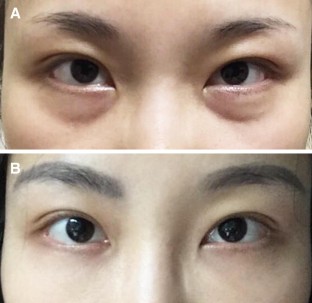 References
1.

Zarem HA, Resnick JI (1999) Expanded applications for transconjunctival lower lid blepharoplasty. Plast Reconstr Surg 103(3):1041–1043 discussion 1044–1045

2.

Coleman SR (1997) Facial recontouring with lipostructure. Clin Plast Surg 24(2):347–367

3.

Goldberg RA, Edelstein C, Shorr N (1999) Fat repositioning in lower blepharoplasty to maintain infraorbital rim contour. Facial Plast Surg 15(3):225–229

4.

Goldberg RA (2000) Transconjunctival orbital fat repositioning: transposition of orbital fat pedicles into a subperiosteal pocket. Plast Reconstr Surg 105(2):743–748 discussion 749–751

5.

Goldberg RA, Edelstein C, Balch K, Shorr N (1998) Fat repositioning in lower eyelid blepharoplasty. Semin Ophthalmol 13(3):103–106

6.

Loeb R (1981) Fat pad sliding and fat grafting for leveling lid depressions. Clin Plast Surg 8(4):757–776

7.

Loeb R (1993) Naso-jugal groove leveling with fat tissue. Clin Plast Surg 20(2):393–400 discussion 401

8.

Hamra ST (1995) Arcus marginalis release and orbital fat preservation in midface rejuvenation. Plast Reconstr Surg 96(2):354–362

9.

Youn S, Shin JI, Kim JT, Kim YH (2014) Transconjunctival subperiosteal fat reposition for tear trough deformity: pedicled fat redraping versus septal reset. Ann Plast Surg 73(5):479–484

10.

Barton FE Jr, Ha R, Awada M (2004) Fat extrusion and septal reset in patients with the tear trough triad: a critical appraisal. Plast Reconstr Surg 113(7):2115–2121 discussion 2122–2113

11.

Yoo DB, Peng GL, Massry GG (2013) Transconjunctival lower blepharoplasty with fat repositioning: a retrospective comparison of transposing fat to the subperiosteal vs supraperiosteal planes. JAMA Facial Plast Surg 15(3):176–181

12.

Coleman SR (2002) Avoidance of arterial occlusion from injection of soft tissue fillers. Aesthet Surg J 22(6):555–557

13.

Hirmand H (2010) Anatomy and nonsurgical correction of the tear trough deformity. Plast Reconstr Surg 125(2):699–708

14.

Hamra ST (2004) The role of the septal reset in creating a youthful eyelid-cheek complex in facial rejuvenation. Plast Reconstr Surg 113(7):2124–2141 discussion 2142–2124

15.

Pak C et al (2018) A novel method for lower blepharoplasty: repositioning of the orbital septum using inverted T-shaped plication. Aesthet Surg J 38(7):707–713

16.

Liao SL, Wei YH (2011) Fat repositioning via supraperiosteal dissection with internal fixation for tear trough deformity in an Asian population. Graefes Arch Clin Exp Ophthalmol 249(11):1735–1741

17.

Chiu CY, Shen YC, Zhao QF, Hong FL, Xu JH (2017) Treatment of tear trough deformity: fat repositioning versus autologous fat grafting. Aesthet Plast Surg 41(1):73–80

18.

Spector JA, Draper L, Aston SJ (2008) Lower lid deformity secondary to autogenous fat transfer: a cautionary tale. Aesthet Plast Surg 32(3):411–414

19.

Hamra ST (1996) The role of orbital fat preservation in facial aesthetic surgery. A new concept. Clin Plast Surg 23(1):17–28

20.

Haddock NT, Saadeh PB, Boutros S, Thorne CH (2009) The tear trough and lid/cheek junction: anatomy and implications for surgical correction. Plast Reconstr Surg 123(4):1332–1340 discussion 1341–1332

21.

Kawamoto HK, Bradley JP (2003) The tear "TROUF" procedure: transconjunctival repositioning of orbital unipedicled fat. Plast Reconstr Surg 112(7):1903–1907 discussion 1908–1909
Ethics declarations
Conflict of interest
The authors declare that they have no conflict of interest.
Ethical Approval
Ethical approval was given by the ethics committee at our institution and written informed consent was obtained from all patients.
Additional information
Publisher's Note
Springer Nature remains neutral with regard to jurisdictional claims in published maps and institutional affiliations.
Electronic supplementary material
Below is the link to the electronic supplementary material.
Supplementary material 1 (MP4 121452 kb)
About this article
Cite this article
Duan, R., Wu, M., Tremp, M. et al. Modified Lower Blepharoplasty with Fat Repositioning via Transconjunctival Approach to Correct Tear Trough Deformity. Aesth Plast Surg 43, 680–685 (2019). https://doi.org/10.1007/s00266-019-01309-5
Received:

Accepted:

Published:

Issue Date:
Keywords
Tear trough deformity

Lower blepharoplasty

Fat repositioning

Transconjunctival approach