Abstract
Background
Several systematic methods for breast augmentation have been published, providing key principles and technical steps for minimizing complications and optimizing patient satisfaction. The aim of this study was to compare complication rates in patients receiving a breast augmentation performed using a structured, standardized approach versus comparator patients operated on without a standardized approach.
Methods
This was a single-center, retrospective review of 290 consecutive breast augmentations performed between October 2016 and September 2017 based on a standardized technique (Randquist's "five P's" combined with Adams' 14-point plan), and 235 comparators who underwent breast augmentations prior to standardization between April 2014 and September 2016. All study subjects were females aged ≥ 18 years, undergoing bilateral breast augmentation, either alone or in the context of augmentation mastopexy or implant replacement. Various implant ranges were used before standardization; most (94.8%) of the standardized procedures used Natrelle® devices. Follow-up lasted for ≥ 12 months.
Results
Significantly fewer patients in the standardized surgery group experienced complications (14.5%, n = 42) compared with the non-standardized group [29.4%, n = 69; Chi square = 6.57; degrees of freedom (df) = 1; p = 0.01041]. Complication rates were also significantly lower in the standardized surgery group for each of the three types of breast augmentation surgery assessed separately. Reoperation rates with standardized and non-standardized surgery were 4.1% (n = 12) and 11.9% (n = 28), respectively (Chi square = 6.4; df = 1; p = 0.01145). Patient satisfaction was increased post-surgery in both groups.
Conclusions
The use of a structured, standardized approach to breast augmentation reduced the risk of postoperative complications.
Level of Evidence IV
This journal requires that authors assign a level of evidence to each article. For a full description of these Evidence-Based Medicine ratings, please refer to the Table of Contents or the online Instructions to Authors www.springer.com/00266.
This is a preview of subscription content, log in to check access.
Access options
Buy single article
Instant access to the full article PDF.
US$ 39.95
Price includes VAT for USA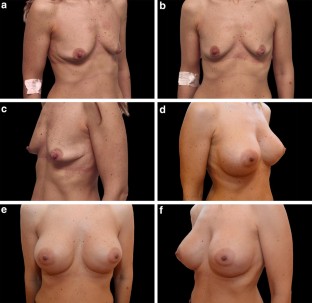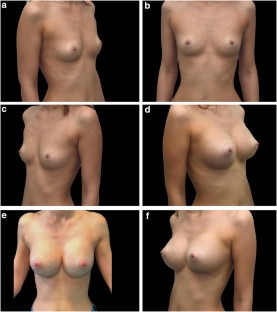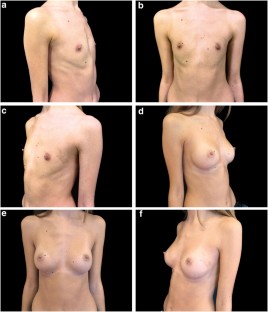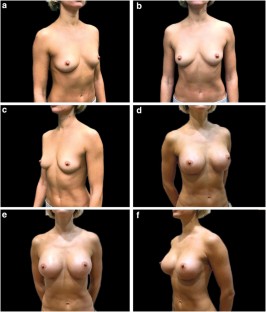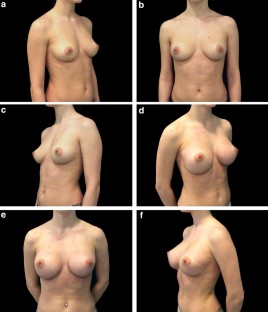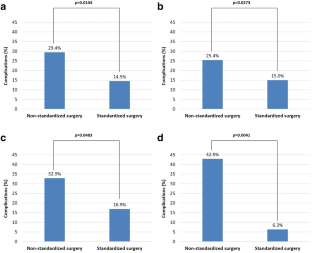 References
1.

American Society of Plastic Surgeons (2016) Plastic surgery statistics report 2016. www.plasticsurgery.org/documents/News/Statistics/2016/plastic-surgery-statistics-full-report-2016.pdf. Accessed 9 Aug 2018

2.

Kapoor NS (2017) Common and less-common complications associated with breast implants. Ann Womens Health 1:1002

3.

Hedén P, Jernbeck J, Hober M (2001) Breast augmentation with anatomical cohesive gel implants: the world's largest current experience. Clin Plast Surg 28:531–552

4.

Randquist C, Gribbe O (2010) Highly cohesive textured form stable gel implants: principles and technique. In: Hall-Findlay EJ, Evans G (eds) Aesthetic and reconstructive surgery of the breast. Saunders Ltd, Philadelphia, pp 339–355

5.

Adams WP Jr, Culbertson EJ, Deva AK et al (2017) Macrotextured breast implants with defined steps to minimize bacterial contamination around the device: Experience in 42,000 implants. Plast Reconstr Surg 140:427–431

6.

Nava MB, Rancati A, Angrigiani C, Catanuto G, Rocco N (2017) How to prevent complications in breast augmentation. Gland Surg 6:210–217

7.

Del Pozo JL, Tran NV, Petty PM et al (2009) Pilot study of association of bacteria on breast implants with capsular contracture. J Clin Microbiol 47:1333–1337

8.

Tebbetts JB (2002) A system for breast implant selection based on patient tissue characteristics and implant-soft tissue dynamics. Plast Reconstr Surg 109:1396–1409

9.

Tebbetts JB, Adams WP (2005) Five critical decisions in breast augmentation using five measurements in 5 minutes: the high five decision support process. Plast Reconstr Surg 116:2005–2016

10.

Riggio E, Ardoino I, Richardson CE, Biganzoli E (2017) Predictability of anthropomorphic measurements in implant selection for breast reconstruction: a retrospective cohort study. Eur J Plast Surg 40:203–212

11.

Goodwin SJ, McCarthy CM, Pusic AL et al (2005) Complications in smokers after postmastectomy tissue expander/implant breast reconstruction. Ann Plast Surg 55:16–19

12.

Bamba R, Gupta V, Shack RB, Grotting JC, Higdon KK (2016) Evaluation of diabetes mellitus as a risk factor for major complications in patients undergoing aesthetic surgery. Aesthet Surg J 36:598–608

13.

Montemurro P, Agko M, Quattrini Li A, Avvedimento S, Heden P (2017) Implementation of an integrated biodimensional method of breast augmentation with anatomic, highly cohesive silicone gel implants: Short-term results with the first 620 consecutive cases. Aesthet Surg J 37:782–792

14.

Montemurro P, Cheema M, Heden P, Agko M, Quattrinin Li A, Avvedimento S (2018) Do not fear an implant's shape: a single surgeon's experience of over 1200 round and shaped textured implants in primary breast augmentation. Aesthet Surg J 38:254–261

15.

Berretta M, Di Francia R, Tirelli U (2014) Editorial: the new oncologic challenges in the 3RD millennium. World Cancer Res J 1:e133

16.

Clemens MW, Medeiros LJ, Butler CE et al (2016) Complete surgical excision is essential for the management of patients with breast implant-associated anaplastic large-cell lymphoma. J Clin Oncol 34:160–168

17.

Swerdlow SH, Campo E, Pileri SA et al (2016) The 2016 revision of the World Health Organization classification of lymphoid neoplasms. Blood 127:2375–2390

18.

Loch-Wilkinson A, Beath KJ, Knight RJW et al (2017) Breast implant-associated anaplastic large cell lymphoma in Australia and New Zealand: high-surface-area textured implants are associated with increased risk. Plast Reconstr Surg 140:645–654

19.

Namnoum JD, Largent J, Kaplan HM, Oefelein MG, Brown MH (2013) Primary breast augmentation clinical trial outcomes stratified by surgical incision, anatomical placement and implant device type. J Plast Reconstr Aesthet Surg 66:1165–1172

20.

Maxwell GP, Scheflan M, Spear S, Nava MB, Hedén P (2014) Benefits and limitations of macrotextured breast implants and consensus recommendations for optimizing their effectiveness. Aesthet Surg J 34:876–881
Acknowledgements
The authors received financial support for the research, authorship, and publication of this article from Health & Progress s.r.l., Benevento, Italy. We thank Antonio Pezone (Department of Molecular Medicine and Medical Biotechnology, University of Naples Federico II) and Imma Fantasia (a freelance data scientist) for assistance with statistical calculations. The authors also thank Dr Timothy Ryder from Biological Communications Limited for medical writing and editorial assistance in developing the manuscript, funded by Allergan.
Ethics declarations
Conflict of interest
The authors declared no potential conflicts of interest with respect to the research, authorship, and publication of this article.
Electronic supplementary material
Below is the link to the electronic supplementary material.
Supplementary material 1 (MP4 350392 kb)
About this article
Cite this article
Santorelli, A., Rossano, F., Cagli, B. et al. Standardized Practice Reduces Complications in Breast Augmentation: Results with the First 290 Consecutive Cases Versus Non-standardized Comparators. Aesth Plast Surg 43, 336–347 (2019). https://doi.org/10.1007/s00266-018-1291-y
Received:

Accepted:

Published:

Issue Date:
Keywords
Breast augmentation

Five P's

14-Point plan