Abstract
Background
Filler augmentation rhinoplasty is a quick, non-surgical procedure that can produce outcomes comparable to open rhinoplasty surgery. However, the increased frequency of vascular complications has emerged as an important issue. The present study aimed to investigate measures to overcome the vascular complications based on the anatomy of the nose.
Methods
A colored filler was injected into cadavers for augmentation of the nasal dorsum using the retrograde injection technique and direct percutaneous injection technique. The concavity of the sellion area was measured using lateral view cephalography X-ray images. Lastly, we used ultrasonography to determine filler location in 20 Korean patients who had filler injected into the sellion area by injection at the infratip lobule.
Results
Filler was injected into the superficial layer by the retrograde injection technique in three cadavers and into the deep layer by direct percutaneous injection technique in another three cadavers. The average angle between the nasal dorsum skin and sellion was found to be 10.2 ± 2.8 degrees, while the minimum angle was 5.1 degrees. The average distance between the needle tip and nasal bone was 1.9 ± 0.3 mm, while the minimum distance was 0.4 mm.
Conclusions
When performing filler augmentation rhinoplasty on the sellion area, direct percutaneous injection from the glabella can allow more accurate injection into the supraperiosteal level, which can reduce complications such as visual loss and skin necrosis due to vascular compromise.
Level of Evidence IV
This journal requires that authors assign a level of evidence to each article. For a full description of these Evidence-Based Medicine ratings, please refer to the Table of Contents or the online Instructions to Authors www.springer.com/00266.
Access options
Buy single article
Instant access to the full article PDF.
USD 39.95
Price excludes VAT (USA)
Tax calculation will be finalised during checkout.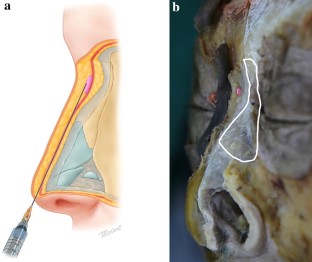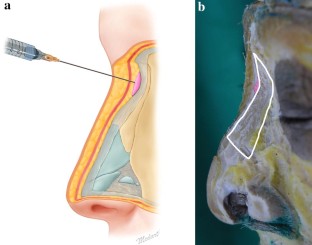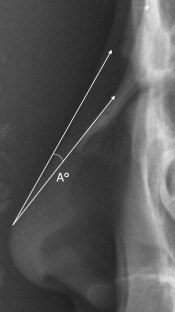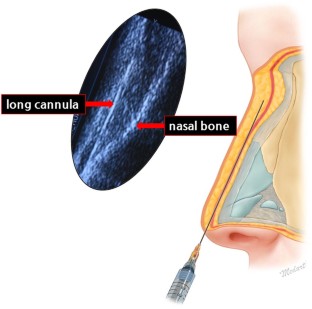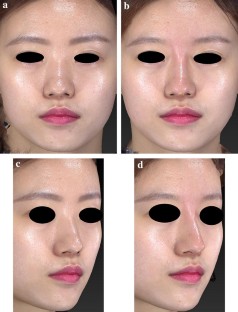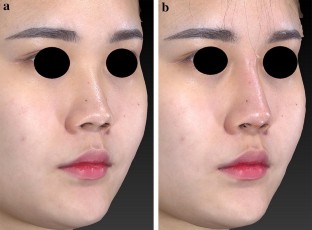 References
Iwanaga J, Watanabe K, Oskouian RJ, Tubbs RS (2018) Distribution of the internal nasal branch of the infraorbital nerve to the nasal septum: application to rhinoplasty. J Plast Reconstr Aesthet Surg 71:665–669

Jung GS, Kwon JH, Lee JW, Yang JD et al (2017) A new approach to nasomaxillary complex type of nasal bone fracture: clip operation. J Craniomaxillofac Surg 45:954–961

Kim HJ, Seo KK, Lee HK, Kim J (2015) Clinical anatomy of the face for filler and botulinum toxin injection, 1st edn. Springer, Daegu

Kurkjian TJ, Ahmad J, Rohrich RJ (2014) Soft-tissue fillers in rhinoplasty. Plast Reconstr Surg 133:121–126

Suh MK (2012) Asian rhinoplasty, 1st edn. Korea Academy of Plastic Surgery, Daegu

Jeong JY (2016) Rhinoplasty, 1st edn. Medic Medicine, Daegu

Chan EK, Soh J, Petocz P, Darendeliler MA (2008) Esthetic evaluation of Asian–Chinese profiles from a white perspective. Am J Orthod Dentofacial Orthop 133:532–538

Mizumoto Y, Deguchi T Sr, Fong KW (2009) Assessment of facial golden proportions among young Japanese women. Am J Orthod Dentofacial Orthop 136:168–174

Ozturk CN, Larson JD, Ozturk C, Zins JE (2013) The SMAS and fat compartments of the nose: an anatomical study. Aesthet Plast Surg 37:11–15

Koh IS (2014) Complication of filler, necrosis and blindness, 1st edn. Ilchokak, Daegu

Hong KW (2017) Filler, botulinum toxin, 1st edn. MD World Medical Book, Daegu

Von BAHR (1963) Multiple embolisms in the fundus of the eye after an injection in the scalp. Acta Ophthalmol 41:85–91

Rzany B, DeLorenzi C (2015) Understanding, avoiding, and managing severe filler complications. Plast Reconstr Surg 136:196–203

Moon HJ (2016) Use of fillers in rhinoplasty. Clin Plast Surg 43:307–317
Ethics declarations
Conflict of interest
All authors declare that they have no conflict of interest.
About this article
Cite this article
Jung, G.S., Chu, S.G., Lee, J.W. et al. A Safer Non-surgical Filler Augmentation Rhinoplasty Based on the Anatomy of the Nose. Aesth Plast Surg 43, 447–452 (2019). https://doi.org/10.1007/s00266-018-1279-7
Received:

Accepted:

Published:

Issue Date:

DOI: https://doi.org/10.1007/s00266-018-1279-7
Keywords