Abstract
Background
Postoperative eyelid asymmetry is the most common complaint of patients after undergoing blepharoplasty and ptosis correction surgery. Calibrating eyelid asymmetry during ptosis correction surgery is still difficult for surgeons despite the development of innovative procedures. Our levator pull-out suture technique for correcting postoperative eyelid asymmetry after ptosis surgery is introduced.
Methods
A total of 330 patients who underwent ptosis correction surgery with upper blepharoplasty from 2016 to 2017 were enrolled in our study. All surgeries were performed using the levator pull-out suture technique, and the postoperative eyelid asymmetry was corrected in the outpatient clinic at 2–3 days after the operation. Patient satisfaction was evaluated preoperatively and at 1 week and 2 months postoperatively using a questionnaire. Visual acuity, marginal reflex distance 1 (MRD1), and vertical palpebral fissure length asymmetry were measured preoperatively and compared to values taken postoperatively.
Results
Patient satisfaction regarding asymmetry increased from 2.7/5 (preoperatively) to 4.1/5 points (postoperatively). MRD1 and vertical palpebral fissure length increased from 1.1/1.2 and 6.8/6.8 mm (preoperatively), respectively, to 2.8/2.9 and 8.5/8.6 mm (postoperatively), respectively. The asymmetry of MRD1 and vertical palpebral fissure length before and after surgery were corrected from 0.45/1.81 to 0.01/0.19 mm (p < 0.01).
Conclusion
Our innovative surgical method of using the levator pull-out suture technique is relatively simple and allows for finer suture adjustments postoperatively to effectively correct eyelid asymmetry, with satisfactory results.
Level of Evidence IV
This journal requires that authors assign a level of evidence to each article. For a full description of these Evidence-Based Medicine ratings, please refer to the Table of Contents or the online Instructions to Authors www.springer.com/00266.
This is a preview of subscription content, log in to check access.
Access options
Buy single article
Instant access to the full article PDF.
US$ 39.95
Price includes VAT for USA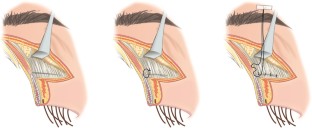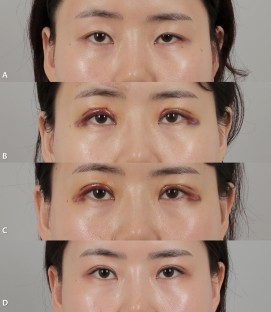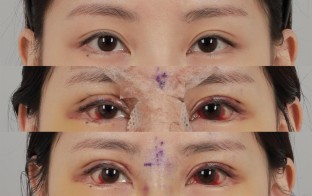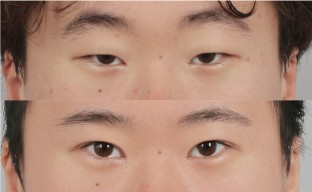 References
1.

Golan S, Goldberg RA (2017) Time course analysis of upper blepharoplasty complications. Dermatol Surg 43:307–309

2.

Czyz CN, Lam VB, Foster JA (2011) Management of complications of upper eyelid blepharoplasty (Master techniques in blepharoplasty and periorbital rejuvenation). Springer, New York

3.

Collin J (1979) Complications of ptosis surgery and their management: a review. J R Soc Med 72:25–26

4.

Chang S, Lehrman C, Itani K, Rohrich RJ (2012) A systematic review of comparison of upper eyelid involutional ptosis repair techniques: efficacy and complication rates. Plast Reconstr Surg 129:149–157

5.

Pool SM, van der Lei B (2015) Asymmetry in upper blepharoplasty: a retrospective evaluation study of 365 bilateral upper blepharoplasties conducted between January 2004 and December 2013. J Plast Reconstr Aesthet Surg 68:464–468

6.

Yi MY, Choi HS, Jang JW, Kim SJ, Jang SY (2017) Asymmetry of preoperative incision design markings for upper blepharoplasty. J Craniofac Surg 28:e419–e422

7.

Park KS, Park DD (2017) Objective outcome measurement after upper blepharoplasty: an analysis of different operative techniques. Aesthet Plast Surg 41:64–72

8.

Saonanon P (2014) Update on Asian eyelid anatomy and clinical relevance. Curr Opin Ophtalmol 25:436–442

9.

Wang TT, Wessels L, Hussain G, Merten S (2017) Discriminative thresholds in facial asymmetry: a review of the literature. Aesthet Surg J 37:375–385

10.

Park DH, Kim CW, Shim JS (2008) Strategies for simultaneous double eyelid blepharoplasty in Asian patients with congenital blepharoptosis. Aesthet Plast Surg 32:66–71

11.

Ben Simon GJ, Lee S, Schwarcz RM, McCann JD, Goldberg RA (2007) Muller's muscle-conjunctival resection for correction of upper eyelid ptosis: relationship between phenylephrine testing and the amount of tissue resected with final eyelid position. Arch Facial Plast Surg 9:413–417

12.

Mühlbauer W, Holm C (1998) Eyebrow asymmetry: ways of correction. Aesth Plast Surg 22:366–371

13.

Kakizaki H, Malhotra R, Selva D (2009) Upper eyelid anatomy: an update. Ann Plast Surg 63:336–343

14.

Chen B, Song H, Gao Q, Xu M, Wang J, Wang F, Chen S, Wu J, Li H (2017) Measuring satisfaction with appearance: validation of the FACE-Q scales for double-eyelid blepharoplasty with minor incision in young Asians- retrospective study of 200 cases. J Plast Reconstr Aesthet Surg 70:1129–1135

15.

Lee JH, Nam SM, Kim YB (2015) Blepharoptosis correction: levator aponeurosis-Muller muscle complex advancement with three partial incisions. Plast Reconstr Surg 135:388–395

16.

Oster G, Sullivan SD, Dalal MR, Kazemi MR, Rojeski M, Wysham CH, Sung J, Johnstone B, Cali AM, Wei LJ, Traylor L, Anhalt H, Hull M, Van Vleet J, Meneghini LF (2016) Achieve control: a pragmatic clinical trial of insulin glargine 300 U/mL versus other basal insulins in insulin-naive patients with type 2 diabetes. Postgrad Med 128:731–739

17.

Gravante G, Caruso R, Araco A, Cervelli V (2008) Infections after plastic procedures: incidences, etiologies, risk factors, and antibiotic prophylaxis. Aesth Plast Surg 32:243–251
Acknowledgements
None of the authors have financial interest in any of the products, devices, or drugs mentioned in this manuscript.
Electronic supplementary material
Below is the link to the electronic supplementary material.
Intraoperative video of performing levator correction surgery with the pull-out suture technique. (MP4 17574 kb)
Video presentation of the surgeon adjusting the pull-out suture of the patient (from Video 1 and Fig. 2) at three days after the operation in the outpatient clinic. (MP4 21897 kb)
About this article
Cite this article
Hwang, I., Myung, Y. & Park, S. Levator Pull-Out Suture Technique for Immediate Postoperative Correction of Eyelid Asymmetry After Ptosis Surgery in Asians. Aesth Plast Surg 43, 388–394 (2019). https://doi.org/10.1007/s00266-018-1276-x
Received:

Accepted:

Published:

Issue Date:
Keywords
Blepharoplasty

Ptosis

Asymmetry

Upper eyelid

Levator aponeurosis