Abstract
Introduction
We describe the first case of a patient who received AQUAfilling® gel (Biomedica, Prague, Czech Republic) after augmentation with Poly Implant Prothèse® (PIP) breast implants and later developed breast deformity with bilateral implant rupture.
Case Report
A 49-year-old Korean female patient who received breast augmentation with PIP implants 18 years ago and subsequent insertion of AQUAfilling® gel 1 year ago visited our center with a chief complaint of pain and decreased implant sizes in both breasts. Breast implant and foreign body removal operation was performed for both breasts under general anesthesia. Intraoperative gross findings, pathologic findings, and tissue culture results were analyzed.
Results
Our diagnosis included rupture of the implants in both breasts with leakage of injected material resulting in inflammation of the pericapsular area and pectoralis muscle. The intraoperative gross findings and results of the pathologic report showed that the implants were exposed with massive leakage of AQUAfilling® gel in the pericapsular space, and the pectoralis major was mixed with AQUAfilling® gel-like liquid and tissue with an inflammatory reaction.
Conclusions
Surgeons should be careful in performing AQUAfilling® gel injection for breast augmentation, especially when combined with breast implant insertion. AQUAfilling® gel itself is not yet proven safe in the long term, so more research on this topic is warranted. Additionally, surgeons should be aware of the comparatively high risk of implant rupture and foreign body reaction with PIP implants, and warn patients accordingly.
Level of Evidence V
This journal requires that authors assign a level of evidence to each article. For a full description of these Evidence-Based Medicine ratings, please refer to the Table of Contents or the online Instructions to Authors www.springer.com/00266.
This is a preview of subscription content, log in to check access.
Access options
Buy single article
Instant access to the full article PDF.
US$ 39.95
Price includes VAT for USA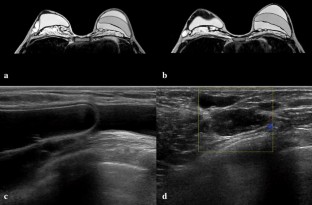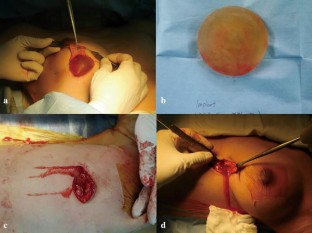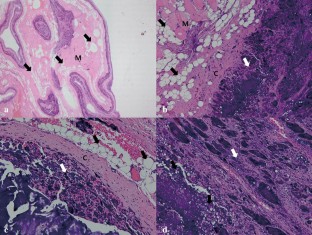 References
1.

Greco C (2015) The poly implant prothèse breast prostheses scandal: embodied risk and social suffering. Soc Sci Med 147:150–157

2.

Shin JH, Suh JS, Yang SG (2015) Correcting shape and size using temporary filler after breast augmentation with silicone implants. Arch Aesthet Plast Surg 21:124–126

3.

Roh TS (2016) Position statement of Korean Academic Society of Aesthetic and Reconstructive Breast Surgery: concerning the use of AQUAfilling® for breast augmentation. Arch Aesthet Plast Surg 22:45–46

4.

Gozde A, Levent C, Mahir AM, Levent C, Rahmi C (2017) Complication of non-US guided procedure of aquafilling breast gel. Med Ultrason 19:236–240

5.

Jung BK, Yun IS, Kim YS, Roh TS (2018) Complication of AQUAfilling® gel injection for breast augmentation: case report of one case and review of literature. Aesthet Plast Surg 42:1252–1256

6.

Son MJ, Ko KH, Jung HK, Koh JE, Park AY (2018) Complications and radiologic features of breast augmentation via injection of aquafilling gel. J Ultrasound Med 37:1835–1839

7.

Lampert FM, Schwarz M, Grabin S, Stark GB (2012) The "PIP scandal"—complications in breast implants of inferior quality: state of knowledge, official recommendations and case report. Geburtsh Frauenheilk 72:243–246

8.

Helyar V, Burke C, McWilliams S (2013) The ruptured PIP breast implant. Clin Radiol 68:845–850

9.

Scotto di Santolo MS, Cusati B, Ragozzino A (2014) Poly implant prothèse incidence of rupture: a retrospective MR analysis in 64 patients. Quant Imaging Med Surg 4:462–468

10.

Khan UD (2013) Poly implant prothèse (PIP) incidence of device failure and capsular contracture: a retrospective comparative analysis. Aesthet Plast Surg 37:906–913

11.

Oulharj S, Pauchot J, Tropet Y (2014) PIP breast implant removal: a study of 828 cases. J Plast Reconstr Aesthet Surg 67:302–307

12.

Quaba O, Quaba A (2013) PIP silicone breast implants: rupture rates based on the explantation of 676 implants in a single surgeon series. J Plast Reconstr Aesthet Surg 66:1182–1187

13.

Chummun S (2013) PIP breast implants: our experience. Surgeon 11:241–245

14.

Correia Sa I (2013) The ''PIP problem'': clinical and histologic characteristics. Aesthet Plast Surg 37:936–940

15.

Dinets A et al (2016) An unusual case of a ruptured poly implant prothèse breast implant associated with xanthoma. Case Rep Plast Surg Hand Surg 3(1):11–15

16.

Mallon P et al (2013) Bilateral poly implant prothèse implant rupture: an uncommon presentation. Plast Reconstr Surg Glob Open 1:e29

17.

Tafazal H et al (2014) Sentinel lymph node biopsy in a patient with ruptured poly implant prothèse (PIP) implants: a case report. Int J Surg Case Rep 5:992–994

18.

Kastner S et al (2018) Recurrent 8-year ongoing unilateral breast seroma formation after pip implant removal—a case report and review of the literature. Surg J 4(1):e46–e51

19.

Mistry R et al (2015) Thoracic outlet syndrome following breast implant rupture. Plast Reconstr Surg Glob Open 3:e331
Ethics declarations
Conflict of interest
The authors have no financial or institutional interest in any of the drugs, materials, or devices described in this article.
Ethical Approval
All procedures performed in studies involving human participants were in accordance with the ethical standards of the institutional and/or national research committee and with the 1964 Helsinki declaration and its later amendments or comparable ethical standards.
Informed Consent
Informed consent was obtained from the patient to publish the case and accompanying images.
About this article
Cite this article
Kim, J., Chang, H. & Park, J. Complication of Ruptured Poly Implant Prothèse® Breast Implants Combined with AQUAfilling® Gel Injection: A Case Report and Literature Review. Aesth Plast Surg 43, 46–52 (2019). https://doi.org/10.1007/s00266-018-1242-7
Received:

Accepted:

Published:

Issue Date:
Keywords
Breast deformity

Implant rupture

Gel filler

Case report