Abstract
Background
The columellar strut graft is one of the most commonly used invisible grafts in tip plasty techniques for nasal tip projection. However, the columellar strut graft induces cephalic rotation of the dome with nasal tip projection. This is an effective change in Western people with a long nose; however, this change should be avoided in Asians who have a relatively short nose and visible nostrils. We designed a more convenient and effective technique using a rein-shaped columellar strut graft that can prevent cephalic rotation of the dome.
Methods
A total of 32 patients underwent surgery with a rein-shaped columellar strut graft with a septal cartilage. The projection and location of the nasal tip, nasal length, and nasolabial angle were measured after taking a photograph of the lateral view, and the preoperative and postoperative results were compared.
Results
There were statistically significant differences between the preoperative and postoperative values of the nasal tip projection ratio and nasal tip location ratio. There were no revision surgeries and no direct complications associated with the use of the columellar strut graft.
Conclusion
We performed tip plasty with a modified columellar strut graft—the rein-shaped columellar strut graft. In most cases of using this method, the tip projection was increased and the cephalic rotation of the tip was prevented. This surgical procedure can also be used for lengthening (rotating caudally) of the nose in some cases, as well as for the purpose of preventing the cephalic rotation of the tip.
Level of Evidence IV
This journal requires that authors assign a level of evidence to each article. For a full description of these Evidence-Based Medicine ratings, please refer to the Table of Contents or the online Instructions to Authors www.springer.com/00266.
Access options
Buy single article
Instant access to the full article PDF.
US$ 39.95
Tax calculation will be finalised during checkout.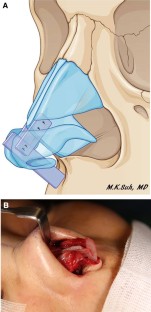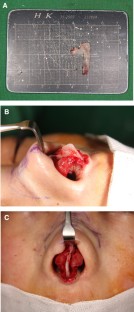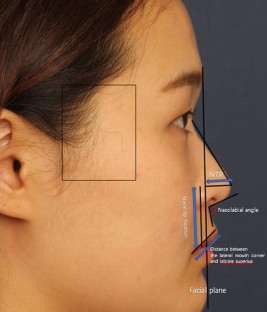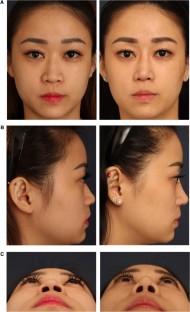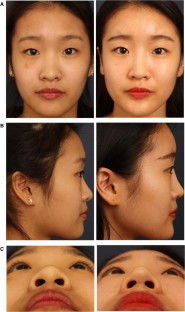 References
1.

Rohrich RJ, Hoxworth RE, Kurkjian TJ (2012) The role of the columellar strut in rhinoplasty: indications and rationale. Plast Reconstr Surg 129(1):118e–125e

2.

Kim CH (2015) A new concept in the tip plasty of Asian rhinoplasty: the flag technique by use of only a septal cartilage. Plast Reconstr Surg 135(4):1033–1036

3.

Petroff MA, McCollough EG, Hom D et al (1991) Nasal tip projection. Quantitative changes following rhinoplasty. Arch Otolaryngol Head Neck Surg 117(7):783–788

4.

Dhong ES, Kim YJ, Suh MK (2013) L-shaped columellar strut in east Asian nasal tip plasty. Arch Plast Surg. 40:616–620

5.

Akkus AM, Eryilmaz E, Guneren E (2016) Varied definitions of nasolabial angle: searching for consensus among Rhinoplasty Surgeons and an algorithm for selecting the ideal method. Plast Reconstr Surg Glob Open. 4(6):e752

6.

Falces E, Wesser D, Gorney M (1970) Cosmetic surgery of the non-Caucasian nose. Plast Reconstr Surg 45:317–325

7.

Matory WE, Falces E (1986) Non-Caucasian rhinoplasty: a 16-year experience. Plast Reconstr Surg 77:239–252

8.

Han SK, Lee DG, Kim JB et al (2004) An anatomic study of nasal tip supporting structures. Ann Plast Surg 52:134–139

9.

Li J, Huang Y, Zhang Y et al (2018) Application of a porous polyethylene spreader graft for nasal lengthening in Asian patients. Aesthet Surg J. https://doi.org/10.1093/asj/sjx216

10.

Guyuron B, Varghai A (2003) Lengthening the nose with a tongue-and-groove technique. Plast Reconstr Surg 111(4):1533–1539

11.

Han K, Kim J, Son D et al (2008) How to harvest the maximal amount of conchal cartilage grafts. J Plast Reconstr Aesthet Surg 61:1465–1471
Ethics declarations
Conflict of interest
The authors declare that they have no conflicts of interest to disclose.
About this article
Cite this article
Kim, H.I., Lee, W.J., Roh, T.S. et al. A Novel Technique of Asian Tip Plasty: Rein-Shaped Columellar Strut Graft. Aesth Plast Surg 43, 1301–1309 (2019). https://doi.org/10.1007/s00266-018-1185-z
Received:

Accepted:

Published:

Issue Date:
Keywords
Rhinoplasty

Nasal tip

Columellar strut