Abstract
Introduction
Abdominoplasty is one of the most popular body-contouring procedures. Despite its popularity, classic abdominoplasty is still associated with a significant rate of complaints from patients such as: fullness of flanks and epigastric areas, lack of a posterior lumbar curve, hanging skin over the incision line, and visible scars over the flanks and beyond underwear or swimming suit coverage. This study reviews the authors' experience in redo abdominoplasty when the patient is not or partially satisfied with the primary procedure.
Patients and Methods
A total of 115 female and 32 male patients underwent revision abdominoplasty with truncal liposculpting between 2007 and 2016. The age distribution of patients ranged from 33 to 73 years, with a mean of 43.1 years. All the patients included in the study had undergone classic abdominoplasty in a different institution. Overall satisfaction with the body appearance after the combined procedure was rated on a scale of 1–5, where 1 is 'poor,' 2 is 'fair,' 3 is 'good,' 4 is 'very good,' and 5 is 'excellent.' The evaluation was made 12 months after the composite body-contouring procedure.
Results
Four hundred to 1500 ml of fat were obtained with liposuction (mean 840 ml). The amount of clean, adipose tissue transplanted to the buttocks varied from 95 to 425 (mean 286 ml) and to the lower limbs from 75 to 270 ml (mean 195 ml). The stromal-enriched lipograft technique was used in all the cases to enrich the fat transplantation. There was no hematoma, infection or deep vein thrombosis. Seventy-five percent reported that their appearance after composite body contouring was 'very good' to 'excellent' (30% 'excellent' and 45% 'very good') and 20% responded that their appearance was 'good.' Only 5% of patients thought their appearance was less than good ('fair'). The average follow-up time for this group of patients has been 6.3 years (range 1–10 years).
Conclusion
Truncal liposculpting with modified abdominoplasty accomplishes very good aesthetic results in a single surgical procedure with a low rate of complications and high patient satisfaction in cases of revision abdominoplasties.
Level of Evidence V
This journal requires that authors assign a level of evidence to each article. For a full description of these Evidence-Based Medicine ratings, please refer to Table of Contents or the online Instructions to Authors www.springer.com/00266.
Access options
Buy single article
Instant access to the full article PDF.
USD 39.95
Price excludes VAT (USA)
Tax calculation will be finalised during checkout.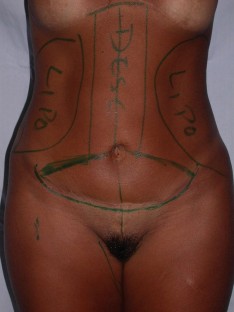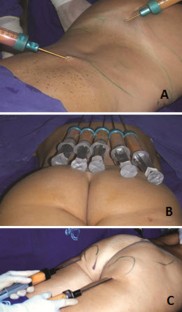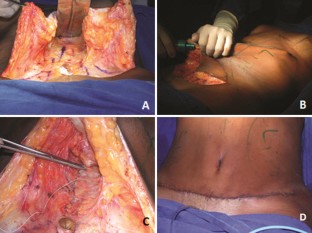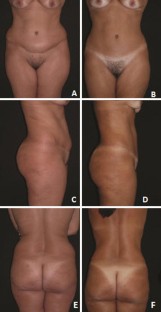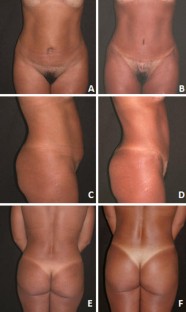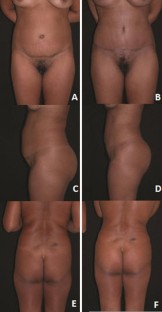 References
Baroudi R, Moraes M (1991) Philosophy, technical principles, selection, and indication in body contouring surgery. Aesthet Plast Surg 15(1):1–18

Rohrich RJ, Smith PD, Marcantonio DR, Kenkel JM (2001) The zones of adherence: role in minimizing and preventing contour deformities in liposuction. Plast Reconstr Surg 107(6):1562–1569

Nicareta B, Pereira LH, Sterodimas A, Illouz YG (2011) Autologous gluteal lipograft. Aesthet Plast Surg 35(2):216–224

Pereira LH, Sterodimas A (2008) Correction for the iatrogenic form of banana fold and sensuous triangle deformity. Aesthet Plast Surg 32(6):923–927 (Epub 2008 Jul 29)

Illouz YG (1983) Body contouring by lipolysis: a 5-year experience with over 3000 cases. Plast Reconstr Surg 72(5):591–597

Triana L, Triana C, Barbato C, Zambrano M (2009) Liposuction: 25 years of experience in 26,259 patients using different devices. Aesthet Surg J 29(6):509–512

Stephan PJ, Kenkel JM (2010) Updates and advances in liposuction. Aesthet Surg J 30(1):83–97 (quiz 98-100)

Pitanguy I (2000) Evaluation of body contouring surgery today: a 30-year perspective. Plast Reconstr Surg 105(4):1499–1514 (discussion 1515-6)

Chang KN (1994) Surgical correction of postliposuction contour irregularities. Plast Reconstr Surg 94(1):126–136 (discussion 137-8)

Illouz YG (1999) Liposuction of the abdomen. Ann Chir Plast Esthet 44(4):481–495

Momeni A, Heier M, Bannasch H, Stark GB (2009) Complications in abdominoplasty: a risk factor analysis. J Plast Reconstr Aesthet Surg 62(10):1250–1254

Mayr M, Holm C, Höfter E, Becker A, Pfeiffer U, Mühlbauer W (2004) Effects of aesthetic abdominoplasty on abdominal wall perfusion: a quantitative evaluation. Plast Reconstr Surg 114(6):1586–1594

Pereira LH, Sterodimas A (2009) Composite body contouring. Aesthetic Plast Surg 33(4):616–624 (Epub 2009 May 12)

Samra S, Sawh-Martinez R, Barry O, Persing JA (2010) Complication rates of lipoabdominoplasty versus traditional abdominoplasty in high-risk patients. Plast Reconstr Surg 125(2):683–690

Sterodimas A, de Faria J, Nicaretta B, Boriani F (2011) Autologous fat transplantation versus adipose-derived stem cell-enriched lipografts: a study. Aesthet Surg J 31(6):682–693

Haroldo Pereira L, Sterodimas A (2008) Aesthetic restoration of axillary contour deformity after lymph node dissection. J Plast Reconstr Aesthet Surg 61(2):231–232 (Epub 2007 Nov 19. No abstract available)

Matarasso A, Wallach SG, Rankin M, Galiano RD (2005) Secondary abdominal contour surgery: a review of early and late reoperative surgery. Plast Reconstr Surg 115(2):627–632

Hunstad JP, Jones SR (2011) Abdominoplasty with thorough concurrent circumferential abdominal tumescent liposuction. Aesthet Surg J 31(5):572–590

Smith LF, Smith LF Jr (2015) Safely combining abdominoplasty with aggressive abdominal liposuction based on perforator vessels: technique and a review of 300 consecutive cases. Plast Reconstr Surg 135(5):1357–1366

Sterodimas A, Boriani F, Magarakis E, Nicaretta B, Pereira LH, Illouz YG (2012) Thirtyfour years of liposuction: past, present and future. Eur Rev Med Pharmacol Sci 16(3):393–406

Levy S, Gomes FR, Sterodimas A (2011) Macroscopic anatomic changes of subcutaneous fat tissue in massive-weight-loss patients. Aesthetic Plast Surg 35(5):814–819 (Epub 2011 Apr 1)

Saldanha OR, De Souza Pinto EB, Mattos WN Jr et al (2003) Lipoabdominoplasty with selective and safe undermining. Aesthetic Plast Surg 27:322–327

Brauman D (2003) Liposuction abdominoplasty: an evolving concept. Plast Reconstr Surg 112:288–298

Graf R, de Araujo LR, Rippel R, Neto LG, Pace DT, Cruz GA (2006) Lipoabdominoplasty: liposuction with reduced undermining and traditional abdominal skin flap resection. Aesthetic Plast Surg 30(1):1–8

Tadiparthi S, Shokrollahi K, Doyle GS, Fahmy FS (2012) Rectus sheath plication in abdominoplasty: assessment of its longevity and a review of the literature. J Plast Reconstr Aesthet Surg 65(3):328–332 (Epub 2011 Oct 20)

Abs R (2000) Thromboembolism in plastic surgery: review of the literature and proposal of a prophylaxis algorithm. Ann Chir Plast Esthet 45:604–609

Mofid MM, Teitelbaum S, Suissa D, Ramirez-Montañana A, Astarita DC, Mendieta C, Singer R (2017) Report on mortality from gluteal fat grafting: recommendations from the ASERF task force. Aesthet Surg J 37(7):796–806
Ethics declarations
Conflict of interest
The authors declare that they have no conflicts of interest to disclose.
About this article
Cite this article
Sterodimas, A., Boriani, F., Nicaretta, B. et al. Revision Abdominoplasty with Truncal Liposculpting: A 10-Year Experience. Aesth Plast Surg 43, 155–162 (2019). https://doi.org/10.1007/s00266-018-1176-0
Received:

Accepted:

Published:

Issue Date:

DOI: https://doi.org/10.1007/s00266-018-1176-0
Keywords