Abstract
Background
Rhinoplasty is a popular aesthetic and reconstructive surgical procedure. It is one of the top five surgical cosmetic procedures performed worldwide.
Objectives
To evaluate global trends in rhinoplasty research spanning 20 years between 1994 and 2013.
Methods
The top 15 plastic surgery and otolaryngology journals containing rhinoplasty research were determined using impact factors (IF). A database of rhinoplasty articles from 1994 to 2013 was created to include the following classifications: IF, authors' geographic location, study design, level of evidence (LOE), and pertinence to aesthetic or reconstructive rhinoplasty. Productivity index and productivity share were calculated for each region.
Results
A total of 1244 rhinoplasty articles were included in the database. The mean IF among the 15 journals increased from 0.75 in 1994 to 1.90 in 2013 (p < 0.001). The majority of rhinoplasty publications were clinical in study design (91.0%) and were predominantly of weaker LOE (level IV: 42.4%; level V: 33.2%). The USA led in proportion of total rhinoplasty publications by volume and productivity index (37.9%, 41.2%), followed by Asia (29.1%, 28.2%) and Western Europe (18.8%, 18.2%). The majority of articles published were classified as aesthetic (60.4%), whereas 30.6% were reconstructive; there was a significant increase in the proportion of aesthetic rhinoplasty articles published per year (p = 0.009).
Conclusions
The USA has consistently been the most productive country in rhinoplasty research. However, its lead has diminished over the last 20 years. The trend in rhinoplasty research appears to be toward aesthetic rather than reconstructive topics. Attention should be given to producing stronger LOE studies.
Level of Evidence III
This journal requires that authors assign a level of evidence to each article. For a full description of these Evidence-Based Medicine ratings, please refer to the Table of Contents or the online Instructions to Authors www.springer.com/00266.
Access options
Buy single article
Instant access to the full article PDF.
USD 39.95
Price excludes VAT (USA)
Tax calculation will be finalised during checkout.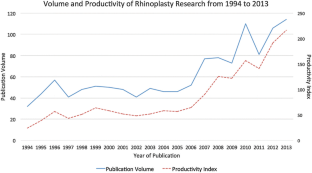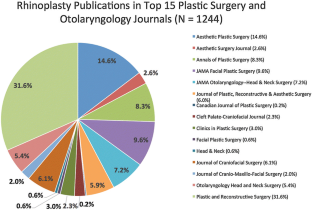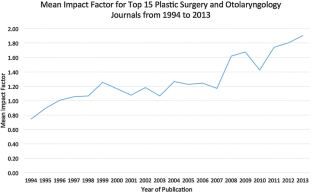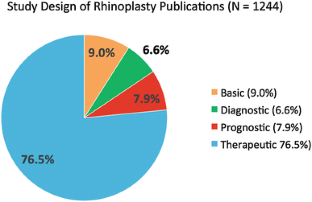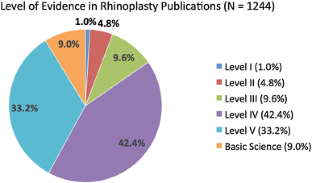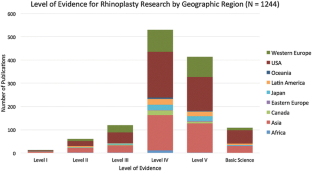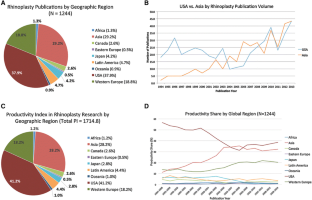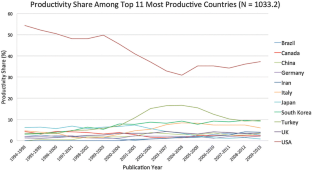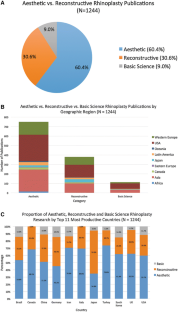 References
Singh GK (2005) M. Origins of the "Indian method" of nasal reconstruction. Plast Reconstr Surg 116:1177–1179

Spencer CR (2015) Sir Harold Delf Gillies, the otolaryngologist and father of modern facial plastic surgery: review of his rhinoplasty case notes. J Laryngol Otol 129:520–528

Pritchard A (1969) Statistical bibliography or bibliometrics? J Doc 25:348–349

Thompson DF, Walker CK (2015) A descriptive and historical review of bibliometrics with applications to medical sciences. Pharmacotherapy 35:551–559

Gast KM, Kuzon WM Jr, Waljee JF (2014) Bibliometric indices and academic promotion within plastic surgery. Plast Reconstr Surg 134:838e–844e

Joyce CW, Carroll SM (2014) Microsurgery: the top 50 classic papers in plastic surgery: a citation analysis. Arch Plast Surg 41:153–157

Rymer B, Choa R (2015) A worldwide bibliometric analysis of published literature in plastic and reconstructive surgery. J Plast Reconstr Aesthet Surg 68(9):1304–1308

Sinha Y, Iqbal FM, Spence JN, Richard B (2016) A bibliometric analysis of the 100 most-cited articles in rhinoplasty. Plast Reconstr Surg Glob Open 4(7):e820

Rohrich RJ, Eaves FF 3rd (2011) So you want to be an evidence-based plastic surgeon? A lifelong journey. Plast Reconstr Surg 127:467–472

Sullivan D, Chung KC, Eaves FF 3rd, Rohrich RJ (2011) The level of evidence pyramid: indicating levels of evidence in Plastic and Reconstructive Surgery articles. Plast Reconstr Surg 128:311–314

Chung KC, Swanson JA, Schmitz D, Sullivan D, Rohrich RJ (2009) Introducing evidence-based medicine to plastic and reconstructive surgery. Plast Reconstr Surg 123:1385–1389

Loonen MP, Hage JJ, Kon M (2007) Value of citation numbers and impact factors for analysis of plastic surgery research. Plast Reconstr Surg 120:2082–2091 (discussion 2092–2094)

Information, I. of S. Journal Citation Reports (2015). http://thomsonreuters.com/journal-citation-reports/. Accessed 29 May 2015

Labanaris APVA, Polykandriotis E, Tjiawi J, Arkudas A, Horch RE (2007) Impact factors and publication times for plastic surgery journals. Plast Reconstr Surg 120:2076–2081

Ahn CS, Li RJ, Ahn BS, Kuo P, Bryant J, Day CS (2012) Hand and wrist research productivity in journals with high impact factors: a 20 year analysis. J Hand Surg Eur 37:275–283

ASPS Evidence Rating Scale (2015). http://www.plasticsurgery.org/Documents/medical-professionals/health-policy/evidence-practice/ASPS-Rating-Scale-March-2011.pdf. Accessed 29 May 2015

American Society of Plastic Surgeons: Plastic Surgery Statistics Report (2013). http://www.plasticsurgery.org/Documents/news-resources/statistics/2013-statistics/cosmetic-procedures-national-trends-2013.pdf. Accessed 29 May 2015

ISAPS International Survey on Aesthetic/Cosmetic Procedures Performed in 2011 (2011). http://www.isaps.org/Media/Default/global-statistics/ISAPS-Results-Procedures-2011.pdf. Accessed 29 May 2015

Loiselle F, Mahabir RC, Harrop AR (2008) Levels of evidence in plastic surgery research over 20 years. Plast Reconstr Surg 121:207e–211e

Gruber J (2011) The impacts of the affordable care act: how reasonable are the projections?. National Bureau of Economic Research, Inc, Cambridge

Zhang WJ, Ding W, Jiang H, Zhang YF, Zhang JL (2013) National representation in the plastic and reconstructive surgery literature: a bibliometric analysis of highly cited journals. Ann Plast Surg 70(2):231–234

Cimmino MA, Maio T, Ugolini D, Borasi F, Mela GS (2005) Trends in otolaryngology research during the period 1995–2000: a bibliometric approach. Otolaryngol Head Neck Surg 132(2):295–302

Moses H 3rd, Matheson DH, Cairns-Smith S, George BP, Palisch C, Dorsey ER (2015) The anatomy of medical research: US and international comparisons. JAMA 313(2):174–189

World Bank: Research and Development Expenditure (2015) http://data.worldbank.org/indicator/GB.XPD.RSDV.GD.ZS?order=wbapi_data_value_2012wbapi_data_valuewbapi_data_value-last&sort=asc. Accessed 29 May 2015

Kurkjian TJ, Ahmad J, Rohrich RJ (2014) Soft-tissue fillers in rhinoplasty. Plast Reconstr Surg 133(2):121e–126e

Humphrey CD, Arkins JP, Dayan SH (2009) Soft tissue fillers in the nose. Aesthet Surg J 29(6):477–484

Liao WC, Ma H, Lin CH (2007) Balanced rhinoplasty in an Oriental population. Aesthet Plast Surg. 31(6):636–642 (discussion 643–634)

Ahn JM (2006) The current trend in augmentation rhinoplasty. Facial Plast Surg 22(1):61–69

Holliday R, Elfving-Hwang J (2012) Gender, globalization and aesthetic surgery in South Korea. Body Soc 18(2):58–81

Apaydin F (2009) Rhinoplasty at the global crossroads. Arch Facial Plast Surg 11(6):421–423

Erol OO (2000) The Turkish delight: a pliable graft for rhinoplasty. Plast Reconstr Surg 105(6):2229–2241 (discussion 2242–2223)

Natsume N, Kawai T (1986) Incidence of cleft lip and cleft palate in 39,696 Japanese babies born during 1983. Int J Oral Maxillofac Surg 15(5):565–568

Tanaka SA, Mahabir RC, Jupiter DC, Menezes JM (2012) Updating the epidemiology of cleft lip with or without cleft palate. Plast Reconstr Surg 129(3):511e–518e

Kurmis AP (2003) Understanding the limitations of the journal impact factor. J Bone Joint Surg Am 85:2449–2454
Ethics declarations
Conflict of interest
The authors declare that they have no conflict of interest.
About this article
Cite this article
Lalezari, S., Daar, D.A., Mathew, P.J. et al. Trends in Rhinoplasty Research: A 20-Year Bibliometric Analysis. Aesth Plast Surg 42, 1071–1084 (2018). https://doi.org/10.1007/s00266-018-1130-1
Received:

Accepted:

Published:

Issue Date:

DOI: https://doi.org/10.1007/s00266-018-1130-1
Keywords