Abstract
Purpose
Conventional buttock lifting is invasive, so it is difficult to recommend it to patients especially to those who do not have severe gluteal ptosis. In addition, the gluteal area is a large area change among the joints. Therefore, this surgery can cause pain during hip flexion after lifting using a conventional thread. The authors report on buttock lifting using an elastic thread with high satisfaction from patients.
Methods
From July 2016 to June 2017, 60 patients were enrolled in this study. The degree of gluteal ptosis was graded from Grade 0 to Grade 6. All patients underwent lifting of both buttocks using Elasticum®. We drew a circle along the outer edge of the buttock and another small circle inside the first circle. A stab incision was done at 5 points (A, B, C, C′, and D), and then according to the circle, lifting was done. Postoperative grade changes and complications were evaluated.
Result
Grades 2–5 were lifted to at least Grade 2 after surgery, but Grade 6 was at most Grade 3 (14.2%), with 85.8% of these to either Grade 5 or Grade 6. Seven patients (11.67%) complained of postoperative pain, and 6 patients (10.00%) showed skin dimpling or creases 10 days after surgery, all of which disappeared at 1 month after surgery.
Conclusion
Buttock lifting with elastic thread is effective in pre-ptosis to moderate gluteal ptosis. Because of the elasticity of the thread, postoperative pain is low on hip flexion, so the lifting is done naturally.
Level of Evidence IV
This journal requires that authors assign a level of evidence to each article. For a full description of these Evidence-Based Medicine ratings, please refer to the Table of Contents or the online Instructions to Authors www.springer.com/00266.
This is a preview of subscription content, log in to check access.
Access options
Buy single article
Instant access to the full article PDF.
US$ 39.95
Price includes VAT for USA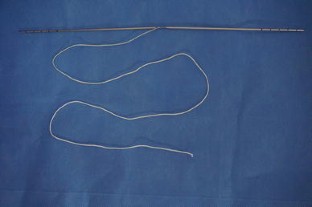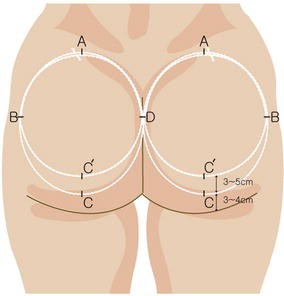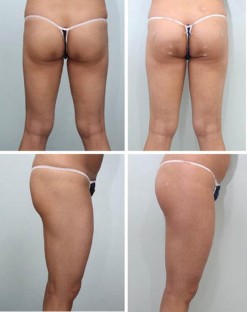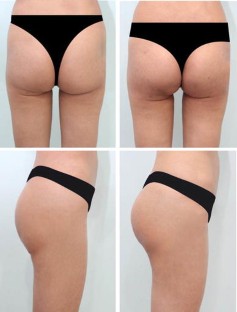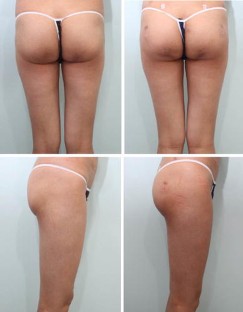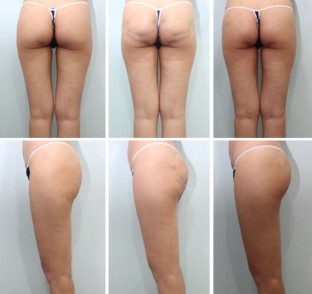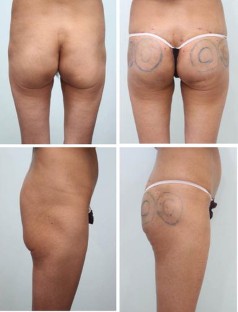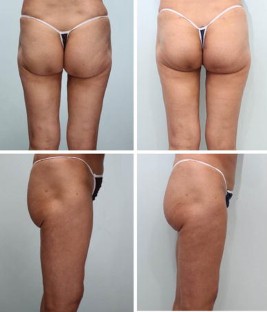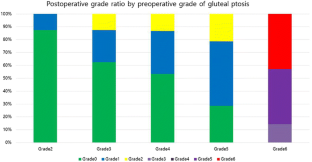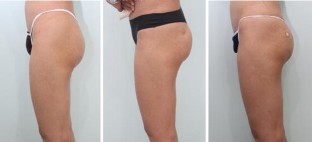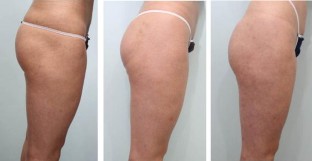 References
1.

Ramon CG, Jorge Q (2004) What makes buttocks beautiful? A review and classification of the determinants of gluteal beauty and the surgical techniques to achieve them. Aesthetic Plast Surg 28:340–347

2.

Rio J (1964) Trochanteric lipodystrophy. Plast Reconstr Surg 34:280–286

3.

Ted EL (1991) Transverse flank-thigh-buttock lift with superficial fascial suspension. Plast Reconstr Surg 87:1019–1027

4.

Cassio ER et al (2006) Bilateral lumbar hip dermal fat rotation flaps: a novel technique for autologous augmentation gluteoplasty. Plast Reconstr Surg 117:1781–1788

5.

Javier B, Roberto P (2012) Suspension of the gluteal region with Silhouette sutures. Aesthetic Surg J 33(3S):82S–89S

6.

Ballivian RJ, Esteche A, Hanke CJ, Ribeiro RC (2016) Buttock lifting with polypropylene strips. Aesthetic Plast Surg 40(2):215–222

7.

Kang MS, Shin JS, Nam SM, Park ES (2016) Evaluation of elastic lift for facial rejuvenation. Arch Aesthetic Plast Surg 22(1):20–27

8.

Constantino GM (2006) Classification system for gluteal evaluation. Clin Plast Surg 33:333–346

9.

Raul G (2006) Etiology, definition, and classification of gluteal ptosis. Aesthetic Plast Surg 30:320–326

10.

Richard JH, Kark EF, Jeffrey BK, Bryan CM (2007) Histologic and ultrastructural evaluation of sutures used for surgical fixation of the SMAS. Aesthetic Plast Surg 31:719–724
Ethics declarations
Conflict of interest
The authors have no conflict of interest to declare.
Electronic supplementary material
Below is the link to the electronic supplementary material.
Video 1. Elasticity of Elasticum®. Elastic thread consists of silicone core with polyester sheath, so it can be stretched up to 100%
Video 2. Intraoperative video of buttock lifting with Elasticum®. The needle is being pulled out from point B; we cannot find the scale mark on the tissue end of the needle; at point B, leaving 2.5 cm at the tissue end of the needle and leaving the end of the thread held at point A with a Kelly, it is pulled out at point B (B → C → D); the needle is rotated 180° while maintaining the depth of the needle; the thread, which has returned to point A after passing points A, B, C, and D, is caught with the Kelly; the tie is done after confirming that lifting is proper by pulling the pre-caught Kelly and the newly caught Kelly
About this article
Cite this article
Oh, C.H., Jang, S.B., Kang, C.M. et al. Buttock Lifting Using Elastic Thread (Elasticum®) with a New Classification of Gluteal Ptosis. Aesth Plast Surg 42, 1050–1058 (2018). https://doi.org/10.1007/s00266-018-1124-z
Received:

Accepted:

Published:

Issue Date:
Keywords
Buttock rejuvenation

Thread lift

Elastic thread