Abstract
Introduction
Liposuction is the most performed surgical procedure in Brazil and the second in the world. In recent years, new technologies have been developed in an attempt to improve liposuction, such as laser. The objective of this study is to evaluate the efficacy and safety of laser-assisted liposuction (LAL) compared to traditional liposuction through a systematic review of the literature.
Method
The search strategy used was the combination of the descriptors [lasers (MeSH Terms)] and (lipectomy [MeSH Terms]) in the PubMed database. Two independent researchers carried out the reading of the abstracts and selection of the studies according to the eligibility criteria. The risks of study bias were evaluated using an instrument similar to that used by the Cochrane Collaboration.
Results
Initially, 80 studies were obtained and, after evaluating the eligibility criteria, seven remained. Five of them observed that LAL has benefits when compared to traditional liposuction, and the main outcomes were compared with regard to histological analysis (2 products), further reduction of subcutaneous fat (2), better retraction of the skin (3), and higher personal satisfaction of the patient (2). The qualitative assessment identified high risks of bias in various areas in the studies.
Conclusion
Although studies have concluded that LAL promotes greater fat reduction, better skin retraction, and greater patient satisfaction compared to traditional liposuction, the high bias impedes a more reliable conclusion.
Level of Evidence III
This journal requires that authors assign a level of evidence to each article. For a full description of these Evidence-Based Medicine ratings, please refer to the Table of Contents or the online Instructions to Authors www.springer.com/00266.
Access options
Buy single article
Instant access to the full article PDF.
USD 39.95
Price includes VAT (USA)
Tax calculation will be finalised during checkout.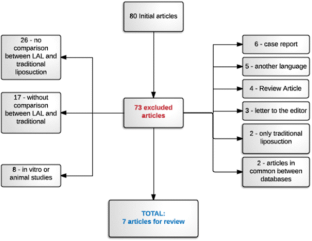 References
2.

Franco FF, Basso RCF, Tincani AJ, Kharmandayan P (2012) Complicações em lipoaspiração clássica para fins estéticos. Revista Brasileira de Cirurgia Plástica 27:135–140

3.

Grazer FM, de Jong RH (2000) Fatal outcomes from liposuction: census survey of cosmetic surgeons. Plast Reconstr Surg 105:436–446

4.

Zocchi M (1992) Ultrasonic liposculpturing. Aesthet Plast Surg 16:287

5.

Salzman MJ (2009) Laser lipolysis using a 1064/1319-nm blended wavelength laser and internal temperature monitoring. Semin Cutan Med Surg 28:220–225

6.

Blum CA, Sasser CG, Kaplan JL (2013) Complications from laser-assisted liposuction performed by noncore practitioners. Aesthet Plast Surg 37:869–875

7.

Jecan CR, Hernic AD, Tianu EC, Florescu IP, Lascăr I (2015) Histological differences between laser-assisted and suction-assisted lipoplasty aspirates—a comparative study. Rom J Morphol Embryol 56:797–801

8.

Valizadeh N, Jalaly NY, Zarghampour M, Barikbin B, Haghighatkhah HR (2016) Evaluation of safety and efficacy of 980-nm diode laser-assisted lipolysis versus traditional liposuction for submental rejuvenation: a randomized clinical trial. J Cosmet Laser Ther 18:41–45

9.

Wolfenson M, Hochman B, Ferreira LM (2015) Laser lipolysis: skin tightening in lipoplasty using a diode laser. Plast Reconstr Surg 135:1369–1377

10.

Brañas EB, Moraga JM (2013) Laser lipolysis using a 924- and 975-nm laser diode in the lower extremities. Aesthet Plast Surg 37:246–253

11.

DiBernardo BE (2010) Randomized, blinded split abdomen study evaluating skin shrinkage and skin tightening in laser-assisted liposuction versus liposuction control. Aesthet Surg J 30:593–602

12.

Prado A, Andrades P, Danilla S, Leniz P, Castillo P, Gaete F (2006) A prospective, randomized, double-blind, controlled clinical trial comparing laser-assisted lipoplasty with suction-assisted lipoplasty. Plast Reconstr Surg 118:1032–1045

13.

Olmedo SL, Danilla S, Cavada G, Searle S, Ponce D, Navarrete L, Navarrete S, Calderón Ortega W (2007) Comparación del dolor secundario a lipoaspiración tradicional versus lipolisis láser. Estudio prospectivo, Cir plást Iberolatinoam, p 33

14.

Venkataram J (2008) Tumescent liposuction: a review. J Cutan Aesthet Surg 1:49–57

15.

Sasaki GH (2010) Quantification of human abdominal tissue tightening and contraction after component treatments with 1064-nm/1320-nm laser-assisted lipolysis: clinical implications. Aesthet Surg J 30:239–245

16.

Bazin AZ, Gondek LBE, Garcıa MJ, Valle LC, Flizikowski FB, de Noronha L (2005) Analysis of laser lipolysis effects on human tissue samples obtained from liposuction. Aesthet Plast Surg 29:281–286

17.

Goldman ASD, Blugerman GS (2002) Laser lipolysis: liposuction using Nd:YAG laser. Rev Soc Bras Cir Plast 17:17–26

18.

Az Badin, Moraes LM, Gondek L, Chiaratti MG, Canta L (2002) Laser lipolysis: flaccidity under control. Aesthet Plast Surg 26:335–339

19.

Matarasso A (2015) Discussion: laser lipolysis: skin tightening in lipoplasty using a diode laser. Plast Reconstr Surg 135:1378–1380

20.

Klassen AF, Cano SJ, Alderman A, Soldin M, Thoma A, Robson S, Kaur M, Papas A, Van Laeken N, Taylor VH, Pusic AL (2016) The BODY-Q: a patient-reported outcome instrument for weight loss and body contouring treatments. Plast Reconstr Surg Glob Open 4:679

21.

Avci P, Nyame TT, Gupta GK, Sadasivam M, Hamblin MR (2013) Low-level laser therapy for fat layer reduction: a comprehensive review. Lasers Surg Med 45:349–357

22.

Fakhouri TM, El Tal AK, Abrou AE, Mehregan DA, Barone F (2012) Laser-assisted lipolysis: a review. Dermatol Surg 38:155–169

23.

Mordon S, Plot E (2009) Laser lipolysis versus traditional liposuction for fat removal. Expert Rev Med Devices 6:677–688

24.

Berry MG, Davies D (2011) Liposuction: a review of principles and techniques. J Plast Reconstr Aesthet Surg 64:985–992
Ethics declarations
Conflict of interest
The authors declare that they have no conflict of interest.
About this article
Cite this article
Pereira-Netto, D., Montano-Pedroso, J.C., Aidar, A.L.e. et al. Laser-Assisted Liposuction (LAL) Versus Traditional Liposuction: Systematic Review. Aesth Plast Surg 42, 376–383 (2018). https://doi.org/10.1007/s00266-018-1085-2
Received:

Accepted:

Published:

Issue Date:
Keywords
Lipectomy

Liposuction

Lasers