Abstract
Background
The nose is a dangerous site for filler injection. This study investigated the anatomy of the dorsal nasal artery at the upper part of the nose to clarify how ocular complications occur.
Methods
Dissections were performed in 50 noses of the embalmed cadavers. Either the soft embalming or formaldehyde embalming processes were used.
Results
The dorsal nasal artery is not a constant artery. The artery traveled in the subcutaneous tissue layer of the nasal dorsum on the transverse nasalis muscle and its midline nasal aponeurosis which connected the muscles on both sides. Bilateral dorsal nasal arteries existed only in 34%. In 28% of the specimens, a single and large dorsal nasal artery was presented. The diameter was 0.4 ± 0.2 mm when bilateral dorsal nasal arteries were present and 0.7 ± 0.3 mm in a single artery. The largest artery was 1.2 mm. The artery usually crossed the midline at the middle third part of the nose over the upper lateral cartilages to form an anastomosis with the contralateral lateral nasal artery as the oblique nasal artery in 14%. The artery might descend and communicate with the ipsilateral lateral nasal artery in 6% or descended as a midline artery and form the nasal tip plexus in 8%. In 38% of the specimens, the arteries became small, formed a subcutaneous plexus and randomly distributed on the superficial layer of the subcutaneous tissue in the upper two-thirds of the nose.
Conclusion
During the injections at the upper (bony) and middle (cartilaginous) part of the nose for nasal dorsal augmentation, the injector has to make sure the cannula tip is in the preperiosteal plane by reinsertion of the cannula if needed, due to the chance of encountering the large single dorsal nasal artery at the midline.
No Level Assigned
This journal requires that authors assign a level of evidence to each article. For a full description of these Evidence-Based Medicine ratings, please refer to the Table of Contents or the online Instructions to Authors www.springer.com/00266.
Access options
Buy single article
Instant access to the full article PDF.
US$ 39.95
Tax calculation will be finalised during checkout.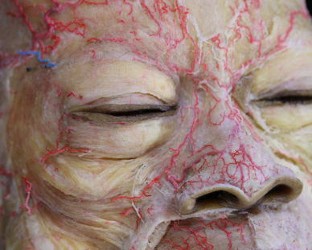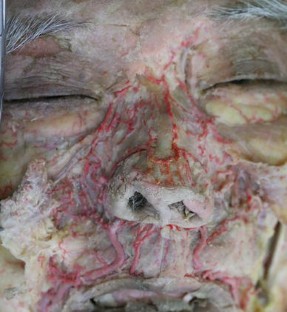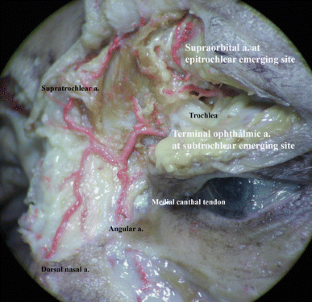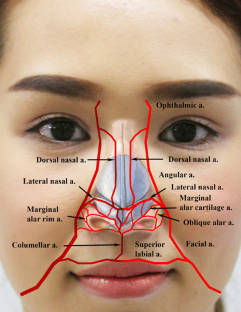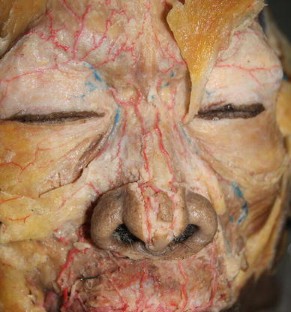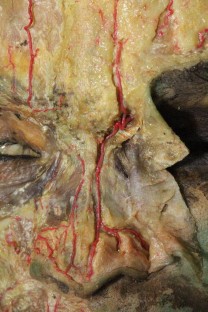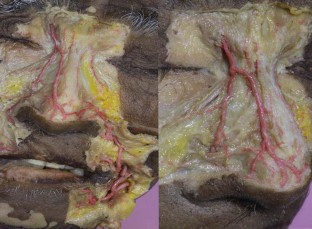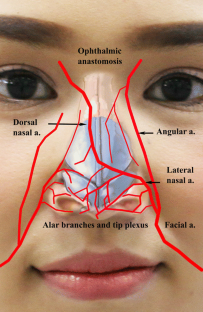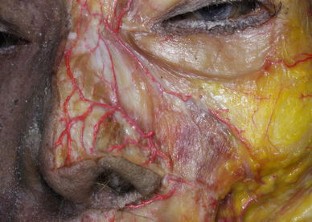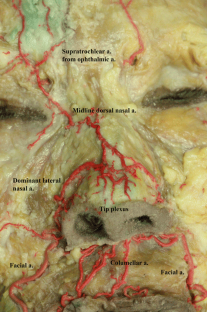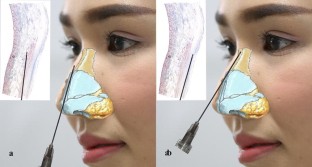 References
1.

Tansatit T, Moon HJ, Rungsawang C, Jitaree B, Uruwan S, Apinuntrum P, Phetudom T (2016) Safe planes for injection rhinoplasty: a histological analysis of midline longitudinal sections of the Asian nose. Aesthet Plast Surg 40:236–244

2.

Moon HJ (2016) Use of fillers in rhinoplasty. Clin Plast Surg 43:307–317

3.

Han X, Hu J, Cheng L, Li F (2015) Multiplane hyaluronic acid (EME) in female Chinese rhinoplasty using blunt and sharp needle technique. J Plast Reconstr Aesthet Surg 68:1504–1509

4.

Liew S, Scam T, de Maio M, Haistead M, Johnson N, Silbeberg M, Rogers JD (2016) Efficacy and safety of a hyaluronic acid filler to correct aesthetically detracting or deficient features of the Asian nose: a prospective, open-label, long-term study. Aesthet Surg J 36:760–772

5.

Beleznay K, Carruthers JD, Humphrey S, Jones D (2015) Avoiding and treating blindness from fillers: a review of the world literature. Dermatol Surg 41:1097–1117

6.

Saban Y, Andreto Amodeo C, Bouaziz D, Polselli R (2012) Nasal arterial vasculature: medical and surgical applications. Arch Facial Plast Surg 14:429–436

7.

Tansatit T, Apinuntrum P, Phetudom T (2014) An anatomic basis for treatment of retinal artery occlusions caused by hyaluronic acid injections: a cadaveric study. Aesthet Plast Surg 38:1131–1137

8.

Hayreh SS (2006) Orbital vascular anatomy. Eye 20:1130–1144 (Lond)

9.

Carruthers J, Fagien S, Dolman P (2015) Retro or peribulbar injection techniques to reverse visual loss after filler injections. Dermatol Surg 41:S354–S357

10.

Jung DH, Kim HJ, Koh KS, Oh CS, Kim KS, Yoon JH, Chung IH (2000) Arterial supply of the nasal tip in Asians. Laryngoscope 110:308–311

11.

Khan TT, Colon-Acevedo B, Mettu P, Delorenzi C, Woodward JA (2016) An anatomical analysis of the supratrochlear artery: considerations in facial filler injections and preventing vision loss. Aesthet Surg J. doi:10.1093/asj/sjw132

12.

Rivkin A (2014) A prospective study of non-surgical primary rhinoplasty using a polymethylmethacrylate injectable implant. Dermatol Surg 40:305–313

13.

Tucunduva MJ, Tucunduva-Neto R, Saieg M, Costa AL, de Freitas C (2016) Vascular mapping of the face: B-mode and doppler ultrasonography study. Med Oral Patol Oral Cir Bucal 21:e135–e141
Ethics declarations
Conflict of interest
The authors declare that they have no conflicts of interest to disclose.
About this article
Cite this article
Tansatit, T., Apinuntrum, P. & Phetudom, T. Facing the Worst Risk: Confronting the Dorsal Nasal Artery, Implication for Non-surgical Procedures of Nasal Augmentation. Aesth Plast Surg 41, 191–198 (2017). https://doi.org/10.1007/s00266-016-0756-0
Received:

Accepted:

Published:

Issue Date:
Keywords
Cadaver

Filler injections

Nasal augmentation

Dorsal nasal artery