Abstract
Background
Though most injectors prefer to use a cannula rather than a needle, there have been reported cases of blindness following cannula injections. This study investigated possible situations in which a cannula can injure an artery to gain more insight about the vascular complication and its prevention.
Methods
To understand how an arterial injury occurs, five situations favoring vascular injury were simulated and tested. Experiments were performed in 100 arterial segments of 10 soft embalmed cadavers with red latex injections to the arteries. The frontal branch of the superficial temporal artery with a diameter between 1.2 and 1.5 mm was chosen for the experiment with a 25G cannula. Five situations were created to simulate any possibility that the cannula can penetrate through the arterial wall. Two factors were varied for simulation of specific danger situations. Factors that vary were as follows: (1) the angles between the cannula and the artery when the cannula touched the artery, and (2) the segments of the artery with different features.
Results
The cannula could penetrate the arterial wall in some specific situations with a different chance in each situation. The perpendicular angle between the artery and the cannula was one of the essential situations for vascular injury. Situations that had a similar effect of the perpendicular arterial surface related to the cannula axis also favored vascular injuries.
Conclusion
During a blinded insertion of cannula injections to reach the target area, the injector cannot discriminate the sensation at the cannula tip between the resistance of a fibrous septum in the way of the insertion and the resistance of encountering an artery. To prevent arterial emboli, the cannula trajectory should not be close to the main artery in the region. This allows a physician to safely perform an intermittent forceful insertion without an arterial injury during an attempt to perform a gentle cannula insertion.
No Level Assigned
This journal requires that authors assign a level of evidence to each article. For a full description of these Evidence-Based Medicine ratings, please refer to the Table of Contents or the online Instructions to Authors. www.springer.com/00266.
Access options
Buy single article
Instant access to the full article PDF.
US$ 39.95
Tax calculation will be finalised during checkout.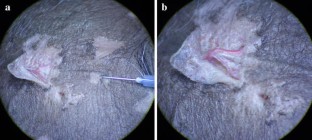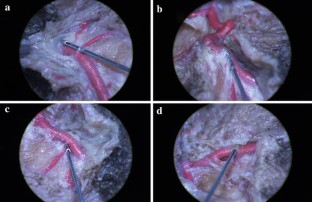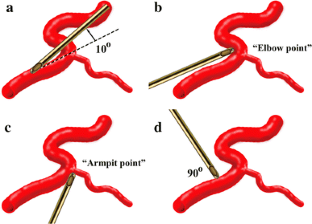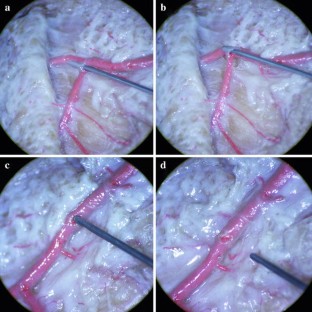 References
1.

Fischer TC, Sattler G, Gauglitz GG (2016) Hyaluron filler containing lidocaine on a CPM basis for Lip augmentation: reports from practical experience. Facial Plast Surg 32:283–288

2.

Chiu A, Fabi S, Dayan S, Noguira A (2016) Lip injection techniques using small-particle hyaluronic acid dermal filler. J Drugs Dermatol 15:1076–1082

3.

Ho D, Jagdeo J (2015) Biological properties of a new volumizing hyaluronic acid filler: a systematic review. J Drugs Dermatol 14:50–54

4.

Bogdan Allemann I, Baumann L (2008) Hyaluronic acid gel (Juvederm) preparations in the treatment of facial wrinkles and folds. Clin Interv Aging 3:629–634

5.

Youn SH, Seo KK (2016) Filler rhinoplasty evaluated by anthropometric analysis. Dermatol Surg 42:1071–1081

6.

de Felipe I, Redondo P (2015) The liquid lift: looking natural without lumps. J Cutan Aesthet Surg 8:134–138

7.

Moers-Carpi MM, Tufet JO (2008) Calcium hydroxylapatite versus nonanimal stabilized hyaluronic acid for the correction of nasolabial folds: a 12-month, multicenter, prospective, randomized, controlled, split-face trial. Dermatol Surg 34:210–215

8.

Riyaz FR, Ozog D (2015) Hand rejuvenation. Semin Cutan Med Surg 34:147–152

9.

Franca Wanick FB (2016) Skin remodeling using hyaluronic acid filler injections in photo-aged faces. Dermatol Surg 42:352–359

10.

Lee SK, Kim HS (2014) Recent trend in the choice of fillers and injection techniques in Asia: a questionnaire study based on expert opinion. J Drugs Dermatol 13:24–31

11.

Gilbert E, Calvisi L (2014) Midface and perioral volume restoration: a conversation between the US and Italy. J Drugs Dermatol 13:67–74

12.

Bass LS (2015) Injectable filler techniques for facial rejuvenation, volumization, and augmentation. Facial Plast Surg Clin N Am 23:479–488

13.

Fulton J, Caperton C, Weinkle S, Dewandre L (2012) Filler injections with the blunt-tip microcannula. J Drugs Dermatol 11:1098–1103

14.

Beleznay K, Carruthers JD, Humphrey S, Jones D (2015) Avoiding and treating blindness from fillers: a review of the world literature. Dermatol Surg 41:1097–1117

15.

Hwang CJ (2016) Periorbital Injectables: understanding and avoiding complications. J Cutan Aesthet Surg 9:73–79

16.

Goodman GJ, Roberts S, Callan P (2016) Experience and management of intravascular injection with facial fillers: results of a multinational survey of experienced injectors. Aesthet Plast Surg 40:549–555

17.

Liew S, Scamp T, de Maio M, Haistead M, Johnston N, Silbeberg M, Rogers JD (2016) Efficacy and safety of a hyaluronic acid filler to correct aesthetically detracting or deficient features of the Asian nose: a prospective, open-label, long-term study. Aesthet Surg J 36:760–772

18.

Lazzaro MA, Ouyang B, Chen M (2012) The role of circle of Willis anomalies in cerebral aneurysm rupture. J Neurointerv Surg 4:22–26

19.

Zhou SB, Xie Y, Chiang CA, Liu K, Li QF (2016) A randomized clinical trial of comparing monophasic monodensified and biphasic nonanimal stabilized hyaluronic acid dermal fillers in treatment of Asian Nasolabial folds. Dermatol Surg 42:1061–1068

20.

Lombardo GA, Tamburino S, Tarico MS, Perrotta RE (2016) Lateral nasal artery perforator flaps: anatomic study and clinical applications. Arch Plast Surg 43:77–83

21.

Camuzard O, Foissac R, Georgiou C, Andot L, Alcaraz F, Baque P, Bronsard N, Poissonnet G (2015) Facial artery perforator flap for reconstruction of perinasal defects: an anatomical study and clinical application. J Craniomaxillofac Surg 43:2057–2065
Ethics declarations
Conflicts of interest
All authors have no conflicts of interest to disclose.
About this article
Cite this article
Tansatit, T., Apinuntrum, P. & Phetudom, T. A Dark Side of the Cannula Injections: How Arterial Wall Perforations and Emboli Occur. Aesth Plast Surg 41, 221–227 (2017). https://doi.org/10.1007/s00266-016-0725-7
Received:

Accepted:

Published:

Issue Date:
Keywords
Cadaver

Filler injections

Cannula

Arterial perforation

Emboli