Abstract
Background
Crooked nose deformity is a complex anatomical deformity; therefore, repair remains a challenge. Here, we introduce a new technique for crooked nose deformity repair.
Materials and Methods
Twenty-two patients underwent intraoperative evaluations and measurements, followed by surgery using the open rhinoplasty technique. Our method involves three major steps. First is the creation of an asymmetric medial oblique osteotomy using piezoelectric ultrasonic surgery and double lateral osteotomies, wherein the asymmetric bony ascending part of the maxillary bone at the base of the nasal vault is fractured, pushed in, and delivered to the face. Second is septoplasty with L-strut preservation. The L-strut is removed as a 1-cm block caudally from the septal stump of the keystone area. A (or double) fabricated batten cartilage graft is placed on the concave side of the deviation and sutured to cover the septal stump. The L-strut is then replaced and sutured on the batten graft, redirecting the septum toward the midline. Third is an overlapping cruroplasty on the side of the long asymmetrical lower lateral cartilage to equalize both wings and correct tip deviation.
Results
Our new technique was effective for the treatment of crooked nose deformity.
Conclusions
Our technique of K-stone batten plasty with delivery to the face and overlapping cruroplasty may be an effective surgical method for crooked nose deformity.
Level of Evidence V
This journal requires that authors assign a level of evidence to each article. For a full description of these Evidence-Based Medicine ratings, please refer to the Table of Contents or the online Instructions to Authors www.springer.com/00266.
This is a preview of subscription content,
to check access.
Access this article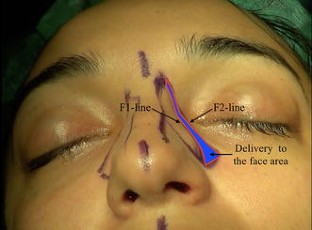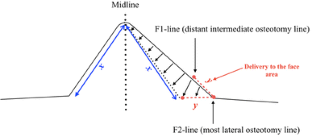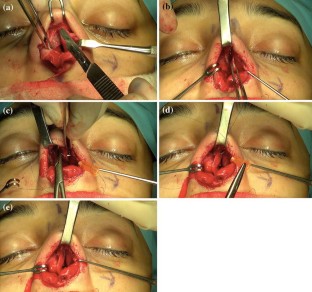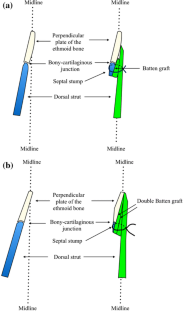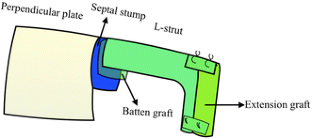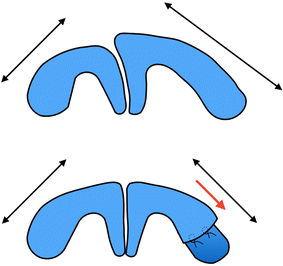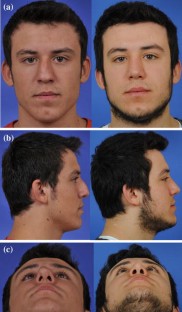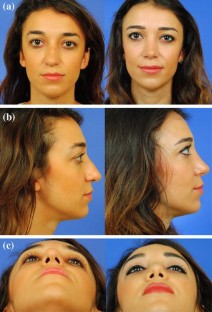 Similar content being viewed by others
References
Inanli S, Sari M, Yanik M (2009) Intraoperative evaluation and measurement of a crooked nose. J Craniofac Surg 20:985–986

Rohrich RJ, Gunter JP, Deuber MA, Adams WPJ (2002) The deviated nose: optimizing results using a simplified classification and algorithmic approach. Plast Reconstr Surg 110:1509–1523

Byrd HS, Salomon J, Flood J (1998) Correction of the crooked nose. Plast Reconstr Surg 102:2148–2157

Hsiao YC, Kao CH, Wang HW, Moe KS (2007) A surgical algorithm using open rhinoplasty for correction of traumatic twisted nose. Aesthet Plast Surg 31:250–258

Gunter JP, Rohrich RJ (1988) Management of the deviated nose. The importance of septal reconstruction. Clin Plast Surg 15:43–55

Murakami WT, Wong LW, Davidson TM (1982) Applications of the biomechanical behavior of cartilage to nasal septoplastic surgery. Laryngoscope 92:300–309

Gilbert SE (1998) Overlay grafting for lateral nasal wall concavities. Otolaryngol Head Neck Surg 119:385–388

Gubisch W (1995) The extracorporal septum plasty: a technique to correct difficult nasal deformities. Plast Reconstr Surg 95:672–682

Gurlek A, Celik M, Fariz A, ErsÖz-Öztürk A, Eren AT, Tenekeci G (2006) The use of high-density porous polyethylene as a custom-made nasal spreader graft. Aesth Plast Surg 30:34–41

Gubisch W (2015) Treatment of the scoliotic nose with extracorporeal septoplasty. Facial Plast Surg Clin North Am 23(1):11–22

Andre RF, Vuyk HD (2006) Reconstruction of dorsal and/or caudal nasal septum deformities with septal battens or by septal replacement: an overview and comparison of techniques. Laryngoscope 116:1668–1673

King ED, Ashley FL (1952) The correction of the internally and externally deviated nose. Plast Reconstr Surg 10(2):116–120

Porter JP, Toriumi DM (2002) Surgical techniques for management of the crooked nose. Aesthetic Plast Surg 26(Suppl 1):S18

Toriumi DM (2013) Subtotal septal reconstruction: an update. Facial Plast Surg 29(6):492–501

Sheen JH (1984) Spreader graft: a method of reconstructing the roof of the middle nasal vault following rhinoplasty. Plast Reconstr Surg 73(2):230–239

Boccieri A, Pascali M (2003) Septal crossbar graft for the correction of the crooked nose. Plast Reconstr Surg 111(2):629–638

Gerbault O, Daniel RK, Kosins AM (2016) The Role of Piezoelectric Instrumentation in Rhinoplasty Surgery. Aesthet Surg J 36(1):21–34
Acknowledgments
The author(s) received no financial support for the research, authorship, and/or publication of this article.
Ethics declarations
Conflict of interest
The authors have no potential conflict of interest.
Additional information
This work was done in Marmara University Pendik Training and Research Hospital.
Electronic Supplementary Material
Below is the link to the electronic supplementary material.
Intraoperative evaluations and measurements with identification of the F1 and F2 lines and "delivery to the face" area (MOV 44567 kb)
Intraoperative illustration of K-stone batten plasty (MOV 68866 kb)
Use of piezosurgery in crooked nose deformity. Bone chip extraction, medial oblique osteotomies, transection and extraction of the L-strut, double batten insertion and fixation, replacement of the L-strut and formation of neo K-stone area, thinning of the neo K-stone area (MOV 129039 kb)
About this article
Cite this article
Inanli, S., Binnetoglu, A. A Combined Approach To Crooked Nose Deformity. Aesth Plast Surg 40, 360–366 (2016). https://doi.org/10.1007/s00266-016-0627-8
Received:

Accepted:

Published:

Issue Date:

DOI: https://doi.org/10.1007/s00266-016-0627-8
Keywords