Abstract
Background
The breasts are important for a woman's psychological well-being, which may be negatively affected by distortions of breast size and shape. Improvements in self-esteem and sexuality are important psychological factors associated with motivation for cosmetic surgery. Mammaplasty is among the most sought-after and performed cosmetic procedures. The aim of this study was to evaluate the impact of aesthetic breast surgery on a woman's sexuality.
Methods
This study was conducted in a plastic surgery clinic of a hospital university in Brazil, between 2009 and 2012. Forty-six patients with hypomastia and 30 patients with breast hypertrophy, who expressed the desire for aesthetic breast surgery, were selected for the study. The patients were assessed preoperatively and 6 months postoperatively using the sexual quotient-Female version scale (QS-F). The QS-F is a validated Brazilian questionnaire to assess sexual function. It contains ten items covering five domains of female sexual function: desire and interest, foreplay, excitement and harmony, comfort, and orgasm and satisfaction. Higher QS-F scores indicate better sexual functioning.
Results
There was a significant increase in the mean total QS-F score after surgery in both groups (p < 0.001). No significant improvement in desire and comfort was reported by patients who underwent breast augmentation and in comfort by patients who underwent breast reduction. Improvement in sexuality after surgery was observed in both groups, which is consistent with the literature.
Conclusion
Aesthetic breast surgery has a positive impact on the sexuality of patients.
Level of Evidence IV
This journal requires that authors assign a level of evidence to each article. For a full description of these Evidence-Based Medicine ratings, please refer to the Table of Contents or the online Instructions to Authors www.springer.com/00266.
Access options
Buy single article
Instant access to the full article PDF.
USD 39.95
Price includes VAT (USA)
Tax calculation will be finalised during checkout.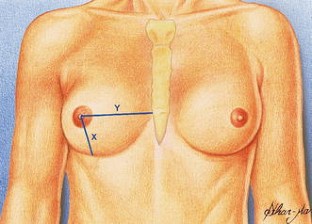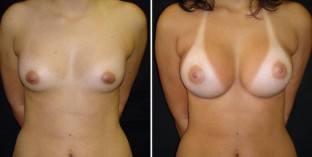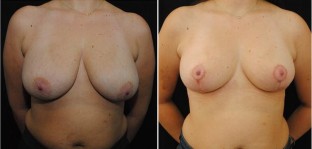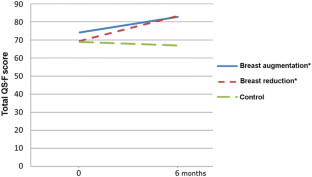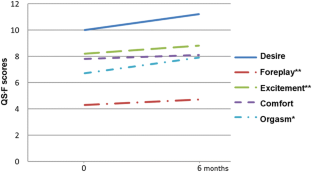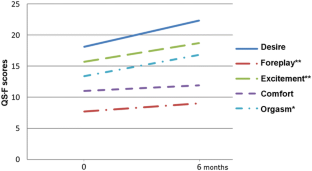 References
1.

Young VL, Nemecek JR, Nemecek DA (1994) The efficacy of breast augmentation: breast size increase, patient satisfaction, and psychological effects. Plast Reconstr Surg 94:958–969

2.

Figueroa-Haas CL (2007) Effect of breast augmentation mammoplasty on self-esteem and sexuality: a quantitative analysis. Plast Surg Nurs 27:16–36

3.

McCarthy CM, Cano SJ, Klassen AF, Scott A, Van Laeken N, Lennox PA, Cordeiro PG, Pusic AL (2012) The magnitude of effect of cosmetic breast augmentation on patient satisfaction and health-related quality of life. Plast Reconstr Surg 130:218–223

4.

Menderes A, Mola F, Vayvada H, Barutcu A (2005) Evaluation of results from reduction mammaplasty: relief of symptoms and patient satisfaction. Aesth Plast Surg 29:83–87

5.

Hermans BJ, Boeckx WD, De Lorenzi F, van der Hulst RR (2005) Quality of life after breast reduction. Ann Plast Surg 55:227–231

6.

Freire M, Neto MS, Garcia EB, Quaresma MR, Ferreira LM (2004) Quality of life after reduction mammaplasty. Scand J Plast Surg Hand Surg 38:335–339

7.

Beraldo FNM, Veiga DF, Veiga-Filho J, Garcia ES, Vilas-Bôas GS, Juliano Y, Sabino-Neto M, Ferreira LM (2014) Sexual function and depression outcomes among breast hypertrophy patients undergoing reduction mammaplasty: a randomized controlled trial. Ann Plast Surg. doi:10.1097/SAP.0000000000000380

8.

Sacchini V, Luini A, Tana S, Lozza L, Galimberti V, Merson M, Agresti R, Veronesi P, Greco M (1991) Quantitative and qualitative cosmetic evaluation after conservative treatment for breast cancer. Eur J Cancer 27:1395–1400

9.

Abdo CHN (2006) Development and validation of female sexual quotient - a questionnaire to assess female sexual function. Rev Bras Med 63:477–482

10.

Sabino Neto M, da Silva AL, Garcia EB, Freire M, Ferreira LM (2007) Quality of life and self-esteem after breast asymmetry surgery. Aesth Surg J 27:616–621

11.

Abdo CHN, Oliveira WM Jr, Moreira ED, Fittipaldi JAS (2002) Sexual profile of Brazilian population: results from Brazilian Study of Sexual Behavior (BSSB). Rev Bras Med 59:250–257

12.

Fleury HJ, Abdo CHN (2012) Psychotherapeutic Treatment for Female Sexual Dysfunction. Diagn Tratamento 17:133–137

13.

Pusic AL, Klassen AF, Scott AM, Klok JA, Cordeiro PG, Cano SJ (2009) Development of a new patient-reported outcome measure for breast surgery: the BREAST-Q. Plast Reconstr Surg 124:345–353

14.

Singh KA, Losken A (2012) Additional benefits of reduction mammaplasty: a systematic review of the literature. Plast Reconstr Surg 129:562–570

15.

Cerovac S, Ali FS, Blizard R, Lloyd G, Butler PE (2005) Psychosexual function in women who have undergone reduction mammaplasty. Plast Reconstr Surg 116:1306–1313

16.

Freire M, Neto MS, Garcia EB, Quaresma MR, Ferreira LM (2007) Functional capacity and postural pain outcomes after reduction mammaplasty. Plast Reconstr Surg 119:1149–1156

17.

Fernandes PM, Sabino Neto M, Veiga DF, Abla LEF, Mundim CDA, Juliano Y, Ferreira LM (2007) Back pain: an assessment in breast hypertrophy patients. Acta Ortop Bras 15:227–230

18.

Guimarães PAMP, Lage FC, Abla LEF, Veiga DF, Neto MS, Ferreira LM (2013) Female sexual quotient in patients after breast augmentation. Plast Reconstr Surg 132:160–161

19.

Resende VCL, Sabino NM, Veiga DF, Rocha MJA, Ferreira LM (2013) Sexuality in Patients Submitted to Reduction Mammoplasty. J Womens Health (Larchmt) 22:18–19. doi:10.1089/jwh.2013.Ab01
Ethics declarations
Conflicts of interest
The authors declare that they have no conflicts of interest to disclose.
Ethical approval
All procedures performed in this study involving human participants were in accordance with the ethical standards of the institutional and/or national research committee and with the 1964 Helsinki declaration and its later amendments.
About this article
Cite this article
Guimarães, P.A.M.P., Resende, V.C.L., Sabino Neto, M. et al. Sexuality in Aesthetic Breast Surgery. Aesth Plast Surg 39, 993–999 (2015). https://doi.org/10.1007/s00266-015-0574-9
Received:

Accepted:

Published:

Issue Date:
Keywords
Plastic surgery

Breast

Mammaplasty

Sexuality

Sexual health

Quality of life