Abstract
Background
Severe lateral crura concavity (LCC) can lead to an important deformity of the nasal tip and to external nasal valve insufficiency. The lower lateral crural reverse plasty represents a valuable technique for the correction of severe LCC, but often requires additional cartilage to gain more alar rim support.
Methods
We describe a modified version of the reverse plasty, in which a polydioxanone plate is sutured as a strut at the dome junction to increase alar rim support. We report our experience with this technique in 10 women (age range 24–56 years).
Results
The procedure was performed in eight primary rhinoplasties and in two cases alone without rhinoplasty. All patients had aesthetic complaints, whereas three had obstructive symptoms. Eight patients had unilateral problems. A one-year follow-up was completed in 100 % of patients. There were no surgical complications and all patients had optimal short and long-term aesthetic and functional results.
Conclusion
Acikel C (Aesthetic Plast Surg 36:862–865, 2012) The adjunctive use of a polydioxanone plate during lateral crural reverse plasty was feasible and led to satisfying functional and cosmetic long-term results in patients with severe LCC. This surgical maneuver appears reproducible and emerges as an alternative way of gaining stronger support during lateral crura reverse plasty while avoiding additional tissue.
Level of Evidence V
This journal requires that authors assign a level of evidence to each article. For a full description of these Evidence-Based Medicine ratings, please refer to the Table of Contents or the online Instructions to Authors www.springer.com/00266.
This is a preview of subscription content, log in to check access.
Access options
Buy single article
Instant access to the full article PDF.
US$ 39.95
Price includes VAT for USA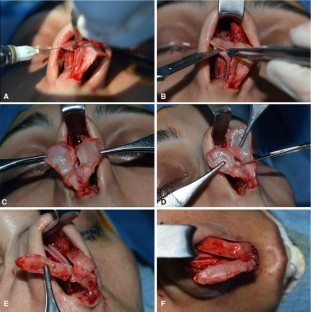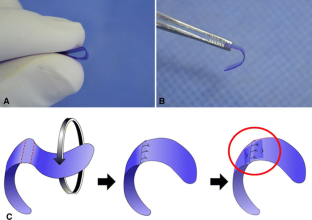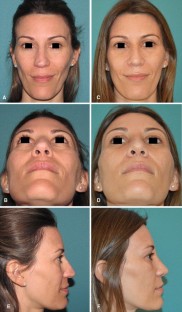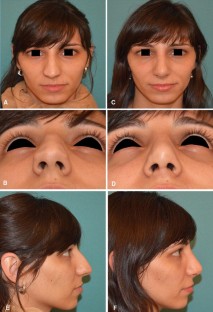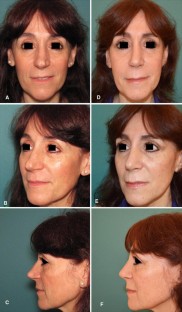 References
1.

Acikel C (2012) Hypoplastic lateral crus causing alar retraction and underprojected nasal tip: correction with multiple grafts. Aesthetic Plast Surg 36(4):862–865

2.

Guyuron B (2001) Alar rim deformities. Plast Reconstr Surg 107(3):856–863

3.

Gruber RP, Nahai F, Bogdan MA, Friedman GD (2005) Changing the convexity and concavity of nasal cartilages and cartilage grafts with horizontal mattress sutures: part II. Clinical results. Plast Reconstr Surg 115(2):595–606 discussion 607-598

4.

Gruber RP, Nahai F, Bogdan MA, Friedman GD (2005) Changing the convexity and concavity of nasal cartilages and cartilage grafts with horizontal mattress sutures: part I. experimental results. Plast Reconstr Surg 115(2):589–594

5.

Gunter JP, Friedman RM (1997) Lateral crural strut graft: technique and clinical applications in rhinoplasty. Plast Reconstr Surg 99(4):943–952 discussion 953-945

6.

Gunter JP, Landecker A, Cochran CS (2006) Frequently used grafts in rhinoplasty: nomenclature and analysis. Plast Reconstr Surg 118(1):14e–29e

7.

Gunter JP, Rohrich RJ (1992) Correction of the pinched nasal tip with alar spreader grafts. Plast Reconstr Surg 90(5):821–829

8.

Guyuron B, Behmand RA (1996) Alar base abnormalities classification and correction. Clin Plast Surg 23(2):263–270

9.

Fischer H, Gubisch W (2006) Nasal valves–importance and surgical procedures. Facial Plast Surg 22(4):266–280

10.

Haack S, Gubisch W (2011) Lower lateral crural reverse plasty: a technique to correct severe concavities of the lateral crus. Aesthetic Plast Surg 35(3):349–356

11.

Boenisch M, Mink A (2000) Clinical and histological results of septoplasty with a resorbable implant. Arch Otolaryngol Head Neck Surg 126(11):1373–1377

12.

Becker ST, Terheyden H, Fabel M, Kandzia C, Moller B, Wiltfang J (2010) Comparison of collagen membranes and polydioxanone for reconstruction of the orbital floor after fractures. J Craniofac Surg 21(4):1066–1068

13.

Rimmer J, Saleh H (2013) Use of polydioxanone plate in septal reconstruction. Facial Plast Surg 29(6):464–472

14.

Rimmer J, Ferguson LM, Saleh HA (2012) Versatile applications of the polydioxanone plate in rhinoplasty and septal surgery. Arch Facial Plast Surg 14(5):323–330

15.

Boenisch M, Nolst Trenite GJ (2010) Reconstruction of the nasal septum using polydioxanone plate. Arch Facial Plast Surg 12(1):4–10

16.

Janis JE, Trussler A, Ghavami A, Marin V, Rohrich RJ, Gunter JP (2009) Lower lateral crural turnover flap in open rhinoplasty. Plast Reconstr Surg 123(6):1830–1841

17.

Tellioglu AT, Cimen K (2007) Turn-in folding of the cephalic portion of the lateral crus to support the alar rim in rhinoplasty. Aesthetic Plast Surg 31(3):306–310

18.

McCollough EG, Fedok FG (1993) The lateral crural turnover graft: correction of the concave lateral crus. Laryngoscope 103(4 Pt 1):463–469

19.

Frodel JL, Lee S (1998) The use of high-density polyethylene implants in facial deformities. Arch Otolaryngol Head Neck Surg 124(11):1219–1223

20.

Bostrom Windhamre HA, von Heideken JP, Une-Larsson VE, Ekelund AL (2010) Surgical treatment of chronic acromioclavicular dislocations: a comparative study of weaver-dunn augmented with PDS-braid or hook plate. J Shoulder Elbow Surg 19(7):1040–1048
Conflict of interest
The authors declare that they have no conflicts of interest to disclose.
About this article
Cite this article
Moina, D.G., Moina, G. & Rancati, A. A Technique to Correct Severe Lateral Crural Concavity: Adjunctive Use of a Polydioxanone Plate During Lateral Crural Reverse Plasty. Aesth Plast Surg 38, 1094–1100 (2014). https://doi.org/10.1007/s00266-014-0404-5
Received:

Accepted:

Published:

Issue Date:
Keywords
Concave lateral crus

Lateral crura reverse plasty

Polydioxanone plate