Access options
Buy single article
Instant access to the full article PDF.
US$ 39.95
Tax calculation will be finalised during checkout.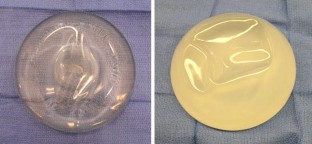 References
1.

Daniels AU (2012) Silicone breast implant materials. Swiss Med Wkly 142:w13614

2.

Puskas JE, Luebbers MT (2012) Breast implants: the good, the bad and the ugly. Can nanotechnology improve implants? Wiley Interdiscip Rev Nanomed Nanobiotechnol 4(2):153–168

3.

Taylor RB, Eldred DE, Kim G, Curtis JM, Brandon HJ, Klykken PC (2008) Assessment of silicone gel breast implant biodurability by NMR and EDS techniques. J Biomed Mater Res A 85(3):684–691

4.

Swarts E, Kop AM, Nilasaroya A, Keogh CV, Cooper T (2013) Rupture of Poly Implant Prothèse silicone breast implants: an implant retrieval study. Plast Reconstr Surg 131(4):480e–489e

5.

Berry MG, Stanek JJ (2012) The PIP mammary prosthesis: a product recall study. J Plast Reconstr Aesthet Surg 65(6):697–704

6.

PIP (Poly Implant Prothèse) breast implants: TGA update (2012) Therapeutic Goods Administration, Australian Government Department of Health. Available at http://www.tga.gov.au/safety/alerts-device-breast-implants-120104.htm#.U4PhP8JOWUk

7.

Brook MA (2006) Platinum in silicone breast implants. Biomaterials 27(17):3274–3286

8.

Arepalli SR, Bezabeh S, Brown SL (2002) Allergic reaction to platinum in silicone breast implants. J Long Term Eff Med Implants 12(4):299–306

9.

Gayou RM (1979) A histological comparison of contracted and non-contracted capsules around silicone breast implants. Plast Reconstr Surg 63(5):700–707

10.

Carpaneda CA (1997) Inflammatory reaction and capsular contracture around smooth silicone implants. Aesthetic Plast Surg 21(2):110–114

11.

Prantl L, Fichtner-Feigl S, Hofstaedter F, Lenich A, Eisenmann-Klein M, Schreml S (2008) Flow cytometric analysis of peripheral blood lymphocyte subsets in patients with silicone breast implants. Plast Reconstr Surg 121(1):25–30

12.

Bassetto F, Scarpa C, Caccialanza E, Montesco MC, Magnani P (2010) Histological features of periprosthetic mammary capsules: silicone versus polyurethane. Aesthetic Plast Surg 34(4):481–485
Conflicts of interest
Dr. Grant is on the Speaker's Bureau for Allergan and CR Bard/Davol and consults for ITI Technologies. Drs. Taylor and Sackeyfio have no conflicts of interest or financial ties to disclose.
About this article
Cite this article
Taylor, E.M., Sackeyfio, R. & Grant, R.T. Clear to Cloudy: Silicone Breast Implants In Vivo. Aesth Plast Surg 38, 827–829 (2014). https://doi.org/10.1007/s00266-014-0347-x
Received:

Accepted:

Published:

Issue Date:
Keywords
PDMS

Platinum Catalyst

Breast Implant

Silicone Implant

Nuclear Magnetic Resonance Imaging