Abstract
Background
Cosmetic surgery, including rhinoplasty, has been dramatically increasing in Iran through the last two decades. It is performed mainly on the youth for the purpose of beauty, an area not directly related to medicine but strongly medicalized. This study aimed to explore the effects of rhinoplasty on the quality of life experienced by individuals who have undergone the surgery.
Methods
From all the plastic surgery clinics in Teheran, 25 were selected randomly as sites for the study. In the next step, 110 patients who had undergone rhinoplasty were selected randomly from these clinics. Only patients whose surgery had been performed 3 to 18 months before the interview were included in the statistical population. Data were collected through a Likert-type questionnaire that queries three major quality-of-life dimensions: general benefit, social support, and physical health. The collected data were analyzed by SPSS.
Results
The mean scores for quality of life before and after surgery were 66.54 and 61.11, respectively. The difference was statistically significant (P = 0.008), showing a decline in quality of life after rhinoplasty. Whereas the mean score for social support and physical health decreased, the score for general benefit increased after the surgery. The main motivating factors for surgery were external factors (e.g., friends, family). In addition, the date of the surgery and the time of the interview were positively correlated. In other words, the longer the time since surgery, the greater was the increase in the patients' satisfaction and quality of life.
Conclusions
The overall quality of life among the statistical population decreased. This could be attributed to unnecessary surgeries, medical errors, and performance of rhinoplasty because of its recognized popularity. The reduction in social support may have resulted from unacceptable consequences of rhinoplasty, particularly in terms of appearance, and reactions of family and peer group. The physical health of the respondents was negatively affected by rhinoplasty. Malfunction of the upper respiratory system after rhinoplasty is a known main reason for the negative effect of rhinoplasty on the quality of life. Correlations between the times of the surgery and the interview suggest a long-term rather than an immediate assessment of effects that such surgeries have on the quality of life.
Level of Evidence V
This journal requires that authors assign a level of evidence to each article. For a full description of these Evidence-Based Medicine ratings, please refer to the Table of Contents or the online Instructions to Authors http://www.springer.com/00266.
Access options
Buy single article
Instant access to the full article PDF.
USD 39.95
Price excludes VAT (USA)
Tax calculation will be finalised during checkout.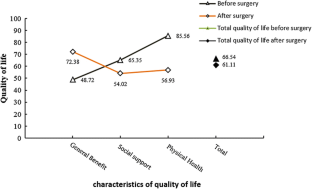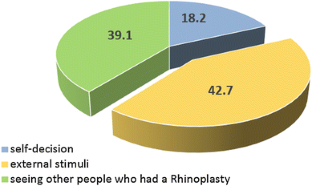 Notes
Rhinoplasty Outcome Evaluation

Dairfford Appearance Scale 59
References
Conrad P, Mackie T, Mehrotra A (2010) Estimating the costs of medicalization. Soc Sci Med 70:1943–1947

Conrad P (1992) Medicalization and social control. Ann Rev Sociol 18:209–232

Conrad P (2005) The shifting engines of medicalization. J Health Soc Behav 46:3–14

Conrad P (2007) The Medicalization of Society: On the Transformation of Human Conditions Into Treatable Disorders. Johns Hopkins University Press, Baltimore

Hafezi F, Nohi H (2002) Rhinoplasty in burned noses. Sci Inform Database 10:845–850

Donohue JM, Cevasco M, Rosenthal MB (2007) A decade of direct-to-consumer advertising of prescription drugs. N Engl J Med 357:673–681

Conrad P, Leiter V (2004) Medicalization, markets, and consumers. J Health Soc Behav 45:158–176

Islamic Republic of Iran News Network (IRINN) (2013) Disturbing Statistics in Rhinoplasty. News Network, Tehran, Iran

Arndt EM et al (1986) Beauty and the eye of the beholder: social consequences and personal adjustments for facial patients. Br J Plast Surg 39:81–84

Cash TF, Horton CE (1983) Aesthetic surgery: effects of rhinoplasty on the social perception of patients by others. Plast Reconstr Surg 72:543–548

Reich J (1975) Factors influencing patient satisfaction with the results of aesthetic plastic surgery. Plast Reconstr Surg 55:5–13

Harris DL, Carr AT (2001) The Derriford Appearance Scale (DAS59): a new psychometric scale for the evaluation of patients with disfigurements and aesthetic problems of appearance. Br J Plast Surg 54:216–222

Cano S, Browne J, Lamping D (2004) Patient-based measures of outcome in plastic surgery: current approaches and future directions. Br J Plast Surg 57:1–11

Chauhan N, Warner J, Adamson PA (2010) Adolescent rhinoplasty: challenges and psychosocial and clinical outcomes. Aesthet Plast Surg 34:510–516

Alsarraf R et al (2001) Measuring cosmetic facial plastic surgery outcomes a pilot study. Arch Facial Plast Surg 3:198–201

Alsarraf R, Larrabee WF Jr (2001) Outcomes research in facial plastic surgery. Arch Facial Plast Surg 3:7

Alsarraf R, Larrabee WF Jr, Johnson CM Jr (2001) Cost outcomes of facial plastic surgery: regional and temporal trends. Arch Facial Plast Surg 3:44–47

Kramer MF, Rasp G, Kastenbauer E (2003) Health-related quality of life in rhino surgery. Am J Otolaryngol 24:97–105

Papadopulos N et al (2007) Quality of life following aesthetic plastic surgery: a prospective study. J Plast Reconstr Aesthet Surg 60:915–921

Alsarraf R (2000) Outcomes research in facial plastic surgery: a review and new directions. Aesthet Plast Surg 24:192–197

Hormozi AK, Toosi AB (2008) Rhinometry: an important clinical index for evaluation of the nose before and after rhinoplasty. Aesthet Plast Surg 32:286–293

Cole RP et al (1994) Measuring outcome in low-priority plastic surgery patients using quality of life indices. Br J Plast Surg 47:117–121

Litner J et al (2008) Impact of cosmetic facial surgery on satisfaction with appearance and quality of life. Arch Facial Plast Surg 10:79–83

Klassen A et al (1998) Measuring quality of life in cosmetic surgery patients with a condition-specific instrument: the Derriford Scale. Br J Plast Surg 51:380–384

Sajadi H (2000) Quality of Life, Book of Abstracts. Report for Social Situation in Iran. Tehran, Iran

Ercolani M et al (1999) Short-term outcome of rhinoplasty for medical or cosmetic indication. J Psychosom Res 47:277–281

Ercolani M et al (1999) Five-year follow-up of cosmetic rhinoplasty. J Psychosom Res 47:283–286

Sarwer DB et al (2008) Two-year results of a prospective, multisite investigation of patient satisfaction and psychosocial status following cosmetic surgery. Aesthet Surg J 28:245–250
Acknowledgments
This study was the part of a project at the School of Public Health, Tehran University of Medical Sciences, Iran. The authors thank all the study participants for their contributions.
Conflict of interest
The authors declare that they have no conflict of interest.
About this article
Cite this article
Mohammadshahi, M., Pourreza, A., Orojlo, P.H. et al. Rhinoplasty as a Medicalized Phenomenon: A 25-Center Survey on Quality of Life Before and After Cosmetic Rhinoplasty. Aesth Plast Surg 38, 615–619 (2014). https://doi.org/10.1007/s00266-014-0323-5
Received:

Accepted:

Published:

Issue Date:

DOI: https://doi.org/10.1007/s00266-014-0323-5
Keywords