Abstract
Background
The aim of this study was to identify the usefulness of micropigmentation as a technique for alopecia and scalp scar camouflage in Korean patients.
Methods
Micropigmentation was performed in 43 Korean patients from November 2011 to October 2012. There were 23 female patients with female pattern hair loss (FPHL), 14 male patients with male pattern baldness, and 6 patients with scalp scars.
Results
The results for one patient with FPHL Ludwig stage I were satisfactory according to the physician's assessment, but the patient was dissatisfied because she did not notice any remarkable changes after the procedure. The results for the other 42 patients were highly satisfactory and there were no adverse effects or complications.
Conclusions
Micropigmentation appears to be a good method for camouflaging hair loss and scalp scars.
Level of Evidence IV
This journal requires that authors assign a level of evidence to each article. For a full description of these Evidence-Based Medicine ratings, please refer to the Table of Contents or the online Instructions to Authors www.springer.com/00266.
Access options
Buy single article
Instant access to the full article PDF.
US$ 39.95
Tax calculation will be finalised during checkout.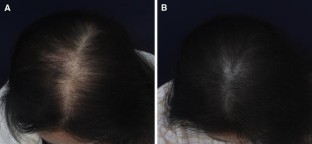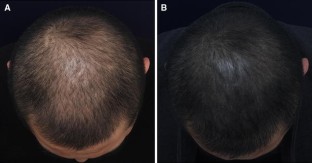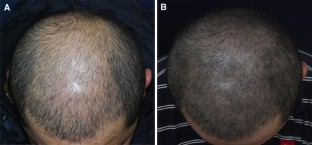 References
1.

Becker H (1986) The use of intradermal tattoo to enhance the final result of nipple-areolar reconstruction. Plast Reconstr Surg 77:673–676

2.

Earley MJ (1983) Basal cell carcinoma arising in tattoos: a clinical report of two cases. Br J Plast Surg 36:258–259

3.

Garg G, Thami GP (2005) Micropigmentation: tattooing for medical purposes. Dermatol Surg 31:928–931

4.

Goldberg HM (1996) Tattoo allergy. Plast Reconstr Surg 98:1315–1316

5.

Kim EK, Chang TJ, Hong JP, Koh KS (2001) Use of tattooing to camouflage various scars. Aesthetic Plast Surg 35:392–395

6.

Park JP, Rassman WR (2011) Scalp micropigmentation (SMP): novel applications in hair loss. Hair Transplant Forum Int 21(181):186–187

7.

Patipa M (1987) Eyelid tattooing. Dermatol Clin 5:335–348

8.

Peters NT, Conn H, Côté MA (1999) Extensive eyelid pigment spread after blepharopigmentation. Ophthal Plast Reconstr Surg 15:445–447

9.

Spyropoulou GA, Fatah F (2009) Decorative tattooing for scar camouflage: patient innovation. J Plast Reconstr Aesthet Surg 62:e353–e355

10.

Steinberg JD, Winkelman FJ (2001) Permanent skin pigmentation for decorative and reconstructive purposes. Dermatol Ther 14:237–245

11.

Traquina AC (2001) Micropigmentation as an adjuvant in cosmetic surgery of the scalp. Dermatol Surg 27:123–128

12.

van der Velden EM, Wittkampf AR, de Jong BD, van der Putte SC, van der Dussen MF (1992) Dermatography, a treatment for sequelae after head and neck surgery. J Craniomaxillofac Surg 20:273–278

13.

van der Velden EM, van der Dussen MF (1995) Dermatography as an adjuvant treatment for cleft lip and palate patients. J Oral Maxillofac Surg 53:9–12

14.

van der Velden EM, Drost BH, Ijsselmuiden OE, Baruchin AM, Hulsebosch HJ (1998) Dermatography as a new treatment for alopecia areata of the eyebrows. Int J Dermatol 37:617–621
Conflict of interest
The authors declare that they have no conflicts of interest to disclose.
About this article
Cite this article
Park, J.H., Moh, J.S., Lee, S.Y. et al. Micropigmentation: Camouflaging Scalp Alopecia and Scars in Korean Patients. Aesth Plast Surg 38, 199–204 (2014). https://doi.org/10.1007/s00266-013-0259-1
Received:

Accepted:

Published:

Issue Date:
Keywords
Micropigmentation

Male pattern baldness

Female pattern hair loss

Scalp scar