Abstract
Adipose patients, especially after massive weight loss, pose a challenge to the breast surgeon due to the major loss of volume and the inelasticity of the skin. Rubin described a suitable mammaplasty technique for these patients involving dermal suspension sutures and total parenchymal reshaping. With this technique, the tissue of the prominent axillary skin fold typically found in patients with massive weight loss is used to increase the upper pole volume of the breast. To prove the effectiveness of this technique, the current study compared it with a traditional inverted T-scar technique using a superior pedicle, as described by Höhler. This technique usually is used for a different patient clientele that requires reduction mammaplasty. However, because none of the difficult aforementioned preconditions are found in this clientele, it leads to the best possible outcome and represents the authors' internal "gold standard" for mammaplasty against which all other techniques must be compared. This study retrospectively analyzed the complication rate, lift effect, and upper pole fullness by chart analysis and photometric analysis of 21 Höhler and 24 Rubin mammaplasties. Despite the more challenging patient clientele in the Rubin groups, both therapies achieved a similar lift effect without significant differences (Höhler 4.8 ± 3.3 cm vs Rubin 6 ± 4 cm). In both groups, the upper pole area increased significantly. The ratio of upper pole-to-lower pole area increased from 1.31 preoperatively to 2.1 postoperatively in the Rubin group, suggesting a redistribution of tissue in favor of the upper pole, and it increased from 1.18 to 1.69 in the Höhler group, indicating an even greater increase in upper pole volume in the Rubin group. In conclusion, the technique described by Rubin, despite the dramatically more difficult soft tissue condition of the patients with massive weight loss, results in an outcome similar to that of a traditional reduction mammaplasty technique in terms of increased upper pole volume. It is suitable and preferable for patients who have a lateral axillary roll deformity and can be applied safely for these patients without increasing the complication rate.
Level of Evidence IV
This journal requires that authors assign a level of evidence to each article. For a full description of these Evidence-Based Medicine ratings, please refer to the Table of Contents or the online Instructions to Authors www.springer.com/00266.
This is a preview of subscription content, log in to check access.
Access options
Buy single article
Instant access to the full article PDF.
US$ 39.95
Price includes VAT for USA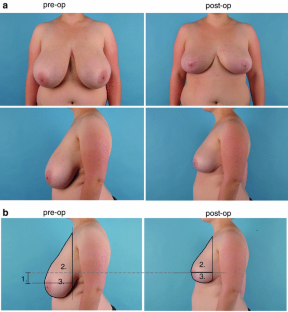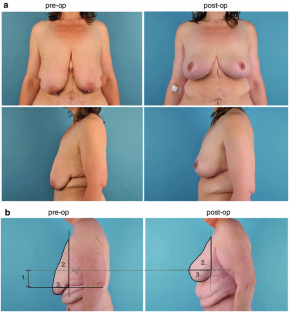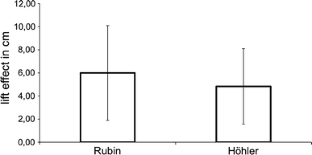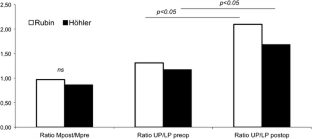 References
1.

Rubin JP (2006) Mastopexy after massive weight loss: dermal suspension and total parenchymal reshaping. Aesthet Surg J 26:214–222

2.

Rubin JP, Gusenoff JA, Coon D (2009) Dermal suspension and parenchymal reshaping mastopexy after massive weight loss: statistical analysis with concomitant procedures from a prospective registry. Plast Reconstr Surg 123:782–789

3.

Rubin JP, Khachi G (2008) Mastopexy after massive weight loss: dermal suspension and selective auto-augmentation. Clin Plast Surg 35:123–129

4.

Höhler H (1977) Reduction mammoplasty in hyperplasias of the female breast. Chirurg 48:377–383

5.

Pitanguy I (1967) Surgical treatment of breast hypertrophy. Br J Plast Surg 20:78–85

6.

Swanson E (2011) A retrospective photometric study of 82 published reports of mastopexy and breast reduction. Plast Reconstr Surg 128:1282–1301

7.

Westreich M (1997) Anthropomorphic breast measurement: protocol and results in 50 women with aesthetically perfect breasts and clinical application. Plast Reconstr Surg 100:468–479

8.

Lejour M (1999) Vertical mammaplasty: update and appraisal of late results. Plast Reconstr Surg 104:771–781; discussion 782–774

9.

Mathes SJ, Nahai F, Hester TR (1980) Avoiding the flat breast in reduction mammaplasty. Plast Reconstr Surg 66:63–70

10.

Fayman MS (1998) Short scar mastopexy with flap transposition. Aesthetic Plast Surg 22:135–141

11.

de la Plaza R, de la Cruz L, Moreno C (2005) Mastopexy utilizing a dermoglandular hammock flap. Aesthet Surg J 25:31–36

12.

Eder M, Kloppel M, Muller D et al (2013) 3-D analysis of breast morphology changes after inverted T-scar and vertical-scar reduction mammaplasty over 12 months. J Plast Reconstr Aesthet Surg 66:776–786

13.

Eder M, v Waldenfels F, Sichtermann M et al (2011) Three-dimensional evaluation of breast contour and volume changes following subpectoral augmentation mammaplasty over 6 months. J Plast Reconstr Aesthet Surg 64:1152–1160
Conflicts of interest
The authors declare no conflict of interest.
About this article
Cite this article
Eisenhardt, S.U., Nienhueser, H., Braig, D. et al. Comparison of the Rubin Dermal Suspension Sutures and Total Parenchymal Reshaping Technique With a Traditional Inverted T-Scar Reduction Mammaplasty Technique Using a Superior Pedicle. Aesth Plast Surg 37, 1153–1160 (2013). https://doi.org/10.1007/s00266-013-0223-0
Received:

Accepted:

Published:

Issue Date:
Keywords
Rubin mammaplasty

Massive weight loss

Body contouring

Inverted T-scar reduction mammaplasty