Abstract
Background
Use of the acellular dermal matrix (ADM) in two-stage implant-based breast reconstruction has been widely adopted. Despite an increasing focus on health care costs, few reports have addressed the financial implications of ADM use. This study sought to examine the costs of the two-stage technique with and without ADM, concentrating on the direct variable costs of patient care during the expansion process.
Methods
A retrospective review of a prospectively maintained database was conducted. Data were collected on 132 cases resulting in a second-stage exchange for a permanent implant. The findings showed that AlloDerm was used in 61 reconstructions and Strattice in 23 reconstructions. The primary outcome was the number of fills required to achieve the final expander fill volume. The cost of subsequent patient encounters for expansion was estimated using institutional cost data.
Results
The number of fills required to achieve the final volume was higher in the non-ADM group (6.5 ± 1.7) than in the ADM group (3.6 ± 1.4) (p < 0.0001). No significant difference was found in the small fill volumes (<350 ml; 5.3 vs. 3.7; p > 0.05). The difference was significant in the larger fill volumes (>500 ml; 8.3 vs. 3.7; p < 0.05). Relative to non-ADM reconstruction, with AlloDerm at current prices, the cost increase ranged from $2,727.75 for large reconstructions to $3,290.25 for small reconstructions ($2,167.75–$2,739.25 with Strattice).
Conclusion
The use of ADM in two-stage reconstruction reduces the number of visits required for reconstructions with 350 ml or more. However, at current pricings, the direct cost of ADM use does not offset the cost savings from the reduced number of visits.
Level of Evidence IV
This journal requires that authors assign a level of evidence to each article. For a full description of these Evidence-Based Medicine ratings, please refer to the Table of Contents or the online Instructions to Authors www.springer.com/00266.
Access options
Buy single article
Instant access to the full article PDF.
USD 39.95
Price includes VAT (USA)
Tax calculation will be finalised during checkout.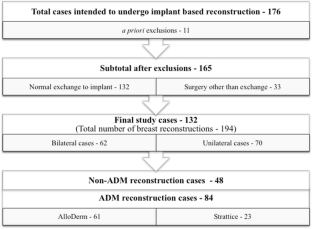 References
1.

Report of the plastic surgery statistics (2011). http://www.plasticsurgery.org/Documents/news-resources/statistics/2010-statisticss/Top-Level/2010-US-cosmetic-reconstructive-plastic-surgery-minimally-invasive-statistics2.pdf. Accessed 25 May 2012

2.

Spear SL, Carter ME, Ganz JC (2006) The correction of capsular contracture by conversion to "dual-plane" positioning: technique and outcomes. Plast Reconstr Surg 118(7 Suppl):103S–113S discussion 114S

3.

Spear SL, Parikh PM, Reisin E, Menon NG (2008) Acellular dermis-assisted breast reconstruction. Aesthetic Plast Surg 32:418–425

4.

Spear SL, Pelletiere CV (2004) Immediate breast reconstruction in two stages using textured, integrated-valve tissue expanders and breast implants. Plast Reconstr Surg 113:2098–2103

5.

Breuing KH, Colwell AS (2007) Inferolateral AlloDerm hammock for implant coverage in breast reconstruction. Ann Plast Surg 59:250–255

6.

Breuing KH, Warren SM (2005) Immediate bilateral breast reconstruction with implants and inferolateral AlloDerm slings. Ann Plast Surg 55:232–239

7.

Rawlani V, Buck DW II, Johnson SA, Heyer KS, Kim JY (2011) Tissue expander breast reconstruction using prehydrated human acellular dermis. Ann Plast Surg 66:593–597

8.

Salzberg CA (2006) Nonexpansive immediate breast reconstruction using human acellular tissue matrix graft (AlloDerm). Ann Plast Surg 57:1–5

9.

Zienowicz RJ, Karacaoglu E (2007) Implant-based breast reconstruction with allograft. Plast Reconstr Surg 120:373–381

10.

Jansen LA, Macadam SA (2011) The use of AlloDerm in postmastectomy alloplastic breast reconstruction: part I. A systematic review. Plast Reconstr Surg 127:2232–2244

11.

Bindingnavele V, Gaon M, Ota KS, Kulber DA, Lee DJ (2007) Use of acellular cadaveric dermis and tissue expansion in postmastectomy breast reconstruction. J Plast Reconstr Aesthet Surg 60:1214–1218

12.

Colwell AS, Damjanovic B, Zahedi B, Medford-Davis L, Hertl C, Austen WG Jr (2011) Retrospective review of 331 consecutive immediate single-stage implant reconstructions with acellular dermal matrix: indications, complications, trends, and costs. Plast Reconstr Surg 128:1170–1178

13.

de Blacam C, Momoh AO, Colakoglu S, Slavin SA, Tobias AM, Lee BT (2012) Cost analysis of implant-based breast reconstruction with acellular dermal matrix. Ann Plast Surg 69:516–520

14.

Jansen LA, Macadam SA (2011) The use of AlloDerm in postmastectomy alloplastic breast reconstruction: part II. A cost analysis. Plast Reconstr Surg 127:2245–2254

15.

Cancer facts and figures 2011 from the American Cancer Society (2012). http://www.cancer.org/acs/groups/content/@epidemiologysurveilance/documents/document/acspc-029771.pdf. Accessed 25 May 2012

16.

Wood WC (2009) Should the use of contralateral prophylactic mastectomy be increasing as it is? Breast 18(Suppl 3):S93–S95

17.

Damen TH, Wei W, Mureau MA et al (2011) Medium-term cost analysis of breast reconstructions in a single Dutch centre: a comparison of implants, implants preceded by tissue expansion, LD transpositions, and DIEP flaps. J Plast Reconstr Aesthet Surg 64:1043–1053
Acknowledgments
This study was conducted with an unrestricted educational grant from LifeCell Corporation. The senior author was a paid consultant for LifeCell.
Conflicts of interest
The remaining authors have no conflicts of interest to disclose.
About this article
Cite this article
Bank, J., Phillips, N.A., Park, J.E. et al. Economic Analysis and Review of the Literature on Implant-Based Breast Reconstruction With and Without the Use of the Acellular Dermal Matrix. Aesth Plast Surg 37, 1194–1201 (2013). https://doi.org/10.1007/s00266-013-0213-2
Received:

Accepted:

Published:

Issue Date:
Keywords
Economics

Breast reconstruction

Acellular dermal matrix