Abstract
Background
Prepubertal gynecomastia is characterized by the presence of palpable uni- or bilateral breast tissue in boys without other signs of sexual maturation. It may be the endocrine expression of rare syndromes such as Peutz-Jeghers syndrome (PJS). This study aimed to evaluate the effectiveness of anastrozole and to describe an innovative surgical approach.
Methods
This report presents twins with PJS, bilateral prepubertal gynecomastia, and testicular multifocal calcifications. Both twins were treated with anastrozole for 2 years. After finishing treatment, both were followed before subcutaneous mastectomy was performed by the "modified" Webster technique.
Results
Growth velocity decreased and gynecomastia diminished during anastrozole treatment. After discontinuation of therapy due to a sharp reduction in growth velocity, both twins showed regrowth of gynecomastia, with painful and strained breasts. A significant reduction in breast volume with glandular removal was achieved.
Conclusions
The findings of this study showed a multidisciplinary approach to prepubertal gynecomastia due to the synergy of pediatricians, radiologists, and plastic surgeons. The follow-up evaluation after the anastrozole treatment showed it to be an efficacious medical treatment, as an alternative to orchidectomy, to control the effects of circulating estrogens. Moreover, the results observed in the patients confirmed the validity and feasibility of the "modified" Webster technique in terms of aesthetic and functional results, patient satisfaction, and absence of complications.
Level of Evidence V
This journal requires that authors assign a level of evidence to each article. For a full description of these Evidence-Based Medicine ratings, please refer to the Table of Contents or the online Instructions to Authors www.springer.com/00266.
Access options
Buy single article
Instant access to the full article PDF.
USD 39.95
Price excludes VAT (USA)
Tax calculation will be finalised during checkout.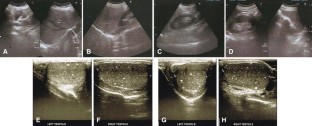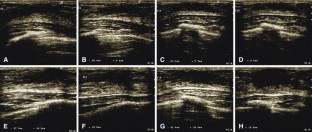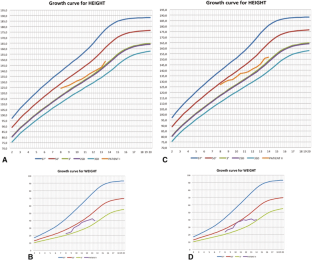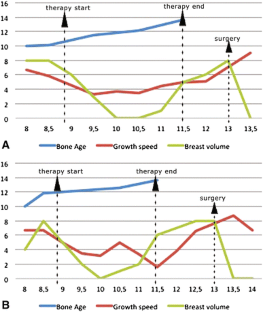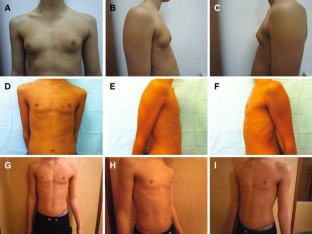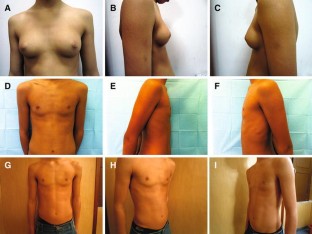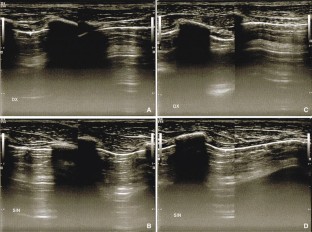 References
Barros AC, Sampaio Mde C (2012) Gynecomastia: physiopathology, evaluation, and treatment. Sao Paulo Med J 130:187–197

Ma NS, Geffner ME (2008) Gynecomastia in prepubertal and pubertal men. Curr Opin Pediatr 20:465–470

Glass AR (1994) Gynecomastia. Endocrinol Metab Clin North Am 23:825–837

Itami RM, Amundson GM, Kaplan SA, Lippe BM (1982) Prepubertal gynecomastia caused by an adrenal tumor. Diagnostic value of ultrasonography. Am J Dis Child 136:584–586

Coen P, Kulin H, Ballantine T, Frauenhoffer E, Boal D, Inkster S, Brodie A, Santen R (1991) An aromatase-producing sex-cord tumor resulting in prepubertal gynecomastia. N Engl J Med 324:317–322

Berensztein E, Belgorosky A, de Davila MT, Rivarola MA (1995) Testicular steroid biosynthesis in a boy with a large cell calcifying Sertoli cell tumor producing prepubertal gynecomastia. Steroids 60:220–225

Hochberg Z, Even L, Zadik Z (1991) Mineralcorticoids in the mechanism of gynecomastia in adrenal hyperplasia caused by 11 beta-hydroxylase deficiency. J Pediatr 118:258–260

Wasniewska M, Arrigo T, Lombardo F, Crisafulli G, Salzano G, De Luca F (2009) 11-Hydroxylase deficiency as a cause of prepubertal gynecomastia. J Endocrinol Invest 32:387–388

Gill K, Kirma N, Tekmal RR (2001) Overexpression of aromatase in transgenic male mice results in the induction of gynecomastia and other biochemical changes in mammary glands. J Steroid Biochem Mol Biol 77:13–18

Irahara N, Miyoshi Y, Taguchi T, Tamaki Y, Noguchi S, Harada N (2005) Possible involvement of aromatase overexpression induced by cyclo-oxygenase-2 in the pathogenesis of idiopathic gynecomastia. Endocr Res 31:219–227

Deepinder F, Braunstein GD (2012) Drug-induced gynecomastia: an evidence-based review. Expert Opin Drug Saf 11:779–795

Bowman JD, Kim H, Bustamante JJ (2012) Drug-induced gynecomastia. Pharmacotherapy 32:1123–1140

Amos Cl, Bali D, Thiel TJ, Anderson JP, Gourley I, Frazier ML, Lynch PM, Luchtefeld MA, Young A, McGarrity TJ, Seldin MF (1997) Fine mapping of a genetic locus for Peutz-Jeghers syndrome on chromosome 19p. Cancer Res 57:3653–3656

Hemminki A, Tomlinson I, Markie D, Järvinen H, Sistonen P, Björkqvist AM, Knuutila S, Salovaara R, Bodmer W, Shibata D, de la Chapelle A, Aaltonen LA (1997) Localization of a susceptibility locus for Peutz-Jeghers syndrome to 19p using comparative genomic hybridization and targeted linkage analysis. Nat Genet 15:87–90

Jenne DE, Reimann H, Nezu J, Friedel W, Loff S, Jeschke R, Müller O, Back W, Zimmer M (1998) Peutz-Jeghers syndrome is caused by mutations in a novel serine threonine kinase. Nat Genet 18:38–43

Jiang CY, Esufali S, Berk T, Gallinger S, Cohen Z, Tobi M, Redston M, Bapat B (1999) STK11/LKB1 germline mutations are not identified in most Peutz-Jeghers syndrome patients. Clin Genet 56:136–141

Giardiello FM, Trimbath JD (2006) Peutz-Jeghers syndrome and management recommendations. Clin Gastroenterol Hepatol 4:408–415

Bulun SE, Noble LS, Takayama K, Michael MD, Agarwal V, Fisher C, Zhao Y, Hinshelwood MM, Ito Y, Simpson ER (1997) Endocrine disorders associated with inappropriately high aromatase expression. J Steroid Biochem Mol Biol 61:133–139

Cantú JM, Rivera H, Ocampo-Campos R, Bedolla N, Cortés-Gallegos V, González-Mendoza A, Díaz M, Hernández A (1980) Peutz-Jeghers syndrome with feminizing sertoli cell tumor. Cancer 46:223–228

Lefevre H, Bouvattier C, Lahlou N, Adamsbaum C, Bougnères P, Carel JC (2006) Prepubertal gynecomastia in Peutz-Jeghers syndrome: incomplete penetrance in a familial case and management with an aromatase inhibitor. Eur J Endocrinol 154:221–227

Alikasifoglu A, Gonc EN, Akcoren Z, Kale G, Ciftci AO, Senocak ME, Yordam N (2002) Feminizing Sertoli cell tumor associated with Peutz-Jeghers syndrome. J Pediatr Endocrinol Metab 15:449–452

Grandone A, del Giudice EM, Cirillo G, Santarpia M, Coppola F, Perrone L (2011) Prepubertal gynecomastia in two monozygotic twins with Peutz-Jeghers syndrome: two years' treatment with anastrozole and genetic study. Horm Res Paediatr 75:374–379

Webster JP (1946) Mastectomy for gynecomastia through a semicircular intra-areolar incision. Ann Surg 124:557–575

Einav-Bachar R, Phillip M, Aurbach-Klipper Y, Lazar L (2004) Prepubertal gynaecomastia: aetiology, course and outcome. Clin Endocrinol Oxford 61:55–60

Brodie A, Long B (2001) Aromatase inhibition and inactivation. Clin Cancer Res 7:4343s–4349s

Brodie A, Lu Q, Nakamura J (1997) Aromatase in the normal breast and breast cancer. J Steroid Biochem Mol Biol 61:281–286

Hertl MC, Wiebel J, Schäfer H, Willig HP, Lambrecht W (1998) Feminizing sertoli cell tumors associated with Peutz-Jeghers syndrome: an increasingly recognized cause of prepubertal gynecomastia. Plast Reconstr Surg 102:1151–1157

Braunstein GD (1993) Gynecomastia. N Engl J Med 328:490–495

Laguna MP, Pizzocaro G, Klepp O, Algaba F, Kisbenedek L, Leiva O, EAU Working Group on Oncological Urology (2001) EAU guidelines on testicular cancer. Eur Urol 40:102–110

Viatori M (2012) Testicular cancer. Semin Oncol Nurs 28:180–189

Daniels IR, Layer GT (2003) Testicular tumours presenting as gynaecomastia. Eur J Surg Oncol 29:437–439

Foppiani L, Bernasconi D, Del Monte P, Marugo A, Toncini C, Marugo M (2005) Leydig cell tumour-induced bilateral gynaecomastia in a young man: endocrine abnormalities. Andrologia 37:36–39

Zarrilli S, Lombardi G, Paesano L, Di Somma C, Colao A, Mirone V, De Rosa M (2002) Hormonal and seminal evaluation of Leydig cell tumour patients before and after orchiectomy. Andrologia 32:147–154

Solh HM, Azoury RS, Najjar SS (1983) Peutz-Jeghers syndrome associated with precocious puberty. J Pediatr 103:593–595

Kara C, Kutlu AO, Tosun MS, Apaydin S, Senel F (2005) Sertoli cell tumor causing prepubertal gynecomastia in a boy with Peutz-Jeghers syndrome: the outcome of 1-year treatment with the aromatase inhibitor testolactone. Horm Res 63:252–256

Gourgari E, Saloustros E, Stratakis CA (2012) Large-cell calcifying Sertoli cell tumors of the testes in pediatrics. Curr Opin Pediatr 24:518–522

Devalia HL, Layer GT (2009) Current concepts in gynaecomastia. Surgeon 7:114–119

Saad MN, Kay S (1984) The circumareolar incision: a useful incision for gynaecomastia. Ann R Coll Surg Engl 66:121–122

Pitanguy I (1966) Transareolar incision for gynecomastia. Plast Reconstr Surg 38:414–419

Kasielska A, Antoszewski B (2012) Surgical management of gynecomastia: an outcome analysis. Ann Plast Surg (in press)
Acknowledgments
The authors thank Prof. Giuseppina Caraglia for his technical support and for reviewing the manuscript in English.
About this article
Cite this article
Ferraro, G.A., Romano, T., De Francesco, F. et al. Management of Prepubertal Gynecomastia in Two Monozygotic Twins With Peutz-Jeghers Syndrome: From Aromatase Inhibitors To Subcutaneous Mastectomy. Aesth Plast Surg 37, 1012–1022 (2013). https://doi.org/10.1007/s00266-013-0188-z
Received:

Accepted:

Published:

Issue Date:

DOI: https://doi.org/10.1007/s00266-013-0188-z
Keywords
Anastrozole

Gynecomastia

Peutz-Jeghers

Subcutaneous mastectomy

Testicular cancer

Ultrasound