Abstract
Vaginal labiaplasty has become a more frequently performed procedure as a result of the publicity and education possible with the internet. Some of our patients have suffered in silence for years with large, protruding labia minora and the tissue above the clitoris that is disfiguring and uncomfortable and makes intercourse very difficult and painful. We propose four classes of labia protrusion based on size and location: Class 1 is normal, where the labia majora and minora are about equal. Class 2 is the protrusion of the minora beyond the majora. Class 3 includes a clitoral hood. Class 4 is where the large labia minora extends to the perineum. There are two principal means of reconstructing this area. Simple amputation may be possible for Class 2 and Class 4. Class 2 and Class 3 may be treated with a wedge resection and flap advancement that preserves the delicate free edge of the labia minora (Alter, Ann Plast Surg 40:287, 1988). Class 4 may require a combination of both amputation of the clitoral hood and/or perineal extensions and rotation flap advancement over the labia minora.
Level of Evidence V
This journal requires that authors assign a level of evidence to each article. For a full description of these Evidence-Based Medicine ratings, please refer to the Table of Contents or the online Instructions to Authors www.springer.com/00266.
Access options
Buy single article
Instant access to the full article PDF.
USD 39.95
Price includes VAT (USA)
Tax calculation will be finalised during checkout.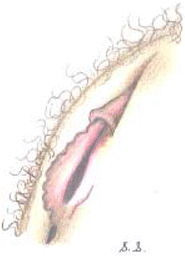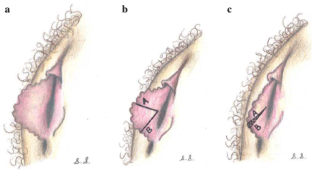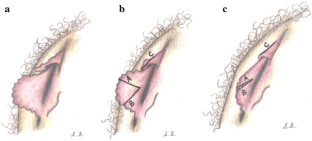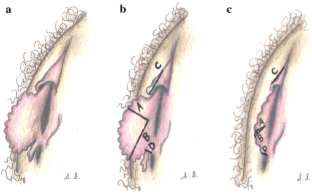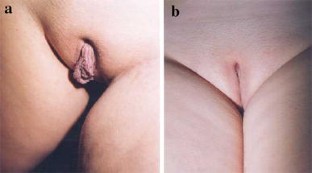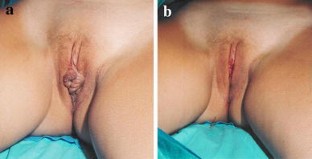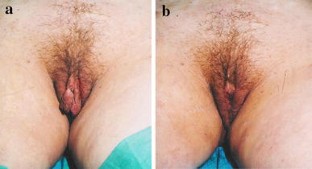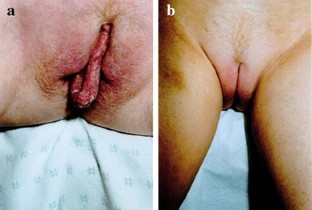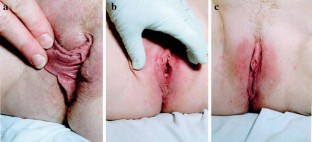 References
1.

Alter GJ (1998) A new technique for aesthetic labia minora reduction. Ann Plast Surg 40:287

2.

Choi HY, Kim KT (2000) A new method for aesthetic reduction of labia minora (the deepithelialized reduction of labioplasty). Plast Reconstr Surg 105:419–422

3.

Girling VR, Salisbury M, Ersek RA (2005) Vaginal labioplasty. Plast Recontr Surg 115(6):1792–1793

4.

Rouzier R, Louis-Sylvestre C, Paniel BJ, Haddad B (2000) Hypertrophy of labia minora: experience with 163 reductions. Am J Obstet Gynecol 182:35–40

5.

Pardo J, Sola V, Ricci P, Guilloff E (2006) Laser labioplasty of labia minora. Int J Gynaecol Obstet 93:38–43

6.

Felicio YA (2007) Labial surgery. Aesthet Surg J 27:322–328

7.

Ersek RA (2004) Dissociative anesthesia for safety sake: ketamine and diazepam—a 35 year personal experience. Plast Reconstr Surg 1113(7):1955–1959
Acknowledgments
We would like to thank Eugene Gonzales, Rachel Salas, Jill Niemtschk, Kimberly Hickman, Carmel Kenan, Rebecca Allison, Tori Farnsworth, Priscilla Tambunga and the entire Personique Surgery Center staff for their efforts in the completion of this manuscript.
About this article
Cite this article
Chang, P., Salisbury, M.A., Narsete, T. et al. Vaginal Labiaplasty: Defense of the Simple "Clip and Snip" and a New Classification System. Aesth Plast Surg 37, 887–891 (2013). https://doi.org/10.1007/s00266-013-0150-0
Received:

Accepted:

Published:

Issue Date:
Keywords
Vaginal labiaplasty

Clip and snip