Abstract
Many studies have reported various growth factors secreted from adipose-derived stem cells (ADSCs). In particular, regenerative effects in skin have received much attention in the clinical fields. The in vitro whitening effects of ADSCs have been reported. A previous study demonstrated that ADSCs secrete growth factors that inhibit both melanin synthesis and tyrosinase activity. This study aimed to investigate the in vivo whitening effect of ADSCs using mouse models. In the study, ADSCs were isolated from the adipose tissue of C57BL/6 mice and cultured. The ADSCs (1 × 106 cells in 30 μl of Hanks' balanced salt solution [HBSS]) then were injected intradermally in the dorsal area of the right ear, and 30 μl of HBSS was injected on the left ear as a control. After 7 days, both ears were irradiated with ultraviolet B (UVB) (150 mJ/cm2) three times at 2-day intervals. The sections of each ear were stained with hematoxylin-eosin, Fontana–Masson, and HMB-45 (a melanocytic cell-specific monoclonal antibody). The histologic parameters evaluated included inflammation (+/−), erosion (+/−), and melanin formation (graded on a scale of 1 to 3). No significant differences in inflammation or erosion were observed by hematoxylin and eosin staining (inflammation: p = 0.388; erosion: p = 0.355). However, significantly more melanin formation was observed in the control group than in the ADSC injection group by Fontana–Masson and HMB-45 staining (Fontana–Masson: p = 0.025; HMB-45: p = 0.015). The study findings suggest that ADSCs inhibit melanin formation induced by UV exposure. Potentially, ADSCs may be used as anti-aging agents, including skin whitening. Before human clinical studies can be conducted, further study is required to determine the mechanisms underlying the whitening effects of ADSCs and the safety of ADSC use.
Level of Evidence II
This journal requires that authors assign a level of evidence to each article. For a full description of these Evidence-Based Medicine ratings, please refer to the Table of Contents or the online Instructions to Authors www.springer.com/00266.
Access options
Buy single article
Instant access to the full article PDF.
USD 39.95
Price excludes VAT (USA)
Tax calculation will be finalised during checkout.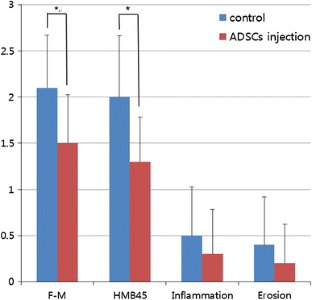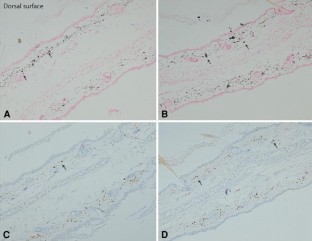 Reference
Castanet J, Ortonne JP (1997) Pigmentary changes in aged and photoaged skin. Arch Dermatol 133:1296–1299

Chung JH, Hanft VN, Kang S (2003) Aging and photoaging. J Am Acad Dermatol 49:690–697

Kim JH, Jung M, Kim HS et al (2011) Adipose-derived stem cells as a new therapeutic modality for ageing skin. Exp Dermatol 20:383–387

Kim WS, Park BS, Kim HK et al (2008) Evidence supporting antioxidant action of adipose-derived stem cells: protection of human dermal fibroblasts from oxidative stress. J Dermatol Sci 49:133–142

Kim WS, Park BS, Park SH et al (2009) Antiwrinkle effect of adipose-derived stem cell: activation of dermal fibroblast by secretory factors. J Dermatol Sci 53:96–102

Kim WS, Park BS, Sung JH (2009) Protective role of adipose-derived stem cells and their soluble factors in photoaging. Arch Dermatol Res 301:329–336

Kim WS, Park BS, Sung JH et al (2007) Wound-healing effect of adipose-derived stem cell: a critical role of secretory factors on human dermal fibroblasts. J Dermatol Sci 48:15–24

Kim WS, Park SH, Ahn SJ et al (2008) Whitening effect of adipose-derived stem cells: a critical role of TGF-b1. Biol Pharm Bull 31:606–610

Park BS, Jang KA, Sung JH et al (2008) Adipose-derived stem cells and their secretory factors as a promising therapy for skin aging. Dermatol Surg 34:1323–1326

Parvez S, Kang M et al (2006) Survey and mechanism of skin depigmenting and lightening agents. Phytother Res 20:921–934

Patel KM, Crisostomo P, Lahm T et al (2007) Mesenchymal stem cells attenuate hypoxic pulmonary vasoconstriction by a paracrine mechanism. J Surg Res 143:281–285

Quevedo WC Jr, Holstein TJ, Dyckman J et al (2000) Inhibition of UVR-induced tanning and immunosuppression by topical applications of vitamins C and E to the skin of hairless (hr/hr) mice. Pigment Cell Res 13:89–98

Rosdahl IK, Szabo G (1978) Mitotic activity of epidermal melanocytes in UV-irradiated mouse skin. J Invest Dermatol 70:143–148

Uemura R, Xu M, Ahmad N et al (2006) Bone marrow stem cells prevent left ventricular remodeling of ischemic heart through paracrine signaling. Circ Res 98:1414–1421
Acknowledgments
This study was supported by research Grants from the Korean Association of Plastic Surgeons.
About this article
Cite this article
Chang, H., Park, J.H., Min, K.H. et al. Whitening Effects of Adipose-Derived Stem Cells: A Preliminary In Vivo Study. Aesth Plast Surg 38, 230–233 (2014). https://doi.org/10.1007/s00266-013-0116-2
Received:

Accepted:

Published:

Issue Date:

DOI: https://doi.org/10.1007/s00266-013-0116-2
Keywords
Adipose-derived stem cells

In vivo study

Whitening effect