Abstract
Background
Madelung's disease (MD) is an uncommon pathology characterized by the presence of multiple masses of unencapsulated adipose tissue that is symmetrically distributed. The aim of this study was to investigate clinical and epidemiological features of patients diagnosed with MD in our department. Associated diseases and evolution after treatment were also investigated.
Methods
We reviewed the clinical histories of 22 patients diagnosed with MD from 1990 to 2010 and obtained their epidemiological and clinical characteristics.
Results
We found 21 patients with MD type 1 and one patient with MD type 2 according to Enzi's classification. All patients were male, 95.5% with high alcohol intake, and 59.1% with some hepatic disease. No family antecedents were significant; 40.9% had dyslipidemia, 22.7% arterial hypertension, 22.7% chronic obstructive pulmonary disease (COPD), 13.6% hyperuricemia, 9.1% hypothyroidism, 4.5% diabetes mellitus type 2, and 4.5% carbohydrate intolerance; 40.9% had a body mass index >30, and 27.3% presented gynecomastia/lipomastia. The region most frequently affected by fatty deposits was the neck.
Conclusions
Madelung's disease affects mainly alcoholic males in their fourth decade of life. Hepatic diseases appear in most patients. Also associated with MD are high lipid blood levels, arterial hypertension, COPD, hyperuricemia, and obesity. MD type 1 is the most frequent phenotype and the neck the most common location for fatty masses. Recurrence after surgery, in the same location or different locations, is a frequent event, even in patients who later abstain from alcohol intake.
Level of Evidence IV
This journal requires that authors assign a level of evidence to each article. For a full description of these Evidence-Based Medicine ratings, please refer to the Table of Contents or the online Instructions to Authors at www.springer.com/00266.
Access options
Buy single article
Instant access to the full article PDF.
USD 39.95
Price excludes VAT (USA)
Tax calculation will be finalised during checkout.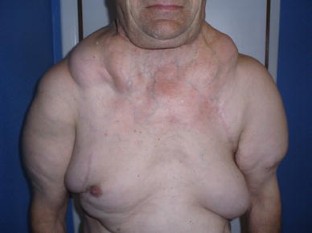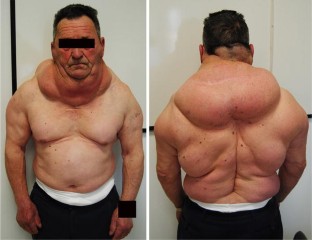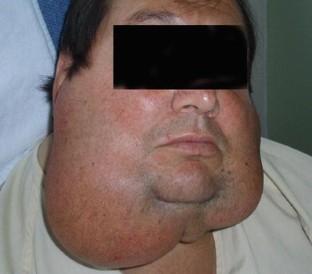 References
Enzi G (1984) Multiple symmetric lipomatosis: an updated clinical report. Medicine (Baltimore) 63(212):56–64

Brodie BC (1846) Clinical lectures on surgery delivered at St. George's Hospital. Lea & Blanchard, Philadelphia, pp 201–210

Madelung OW (1888) Ueber den Fetthals. Arch Klin Chir 37:106–130

Launois PE, Bensaude R (1898) De l'adenolipomatose symetrique. Soc Med Hosp Paris Bull Mem 15:298–318

Kratz C, Lenard HG, Ruzicka T, Gärtner J (2000) Multiple symmetric lipomatosis: an unusual cause of childhood obesity and mental retardation. Eur J Paediatr Neurol 4(2):63–67

Shetty C, Avinash KR, Auluck A, Mupparapu M (2007) Multiple symmetric lipomatosis (MSL) of neck in a child (Madelung's disease): report of a rare presentation. Dentomaxillofac Radiol 36(1):51–54

Ahuja AT, King AD, Chan ES, Kew J, Lam WW, Sun PM, King W, Metreweli C (1998) Madelung disease: distribution of cervical fat and preoperative findings at sonography, MR, and CT. AJNR Am J Neuroradiol 19(4):707–710

Iglesias L, Pérez-Llantada E, Saro G, Pino M, Hernández JL (2000) Benign symmetric lipomatosis (Madelung's disease). Eur J Intern Med 11(3):171–173

Semenou D, Coeugniet E, Segard M, Martinot-Duquennoy V, Delaporte E (2008) Launois-Bensaude's disease: report of 17 cases. Ann Chir Plast Esthet 53(5):399–407

Kobayashi J, Nagao M, Miyamoto K, Matsubara S (2010) MERRF syndrome presenting with multiple symmetric lipomatosis in a Japanese patient. Intern Med 49(5):479–482

González-García R, Rodríguez-Campo FJ, Sastre-Pérez J, Muñoz-Guerra MF (2004) Benign symmetric lipomatosis (Madelung's disease): case reports and current management. Aesthetic Plast Surg 28(2):108–112

Enzi G, Biondetti PR, Fiore D, Mazzoleni F (1982) Computed tomography of deep fat masses in multiple symmetrical lipomatosis. Radiology 144(1):121–124

John DG, Fung HK, van Hasselt CA, King WW (1992) Multiple symmetrical lipomatosis in the neck. Eur Arch Otorhinolaryngol 249(5):277–278

Lee HW, Kim TH, Cho JW, Ryu BY, Kim HK, Choi CS (2003) Multiple symmetric lipomatosis: Korean experience. Dermatol Surg 29(3):235–240

Ruzicka T, Vieluf D, Landthaler M, Braun-Falco O (1987) Benign symmetric lipomatosis Launois-Bensaude. Report of ten cases and review of the literature. J Am Acad Dermatol 17(4):663–674

Hansson E, Svensson H, Brorson H (2011) Liposuction may reduce pain in Dercum's disease (adiposis dolorosa). Pain Med 12(6):942–952

Bornhövd E, Sakrauski AK, Brühl H, Walli R, Plewig G, Röcken M (2000) Multiple circumscribed subcutaneous lipomas associated with use of human immunodeficiency virus protease inhibitors? Br J Dermatol 143(5):1113–1114

Klopstock T, Naumann M, Schalke B, Bischof F, Seibel P, Kottlors M, Eckert P, Reiners K, Toyka KV, Reichmann H (1994) Multiple symmetric lipomatosis: abnormalities in complex IV and multiple deletions in mitochondrial DNA. Neurology 44(5):862–866

Payne CE (2000) Hereditary Madelung's disease. J R Soc Med 93(4):194–195

Chalk CH, Mills KR, Jacobs JM, Donaghy M (1990) Familial multiple symmetric lipomatosis with peripheral neuropathy. Neurology 40(8):1246–1250

Kodish ME, Alsever RN, Block MB (1974) Benign symmetric lipomatosis: functional sympathetic denervation of adipose tissue and possible hypertrophy of brown fat. Metabolism 23(10):937–945

Zancanaro C, Sbarbati A, Morroni M, Carraro R, Cigolini M, Enzi G, Cinti S (1990) Multiple symmetric lipomatosis. Ultrastructural investigation of the tissue and preadipocytes in primary culture. Lab Invest 63(2):253–258

Weiss SW, Goldblum JR (2001) Benign lipomatous tumors. In: Enzinger and Weiss's soft tissue tumors, 4th edn. Mosby, St. Louis, pp 571–637

Leung NW, Gaer J, Beggs D, Kark AE, Holloway B, Peters TJ (1987) Multiple symmetric lipomatosis (Launois-Bensaude syndrome): effect of oral salbutamol. Clin Endocrinol (Oxf) 27(5):601–606

Vilà MR, Gámez J, Solano A, Playán A, Schwartz S, Santorelli FM, Cervera C, Casali C, Montoya J, Villarroya F (2000) Uncoupling protein-1 mRNA expression in lipomas from patients bearing pathogenic mitochondrial DNA mutations. Biochem Biophys Res Commun 278(3):800–802

Donhauser G, Vieluf D, Ruzicka T, Braun-Falco O (1991) Benign symmetric Launois-Bensaude type III lipomatosis and Bureau–Barrière syndrome. Hautarzt 42(5):311–314

Vargas-Díez E, Daudén E, Jones-Caballero M, García-Díez A (2000) Madelung's disease involving the tongue. J Am Acad Dermatol 42(3):511–513

Poggi G, Moro G, Teragni C, Delmonte A, Saini G, Bernardo G (2006) Scrotal involvement in Madelung disease: clinical, ultrasound and MR findings. Abdom Imaging 31(4):503–505

Heike Z, Gudrun UM, Frank RD, Vetter H, Walger P (2008) Multiple benign symmetric lipomatosis—a differential diagnosis of obesity: Is there a rationale for fibrate treatment? Obes Surg 18(2):240–242

Basse P, Lohman M, Hovgaard C, Alsbjørn B (1991) Multiple symmetric lipomatosis. Acta Chir Plast 33(4):204–209

Martínez-Escribano JA, Gonzalez R, Quecedo E, Febrer I (1999) Efficacy of lipectomy and liposuction in the treatment of multiple symmetric lipomatosis. Int J Dermatol 38(7):551–554

Ujpál M, Németh ZS, Reichwein A, Szabó GY (2001) Long-term results following surgical treatment of benign symmetric lipomatosis (BSL). Int J Oral Maxillofac Surg 30(6):479–483

Constantinidis J, Steinhart H, Zenk J, Bohlender J, Iro H (2003) Surgical therapy of Madelung's disease in the head and neck area. HNO 51(3):216–220

Uglesić V, Knezević P, Milić M, Jokić D, Kosutić D (2004) Madelung syndrome (benign lipomatosis): clinical course and treatment. Scand J Plast Reconstr Surg Hand Surg 38(4):240–243
Conflict of interest
The authors have no conflicts of interest to disclose.
About this article
Cite this article
Brea-García, B., Cameselle-Teijeiro, J., Couto-González, I. et al. Madelung's Disease: Comorbidities, Fatty Mass Distribution, and Response to Treatment of 22 Patients. Aesth Plast Surg 37, 409–416 (2013). https://doi.org/10.1007/s00266-012-9874-5
Received:

Accepted:

Published:

Issue Date:

DOI: https://doi.org/10.1007/s00266-012-9874-5
Keywords
Madelung's disease

Lipomatosis

Alcohol abuse

Hepatic disease