Abstract
Extracranial involvement of the recurrent laryngeal and hypoglossal nerves, also known as Tapia's syndrome, is a rare complication of airway management under general anesthesia. We report such a case after an otherwise uncomplicated rhinoplasty. After reviewing the other nine reported cases of Tapia's syndrome, we found that half of the patients had undergone rhinoplasty or septorhinoplasty. The risk factors, etiology, clinical course, recovery potential, and preventive measures are analyzed and discussed. Although Tapia's syndrome after rhinoplasty/septorhinoplasty appears to be rare, it should be considered by both the anesthetist and the plastic surgeon, and most importantly, special attention should be paid to preventive strategies.
Access options
Buy single article
Instant access to the full article PDF.
USD 39.95
Price excludes VAT (USA)
Tax calculation will be finalised during checkout.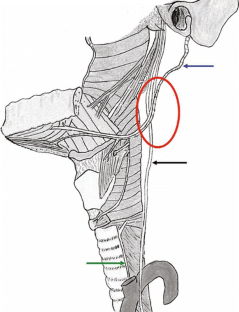 References
Tapia AG (1906) Un nouveau syndrome. Quelques cas d'hemiplegie et de lalangue avec ou sans paralysie du sterno-cleido-mastoiden et du trapeze. Arch Int Laryngol Otol Rhinol 22:780–785

Krasnianski M, Neudecker S, Schluter A, Krause U, Winterholler M (2003) Central Tapia's syndrome ('matador's disease') caused by metastatic hemangiosarcoma. Neurology 61:868–869

Boga I, Aktas S (2010) Treatment, classification, and review of Tapia syndrome. J Craniofac Surg 21:278–280

Yavuzer R, Basterzi Y, Ozkose Z, Yucel Demir H, Yilmaz M, Ceylan A (2004) Tapia's syndrome following septorhinoplasty. Aesthetic Plast Surg 28:208–211

Cinar SO, Seven H, Cinar U, Turgut S (2005) Isolated bilateral paralysis of the hypoglossal and recurrent laryngeal nerves (bilateral Tapia's syndrome) after transoral intubation for general anesthesia. Acta Anaesthesiol Scand 49:98–99

Tesei F, Poveda LM, Strali W, Tosi L, Magnani G, Farneti G (2006) Unilateral laryngeal and hypoglossal paralysis (Tapia's syndrome) following rhinoplasty in general anaesthesia: case report and review of the literature. Acta Otorhinolaryngol Ital 26:219–221

Sotiriou K, Balanika M, Anagnostopoulou S, Gomatos C, Karakitsos D, Saranteas T (2007) Postoperative airway obstruction due to Tapia's syndrome after coronary bypass grafting surgery. Eur J Anaesthesiol 24:378–379

Rotondo F, De Paulis S, Modoni A, Schiavello R (2010) Peripheral Tapia's syndrome after cardiac surgery. Eur J Anaesthesiol 27:575–576

Gelmers HJ (1983) Tapia's syndrome after thoracotomy. Arch Otolaryngol 109:622–623

Boisseau N, Rabarijaona H, Grimaud D, Raucoules-Aime M (2002) Tapia's syndrome following shoulder surgery. Br J Anaesth 88:869–870

Kashyap SA, Patterson AR, Loukota RA, Kelly G (2010) Tapia's syndrome after repair of a fractured mandible. Br J Oral Maxillofac Surg 48:53–54
Conflict of Interest
The authors have no commercial interest or financial/material support in this study to declare.
About this article
Cite this article
Lykoudis, E.G., Seretis, K. Tapia's Syndrome: An Unexpected but Real Complication of Rhinoplasty: Case Report and Literature Review. Aesth Plast Surg 36, 557–559 (2012). https://doi.org/10.1007/s00266-011-9849-y
Received:

Accepted:

Published:

Issue Date:

DOI: https://doi.org/10.1007/s00266-011-9849-y
Keywords
Rhinoplasty

Complication

Tapia's syndrome