Abstract
Background
Excess body fat, localized adiposity, and cellulite represent important social problems. To date, techniques using radiofrequencies, cavitation and noncavitation ultrasound, and carbon dioxide have been studied as treatments for noninvasive body contouring. Ice-Shock Lipolysis is a new noninvasive procedure for reducing subcutaneous fat volume and fibrous cellulite in areas that normally would be treated by liposuction. It uses a combination of acoustic waves and cryolipolysis. Shock waves, used normally in the treatment of renal calculi and musculoskeletal disorders, are focused on the collagen structure of cellulite-afflicted skin. When used on the skin and underlying fat, they cause a remodeling of the collagen fibers, improving the orange-peel appearance typical of the condition. Cryolipolysis, on the other hand, is a noninvasive method used for the localized destruction of subcutaneous adipocytes, with no effects on lipid or liver marker levels in the bloodstream. The combination of the two procedures causes the programmed death and slow resorption of destroyed adipocytes.
Methods
In this study, 50 patients with localized fat and cellulite were treated with a selective protocol for the simultaneous use of two transducers: a Freezing Probe for localized fatty tissue and a Shock Probe for fibrous cellulite.
Results
The procedure significantly reduced the circumference in the treated areas, significantly diminishing fat thickness. The mean reduction in fat thickness after treatments was 3.02 cm. Circumference was reduced by a mean of 4.45 cm. Weight was unchanged during the treatment, and no adverse effects were observed. Histologic and immunohistochemical analysis confirmed a gradual reduction of fat tissue by programmed cell death. Moreover, the reduction in fat thickness was accompanied by a significant improvement in microcirculation, and thus, the cellulite. The safety of the method also has been highlighted because it is accompanied by no significant increase in serum liver enzymes or serum lipids.
Conclusion
The study aimed to observe the effects of the new technique in the treatment of localized fat associated with cellulite in order to assess adipose tissue alterations, cellular apoptosis, and levels of serum lipid or liver markers. The findings show that the action of Ice-Shock Lipolysis is a safe, effective, and well-tolerated noninvasive procedure for body contouring. In particular, the authors believe that this could be an ideal alternative to liposuction for patients who require only small or moderate amounts of adipose tissue and cellulite removal or are not suitable candidates for surgical approaches to body contouring.
Access options
Buy single article
Instant access to the full article PDF.
USD 39.95
Price excludes VAT (USA)
Tax calculation will be finalised during checkout.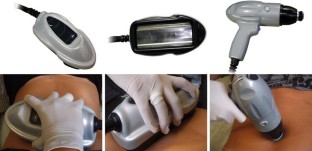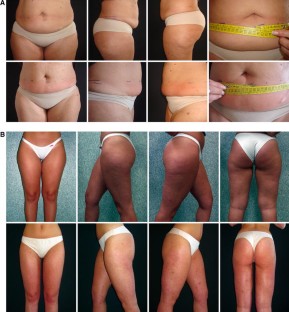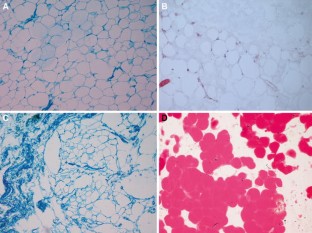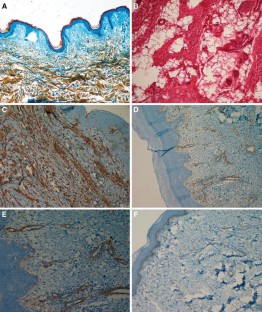 References
Smalls LK, Lee CY, Whitestone J, Kitzmiller WJ, Wickett RR, Visscher MO (2005) Quantitative model of cellulite: three-dimensional skin surface topography, biophysical characterization, and relationship to human perception. J Cosmet Sci 56:105–120

Browse NL, Jarrett PE, Morland M, Burnand K (1977) Treatment of liposclerosis of the leg by fibrinolytic enhancement: a preliminary report. Br Med J 13:434–435

Binazzi M, Grilli-Cicioloni E (1977) A proposito della cosidetta cellulite e della dermato-panniculopatia edemato fibrosclerotica. Ann It Derm Clin Sper 31:121–125

Smalls LK, Hicks M, Passeretti D, Gersin K, Kitzmiller WJ, Bakhsh A, Wickett RR, Whitestone J, Visscher MO (2006) Effect of weight loss on cellulite: gynoid lypodystrophy. Plast Reconstr Surg 118:510–516

Flynn TC, Coleman WP II, Field LM, Klein JA, Hanke CW (2000) History of liposuction. Dermatol Surg 26:515–520

Gasparotti M (1992) Superficial liposuction: a new application of the technique for aged and flaccid skin. Aesthetic Plast Surg 16:141–152

Svedman KJ, Coldiron B, Coleman WP III, Cox SE, Jacob C, Lawrence N, Kaminer M, Narins RS (2006) ASDS guidelines of care for tumescent liposuction. Dermatol Surg 32:709–716

Avram MM (2004) Cellulite: a review of its physiology and treatment (review). J Cosmet Laser Ther 6:181–185

Khan MH, Victor F, Rao B, Sadick NS (2010) Treatment of cellulite: part II. Advances and controversies. J Am Acad Dermatol 62:373–384

Wanitphakdeedecha R, Manuskiatti W (2006) Treatment of cellulite with a bipolar radiofrequency, infrared heat, and pulsatile suction device: a pilot study. J Cosmet Dermatol 5:284–288

Alster TS, Tanzi EL (2005) Cellulite treatment using a novel combination radiofrequency, infrared light, and mechanical tissue manipulation device. J Cosmet Laser Ther 7:81–85

Alexiades-Armenakas M (2007) Laser- and light-based treatment of cellulite. J Drugs Dermatol 6:83–84

Alster TS, Tehrani M (2006) Treatment of cellulite with optical devices: an overview with practical considerations (review). Lasers Surg Med 38:727–730

Hexsel D, Orlandi C, Zechmeister do Prado D (2005) Botanical extracts used in the treatment of cellulite (review). Dermatol Surg 31:866–872 discussion 872

Rose PT, Morgan M (2005) Histological changes associated with mesotherapy for fat dissolution. J Cosmet Laser Ther 7:17–19

Rotunda AM, Kolodney MS (2006) Mesotherapy and phosphatidylcholine injections: historical clarification and review. Dermatol Surg 32:465–480

Silberg BN (1998) The use of external ultrasound assist with liposuction. Aesth Surg J 16:284

Zocchi ML (1996) Ultrasonic-assisted lipoplasty. Clin Plast Surg 23:575

Ferraro GA, De Francesco F, Nicoletti G, Rossano F, D'Andrea F (2008) Histologic effects of external ultrasound-assisted lipectomy on adipose tissue. Aesthetic Plast Surg 32:111–115

Manstein D, Laubach H, Watanabe K, Farinelli W, Zurakowski D, Anderson RR (2008) Selective cryolysis: a novel method of noninvasive fat removal. Lasers Surg Med 40:595–604

Zelickson B, Egbert BM, Preciado J, Allison J, Springer K, Rhoades RW, Manstein D (2009) Cryolipolysis for noninvasive fat cell destruction: initial results from a pig model. Dermatol Surg 35:1462–1470

Klein KB, Zelickson B, Riopelle JG, Okamoto E, Bachelor EP, Harry RS, Preciado JA (2009) Noninvasive cryolipolysis for subcoutaneous fat reduction does not affect serum lipid levels or liver function tests. Lasers Surg Med 41:789–790

Avram MM, Harry RS (2009) Cryolipolysis for subcutaneous fat layer reduction. Lasers Surg Med 41:703–708

Nelson AA, Wasserman D, Avram MM (2009) Cryolipolysis for reduction of excess adipose tissue. Semin Cutan Med Surg 28:244–249

Skolarikos A, Mitsogiannis H, Deliveliotis C (2010) Indications, prediction of success, and methods to improve outcome of shock wave lithotripsy of renal and upper ureteral calculi (review). Arch Ital Urol Androl 82:56–63

Haupt G (1997) Use of extracorporeal shock waves in the treatment of pseudoarthrosis, tendinopathy, and other orthopaedic diseases (review). J Urol 158:4–11

Sems A, Dimeff R, Iannotti JP (2006) Extracorporeal shock wave therapy in the treatment of chronic tendinopaties (review). J Am Acad Orthop Surg 14:195–204

Speed CA (2004) Extracorporeal shock-wave therapy in the management of chronic soft-tissue conditions (review). J Bone Joint Surg Br 33:40–48

Moretti B, Notarnicola A, Maggio G, Moretti L, Pascone M, Tafuri S, Patella V (2009) The management of neuropathic ulcers of the foot in diabetes by shock wave therapy. BMC Musculoskelet Disord 27:10–54

Arnò A, Garcia O, Hernan I, Sancho J, Acosta A, Barret JP (2010) Extracorporeal shock waves: a new nonsurgical method to treat severe burns. Burns 36:844–849

Yip HK, Chang LT, Sun CK, Youssef AA, Sheu JJ, Wang CJ (2008) Shock wave therapy applied to rat bone marrow-derived mononuclear cells enhances formation of cells stained positive for CD31 and vascular endothelial growth factor. Circ J 72:150–156

Mittermayr R, Hartinger J, Antonic V, Meini A, Pfeifer S, Stojadinovic A, Schaden W, Redi H (2011) Extracorporeal shock wave therapy (ESWT) minimizes ischemic tissue necrosis irrespective of application time and promotes tissue revascularization by stimulating angiogenesis. Ann Surg 253:1024–1032

Kuhn C, Angehrn F, Sonnabend O, Voss A (2008) Impact of extracorporeal shock waves on the human skin with cellulite: a case study of an unique instance. Clin Interv Aging 3:201–210

Angehrn F, Kuhn C, Voss A (2007) Can cellulite be treated with low-energy extracorporeal shock wave therapy? (review). Clin Interv Aging 2:623–630

Chua KJ, Chou SK, Ho JC (2007) An analytical study on the thermal effects of cryosurgery on selective cell destruction. J Biomech 40:100–116

Siems W, Brenke R, Sattler S, Christ C, Novak P, Daser A (2008) Improvement in skin elasticity and dermal revitalization in the treatment of cellulite and connective tissue weakness by means of Extracorporeal Pulse Activation Therapy: EPAT. Aesthet Surg J 28:538–544

Ybarra J, Blanco-Vaca F, Fernandez S, Castellvì A, Bonet R, Palomer X, Ordonez-Llanos J, Trius A, Vila-Rovira R, Perez A (2008) The effects of liposuction removal of subcutaneous abdominal fat on lipid metabolism are independent of insulin sensitivity in normal-overweight individuals. Obes Surg 18:408–414
Acknowledgments
The authors thank Professor Gianpaolo Papaccio, Department of Experimental Medicine, Section of Histology and Embryology, Second University of Naples, for laboratory technical support. The authors thank Michael V. G. Latronico, Scientific and Technological Park, Casa di Cura MultiMedica, for English language and grammatical technical support.
About this article
Cite this article
Ferraro, G.A., De Francesco, F., Cataldo, C. et al. Synergistic Effects of Cryolipolysis and Shock Waves for Noninvasive Body Contouring. Aesth Plast Surg 36, 666–679 (2012). https://doi.org/10.1007/s00266-011-9832-7
Received:

Accepted:

Published:

Issue Date:

DOI: https://doi.org/10.1007/s00266-011-9832-7
Keywords
Cryolipolysis

Extracorporeal shock waves

Body contouring

Fat reduction

Cellulite