Abstract
Background
Pulsed radiofrequency energy (PRFE) has long been reported to have a therapeutic effect on postoperative pain. In this study, a portable, wearable, low-energy-emitting PRFE therapy device was used to determine the control of postoperative pain after breast augmentation surgery.
Methods
The study enrolled 18 healthy women who underwent breast augmentation purely for aesthetic considerations. Postoperative pain after surgery was assessed with a 0- to 10-point visual analog scale (VAS). Baseline pain scores were taken at completion of the operation, and the patients were randomly assigned coded PRFE devices that were either active or placebo devices. For 7 days, VAS scores were recorded twice daily (a.m. and p.m.). Medication use also was logged for 7 days. The PRFE devices were left in place and in continuous operation for the 7 days of the study.
Results
All the patients tolerated the PRFE therapy well, and no side effects were reported. The VAS scores for the active group were significantly lower on postoperative day 1. By day 7, the baseline VAS remaining in the active group was 7.9% versus 38% in the placebo group. Together with lower VAS scores, narcotic pain medication use was lower in the patient group that received PRFE therapy.
Conclusion
Postoperative pain is significantly lower with PRFE therapy. According to the findings, PRFE therapy in this form is an excellent, safe, drug-free method of postoperative pain control.
This is a preview of subscription content, log in to check access.
Access options
Buy single article
Instant access to the full article PDF.
US$ 39.95
Price includes VAT for USA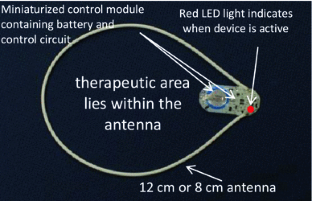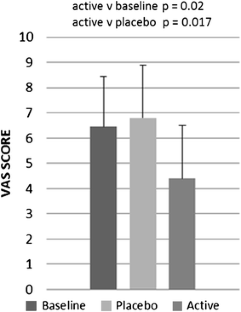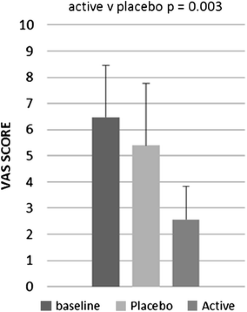 References
1.

White PF (2008) Pain management after ambulatory surgery: where is the disconnect? Can J Anaesth 55:201–207

2.

Apfelbaum JL, Chen C, Mehta SS, Gan TJ (2003) Postoperative pain experience: results from a national survey suggest postoperative pain continues to be undermanaged (table of contents). Anesth Analg 97:534–540

3.

Buvanendran A, Kroin JS, Della Valle CJ, Kari M, Moric M, Tuman KJ (2010) Perioperative oral pregabalin reduces chronic pain after total knee arthroplasty: a prospective, randomized, controlled trial. Anesth Analg 110:199–207

4.

Andersen KG, Kehlet H (2011) Persistent pain after breast cancer treatment: a critical review of risk factors and strategies for prevention. J Pain 12:725–746

5.

White PF, Eng M (2007) Fast-track anesthetic techniques for ambulatory surgery. Curr Opin Anaesthesiol 20:545–557

6.

White PF, Kehlet H, Neal JM, Schricker T, Carr DB, Carli F (2007) The role of the anesthesiologist in fast-track surgery: From multimodal analgesia to perioperative medical care (table of contents). Anesth Analg 104:1380–1396

7.

Foley-Nolan D, Barry C, Coughlan RJ, O'Connor P, Roden D (1990) Pulsed high-frequency (27 MHz) electromagnetic therapy for persistent neck pain: a double-blind, placebo-controlled study of 20 patients. Orthopedics 13:445–451

8.

Aaron RK, Ciombor DM, Simon BJ (2004) Treatment of nonunions with electric and electromagnetic fields. Clin Orthop Relat Res 419:21–29

9.

Aronofsky DH (1971) Reduction of dental postsurgical symptoms using nonthermal pulsed high-peak-power electromagnetic energy. Oral Surg Oral Med Oral Pathol 32:688–696

10.

Nicolle FV, Bentall RM (1982) Use of radiofrequency pulsed energy in the control of postoperative reaction in blepharoplasty. Aesthet Plast Surg 6:169–171

11.

Benazzo F, Zanon G, Pederzini L, Modonesi F, Cardile C, Falez F, Ciolli L, La Cava F, Giannini S, Buda R et al (2008) Effects of biophysical stimulation in patients undergoing arthroscopic reconstruction of anterior cruciate ligament: prospective, randomized, and double-blind study. Knee Surg Sports Traumatol Arthrosc 16:595–601

12.

Till M, Gubisch W, Frickert G, Reichert H, Schmidt KH (1993) Postoperative management with pulsed high-frequency electromagnetic energy: a clinical study of 38 patients with rhinoseptoplasty. Handchir Mikrochir Plast Chir 25:26–32

13.

Frank R (1985) Treatment of the perineum by pulsed electromagnetic therapy. Midwives Chron 98:297–298

14.

Silver H (1982) Reduction of capsular contracture with two-stage augmentation mammaplasty and pulsed electromagnetic energy (Diapulse therapy). Plast Reconstr Surg 69:802–808

15.

Foley-Nolan D, Moore K, Codd M, Barry C, O'Connor P, Coughlan RJ (1992) Low-energy high-frequency pulsed electromagnetic therapy for acute whiplash injuries: a double-blind randomized controlled study. Scand J Rehabil Med 24:51–59

16.

Pennington GM, Danley DL, Sumko MH, Bucknell A, Nelson JH (1993) Pulsed, nonthermal, high-frequency electromagnetic energy (Diapulse) in the treatment of grade I and grade II ankle sprains. Mil Med 158:101–104

17.

Wilson DH (1974) Comparison of short-wave diathermy and pulsed electromagnetic energy in treatment of soft tissue injuries. Physiotherapy 60:309–310

18.

Cameron BM (1964) A three-phase evaluation of pulsed, high-frequency, radio short waves (Diapulse): 646 patients. Am J Orthop 6:72–78

19.

Itoh M, Montemayor JS Jr, Matsumoto E, Eason A, Lee MH, Folk FS (1991) Accelerated wound healing of pressure ulcers by pulsed high-peak power electromagnetic energy (Diapulse). Decubitus 4(24–25):29–34

20.

Salzberg CA, Cooper-Vastola SA, Perez F, Viehbeck MG, Byrne DW (1995) The effects of nonthermal pulsed electromagnetic energy on wound healing of pressure ulcers in spinal cord-injured patients: a randomized, double-blind study. Ostomy Wound Manage 41:42–44, 46, 48 passim

21.

Stiller MJ, Pak GH, Shupack JL, Thaler S, Kenny C, Jondreau L (1992) A portable pulsed electromagnetic field (PEMF) device to enhance healing of recalcitrant venous ulcers: a double-blind, placebo-controlled clinical trial. Br J Dermatol 127:147–154

22.

Fletcher S (2011) Successful treatment of venous stasis ulcers with combination compression therapy and pulsed radiofrequency energy in a patient scheduled for amputation. J Wound Ostomy Cont Nurs 38:91–94

23.

Frykberg R, Martin E, Tallis A, Tierney E (2011) A case history of multimodal therapy in healing a complicated diabetic foot wound: negative pressure, dermal replacement, and pulsed radiofrequency energy therapies. Int Wound J 8:132–139

24.

Frykberg RG, Driver VR, Lavery LA, Armstrong DG, Isenberg RA (2011) The use of pulsed radiofrequency energy therapy in treating lower extremity wounds: results of a retrospective study of a wound registry. Ostomy Wound Manage 57:22–29

25.

Rawe IM, Vlahovic TC (2011) The use of a portable, wearable form of pulsed radiofrequency electromagnetic energy device for the healing of recalcitrant ulcers: a case report. Int Wound J. doi:10.1111/j.1742-481X.2011.00853.x

26.

Heden P, Pilla AA (2008) Effects of pulsed electromagnetic fields on postoperative pain: a double-blind randomized pilot study in breast augmentation patients. Aesthet Plast Surg 32:660–666

27.

Rohde C, Chiang A, Adipoju O, Casper D, Pilla AA (2010) Effects of pulsed electromagnetic fields on IL-1 beta and postoperative pain: a double-blind, placebo-controlled pilot study in breast reduction patients. Plast Reconstr Surg 125:1620–1629

28.

Strauch B, Herman C, Dabb R, Ignarro LJ, Pilla AA (2009) Evidence-based use of pulsed electromagnetic field therapy in clinical plastic surgery. Aesthet Surg J 29:135–143

29.

Li Q, Kao H, Matros E, Peng C, Murphy GF, Guo L (2011) Pulsed radiofrequency energy (PRFE) accelerates wound healing in diabetic mice. Plast Reconstr Surg 127:2255–2262

30.

Moffett J, Griffin N, Ritz M, George F (2010) Pulsed radiofrequency energy field treatment of cells in culture results in increased expression of genes involved in the inflammation phase of lower extremity diabetic wound healing. J Diabet Foot Complicat 2:57–64

31.

Williamson A, Hoggart B (2005) Pain: a review of three commonly used pain rating scales. J Clin Nurs 14:798–804

32.

White PF, Kehlet H (2010) Improving postoperative pain management: what are the unresolved issues? Anesthesiology 112:220–225

33.

Gilron I, Orr E, Tu D, Mercer CD, Bond D (2009) A randomized, double-blind, controlled trial of perioperative administration of gabapentin, meloxicam, and their combination for spontaneous and movement-evoked pain after ambulatory laparoscopic cholecystectomy. Anesth Analg 108:623–630

34.

White PF, Sacan O, Tufanogullari B, Eng M, Nuangchamnong N, Ogunnaike B (2007) Effect of short-term postoperative celecoxib administration on patient outcome after outpatient laparoscopic surgery. Can J Anaesth 54:342–348

35.

Bentall RHC (1986) Low-level pulsed radiofrequency fields and the treatment of soft tissue injuries. Bioelectrochem Bioenerg 16:531–548
Conflict of interest
David G. Genecov received honoraria from BioElectronics Corporation for the study. Ian M. Rawe is a paid consultant for BioElectronics Corporation.
About this article
Cite this article
Rawe, I.M., Lowenstein, A., Barcelo, C.R. et al. Control of Postoperative Pain with a Wearable Continuously Operating Pulsed Radiofrequency Energy Device: A Preliminary Study. Aesth Plast Surg 36, 458–463 (2012). https://doi.org/10.1007/s00266-011-9828-3
Received:

Accepted:

Published:

Issue Date:
Keywords
Pain

Postoperative

Pulsed radiofrequency