Abstract
Background
Simultaneous augmentation mastopexy for moderately to severely ptotic breasts presents the challenge of determining how much excess skin should be removed after implant placement to create symmetry and provide for maximal skin tightening without compromising tissue vascularization.
Methods
Simultaneous augmentation mastopexy involves invagination and tailor tacking of the excess skin after implant placement and then making a pattern around the tailor-tacked tissues for previsualization of the total area to be resected. This contrasts with first making a pattern for the mastopexy, resecting the skin, and then tailor tacking the tissues together. Over a 7-year period, 55 women had simultaneous augmentation mastopexy with this approach. Saline implants were placed in the subpectoral dual-plane position before the mastopexy was started. All surgeries were performed with the patient under general anesthesia, and the patients were discharged the same day. In a retrospective chart review, breast implant size, degree of preoperative asymmetry, length of procedure, and complications were recorded. The patient follow-up period ranged from 3 months to 7 years (median, 9 months).
Results
Symmetric, aesthetic results were achieved for all the patients. The range of saline implants used was 375–775 ml (average, 500 ml). Of the 55 women, 15 had two different size implants measuring at least 50 ml or larger, with the greatest size disparity in a patient being 225 ml (left breast, 700 ml; right breast, 475 ml). Six of the patients (10.9%) had small areas that healed by secondary intention, occurring mostly at the inferior junction of the inverted T. Only two patients (3.6%) had recurrence of breast ptosis, and only one patient (1.8%) had a mildly hypertrophic scar. There were no incidences of hematoma, infection, rippling, malposition of the nipple–areolar complex (NAC), NAC loss, capsular contraction, implant malposition, or dissatisfaction with implant size. The bilateral augmentation/mastopexy surgery time ranged from 2 h and 29 min to 4 h and 30 min (average, 3 h and 8 min).
Conclusions
The described technique maximizes the amount of tissue to be resected in simultaneous augmentation mastopexy for moderately to severely ptotic breasts. Symmetry is more easily achieved with this approach regardless of the implant size used or the amount of skin to be resected. This technique minimizes the chance of tissue necrosis from devascularized skin edges. It also may shorten the inverted T scar and reduce the operative time.
Access options
Buy single article
Instant access to the full article PDF.
USD 39.95
Price excludes VAT (USA)
Tax calculation will be finalised during checkout.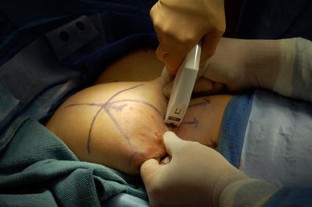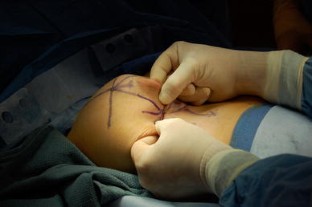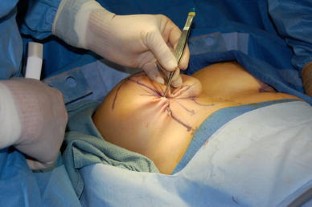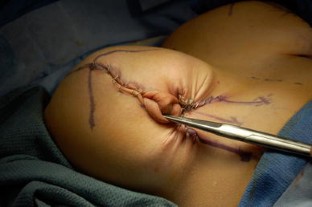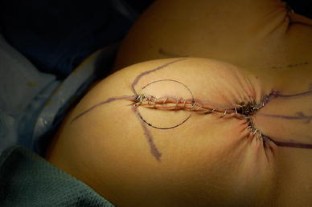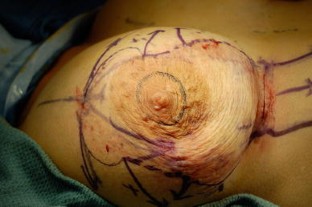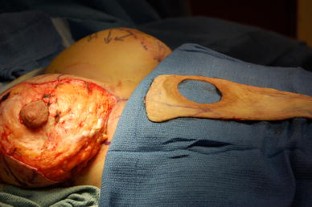 References
Cardenas-Camarena L, Ramirez-Macias R (2006) Augmentation/mastopexy: how to select and perform the proper technique. Aesthet Plast Surg 30:21–33

Iwuagwu OC, Drew PJ (2005) Deskinning versus deepithelialization for inferior pedicle reduction mammoplasty: a prospective comparative analysis. Aesthet Plast Surg 29:202–204

Karacaoglu E (2009) Single-stage augmentation mastopexy: a novel technique using autologous dermal graft. Ann Plast Surg 63:600–604

Kirwan L (2007) Breast autoaugmentation. Can J Plast Surg 15:73–76

Kroll SS (1988) A comparison of deepithelialization and deskinning in inferior pedicle breast reduction. Plast Reconstr Surg 81:913–916

Marchac D (1990) Reduction mammoplasty with a short horizontal scar. In: Goldwyn R (ed) Reduction mammaplasty. Little, Brown, Boston, pp 317–336

Parsa AA, Jackowe DJ (2010) A new algorithim for breast mastopexy/augmentation. Plast Reconstr Surg 125:75e–77e

Pinsky MA (2005) Radial plication in concentric mastopexy. Aesthet Plast Surg 29:391–399

Regnault P (1966) The hypoplastic and ptotic breast: a combined generation with prosthetic augmentation. Plast Reconstr Surg 37:31–37

Regnault P (1976) Breast ptosis: definition and treatment. Clin Plast Surg 3:93

Rohrich RJ, Gosman AA, Brown SA, Reisch J (2006) Mastopexy preferences: a survey of board-certified plastic surgeons. Plast Reconstr Surg 118:1631–1638

Spear SL (2003) Augmentation/mastopexy: "Surgeon, beware". Plast Reconstr Surg 112:905–906

Spear SL, Dayan JH, Clemens MW (2009) Augmentation mastopexy. Clin Plastic Surg 36:105–115

Spear SL, Giese SY (2000) Simultaneous breast augmentation and mastopexy. Aesthet Surg J 20:155–164

Stevens WG, Stoker DA, Freeman ME, Quardt SM, Hirsch EM, Cohen R (2006) Is one-stage breast augmentation with mastopexy safe and effective? A review of 186 primary cases. Aesthet Surg J 26:674–681

Stevens WG, Freeman ME, Stoker DA, Quardt SM, Cohen R, Hirsch EM (2007) One-stage mastopexy with breast augmentation: a review of 321 patients. Plast Reconstr Surg 120:1674–1679

Tebbetts JB (2001) Dual-plane breast augmentation: optimizing implant-soft-tissue relationships in a wide range of breast types. Plast Reconstr Surg 107:1255–1277

Whidden PG (1978) The tailor-tack mastopexy. Plast Reconstr Surg 62:347–354

Wise RJ, Ganon JP, Hill JR (1963) Further experience with reduction mammoplasty. Plast Reconstr Surg 32:12
Disclosure
The author declares that he has no conflicts of interest to disclose.
About this article
Cite this article
Eisenberg, T. Simultaneous Augmentation Mastopexy: A Technique for Maximum En Bloc Skin Resection Using the Inverted-T Pattern Regardless of Implant Size, Asymmetry, or Ptosis. Aesth Plast Surg 36, 349–354 (2012). https://doi.org/10.1007/s00266-011-9796-7
Received:

Accepted:

Published:

Issue Date:

DOI: https://doi.org/10.1007/s00266-011-9796-7
Keywords
Simultaneous augmentation mastopexy

Tailor tacking

Breast lift

Mastopexy

Augmentation mastopexy

Breast ptosis

Ptotic breast

Short horizontal scar