Abstract
Background
Blue eyes have been the embodiment of attractiveness not only for decades but even for centuries. The primary aim of this study was to determine whether iridal color, particularly color blue, can increase the attractiveness of a person's eye area. As a secondary aim, the study examined the impact of pupil diameter and scleral color on the attractiveness of the eye area.
Methods
The stimulus material comprised images of the eye areas of 60 women ages 15–65 years. A total of 80 participants rated the attractiveness of each eye area on a 7-point Likert scale and estimated the age of the person. The color values of the iris and sclera were measured. As an additional subsample, 50% of the participants were asked what features of each eye area they found particularly appealing.
Results
Most surprisingly, no correlation was found between iridal color and rated attractiveness. However, the participants mentioned the color blue more often as a positive aspect than other iridal colors. A high inverse correlation was observed between attractiveness of the eye area and age. The larger the pupil diameter and the whiter the scleral color, the lower was the real and perceived age and the higher was the attractiveness.
Conclusion
The data showed that the "blue-eyes stereotype" does exist. People consider blue eyes attractive, but in reality, blue is rated as attractive as other iridal colors. Bright scleral color and large pupils positively affect attractiveness because both features are significantly correlated with youthfulness.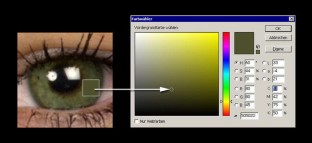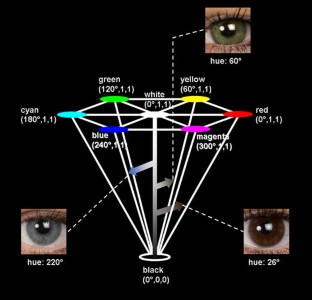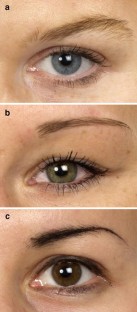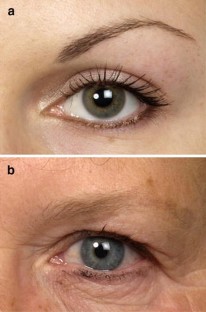 References
1.

Cunningham MR (1986) Measuring the physical in physical attractiveness: Quasi-experiments on the sociobiology of female facial beauty. J Pers Social Psychol 50:925–935

2.

Drolsum L, Davanger M, Haaskjold E (1994) Pattern of characteristics in cataract patients. Acta Opthalmol Copenhagen 72:279–283

3.

Etcoff N (1999) Survival of the Prettiest: the Science of Beauty. Doubleday/Random House, New York

4.

Fagien S (1999) Botox for the treatment of dynamic and hyperkinetic facial lines and furrows: adjunctive use in facial aesthetic surgery. Plast Reconstr Surg 103:701–713

5.

Fagien S (2002) Advanced rejuvenative upper blepharoplasty: enhancing aesthetics of the upper periorbita. Plast Reconstr Surg 110:278–292

6.

Feser DK, Gruendl M, Eisenmann-Klein M, Prantl L (2007) Attractiveness of eyebrow position and shape in females depends on the age of the beholder. Aesthetic Plast Surg 31:154–160

7.

Flowers RS, Flowers SS (1993) Precision planning in blepharoplasty: the importance of preoperative mapping. Clin Plast Surg 20:303

8.

Frost P, Perret DI (2006) European hair and eye color: a case of frequency-dependent sexual selection. Evolution Hum Behav 27:85–103

9.

Grigson G (2008) Aphrodite: Die Biographie. Thiele, München

10.

Gruendl M, Klein S, Horczakiwskyj R, Feser D, Jung M, Eisenmann-Klein M, Prantl L (2009) The "jaguar's eye" as a new beauty trend? Age-related effects in judging the attractiveness of the oblique eye axis. Aesthetic Plast Surg 32:915–919

11.

Hess EH (1975) The tell-tale eye. Van Nostrand Reinhold, New York

12.

Kalisch A (2010) ElitePartner.de Singlestudie (pdf document). Retrieved from http://www.elitepartner.de/presse/studien/ElitePartner.de_Singlestudie_Januar_2009.pdf Accessed 18 Feb, 2010

13.

Knize DM (2001) Limited incision forehead-lift for eyebrow elevation to enhance upper blepharoplasty. Plast Reconstr Surg 108:564–567

14.

Korczyn AD, Loar N, Nemet P (1976) Sympathetic pupillay tone in old age. Arch Opthalmol 94:1905–1906

15.

Laeng B, Mathisen R, Johnsen JA (2006) Why do blue-eyed men prefer women with the same eye color? Behav Ecol Sociobiol 61:371–384

16.

Mengel-From J, Wong TH, Morling N, Rees JL, Jackson IJ (2009) Genetic determinants of hair and eye colours in the Scottish and Danish populations. BMC Genet 10(88):1–13

17.

Pressman MR, DiPhillipo MA, Fry JM (1986) Senile miosis: the possible contribution of disordered sleep and daytime sleepiness. J Gerontol 41:629–634

18.

Ramirez OM (1994) Endoscopic techniques in facial rejuvenation: an overview. Part I. Aesthetic Plast Surg 18:141–147

19.

Ramirez OM (1997) Why I prefer the endoscopic forehead-lift. Plast Reconstr Surg 100:1033–1039 discussion 1043–1046

20.

Rohrich RJ, Coberly DM, Fagien S, Stuzin JM (2004) Current concepts in aesthetic upper blepharoplasty (review). Plast Reconstr Surg 113:32e–42e

21.

Romm S (1989) The changing face of beauty. Aesthetic Plast Surg 13:91–98

22.

Schreiber JE, Singh NK, Klatsky SA (2005) Beauty lies in the "eyebrow" of the beholder: a public survey of eyebrow aesthetics. Aesth Surg J 25:348–352

23.

Stass W, Willis FN (1967) Eye contact, pupil dilation, and personal preference. Psychonom Sci 7:375–376

24.

Sturm RA (2008) Can blue-eyed parents produce brown-eyed children? Biosci Explained 4:1–10

25.

Sulem P, Gudbjartsson DF, Stacey SN, Helgason A (2007) Genetic determinants of hair, eye, and skin pigmentation in Europeans. Nature Genet 39:1443–1452

26.

Thelen TH (1983) Minority type human mate preference. Soc Biol 30:162–180

27.

Tombs S, Solverman I (2004) Pupillometry: a sexual selection approach. Evolution Hum Behav 25:221–228

28.

Volpe CR, Ramirez OM (2005) The beautiful eye (review). Facial Plast Surg Clin North Am 13:493–504

29.

Wakamatsu K, Hu DH, McCormick S, Ito S (2007) Characterization of melanin in human iridal and choroidal melanocytes from eyes with various colored eyes. Pigment Cell Melanoma Res 21:97–105
Conflict of interest
There is no conflict of interest for any of the authors. No financial support or benefits have been received by the authors of the present study. No commercial association or financial disclosure exists.
About this article
Cite this article
Gründl, M., Knoll, S., Eisenmann-Klein, M. et al. The Blue-Eyes Stereotype: Do Eye Color, Pupil Diameter, and Scleral Color Affect Attractiveness?. Aesth Plast Surg 36, 234–240 (2012). https://doi.org/10.1007/s00266-011-9793-x
Received:

Accepted:

Published:

Issue Date:
Keywords
Attractiveness

Eye color

Perceived age

Pupil diameter

Scleral color