Abstract
Vaginismus is a poorly understood condition affecting approximately 1–7% of females worldwide. This article aims to bring attention to this disorder and to review the use of Botox injections to treat these patients. Vaginismus, also known as vaginal penetration disorder, is an aversion to any form of vaginal penetration as a result of painful attempts and a fear of anticipated pain. It is involuntary and uncontrolled and functions much the same as any reflex to avoid injury. It is the most common reason for unconsummated marriages. The etiology is thought to be unknown. Numerous papers note a history of religious or strict sexual upbringing or aversion to penetration because of perceived pain and bleeding with first-time intercourse. Sexual molestation may be more prevalent in this group of patients. The Lamont classification is very helpful in stratifying these patients for treatment. Lamont grade 5 vaginismus is introduced. Vaginal Botox injections for the treatment of vaginismus has received increasing attention since the technique was first described in a 1997 case report. Plastic surgeons worldwide with their experience using Botox are well positioned to learn more about this relatively unknown entity and render treatment.
Access options
Buy single article
Instant access to the full article PDF.
USD 39.95
Price excludes VAT (USA)
Tax calculation will be finalised during checkout.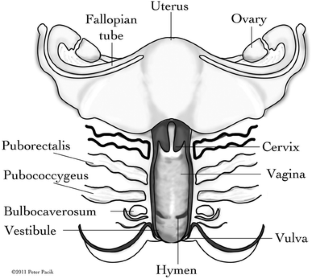 References
Sims JS (1861) On vaginismus. Trans Obstet Soc Lond 3:356–367

Spector I, Carey M (1990) Incidence and prevalence of the sexual dysfunctions: a critical review of the empirical literature. Arch Sex Behav 19:389–396

Lahaie MA, Boyer S, Amsel R, Khalife S, Binik YM (2010) Vaginismus: a review of the literature on classification/diagnosis, etiology, and treatment. Woman's Health 6:705–719

Goldstein A, Pukall C, Goldstein I (eds) (2009) Female sexual pain disorders, 1st edn. Blackwell, New York

Reissing ED, Binik YM, Khalifé S, Cohen D, Amsel R (2003) Etiological correlates of vaginismus: sexual and physical abuse, sexual knowledge, sexual self-schema, and relationship adjustment. J Sex Marital Ther 29:47–59

Graziottin A (2001) Clinical approach to dyspareunia. J Sex Marital Ther 27:489–501

de Kruiff ME, ter Kuile PTM, Weijenborg PTM, van Lankveld J (2000) Vaginismus and dyspareunia: is there a difference in clinical presentation? J Psychosom Obstet Gynecol 21:149–155

Engman M, Lindehammar H, Wijma B (2004) Surface electromyography diagnostics in women with partial vaginismus with or without vulvar vestibulitis and in asymptomatic women. J Psychosom Obstet Gynecol 25:281–294

Binik YM (2010) The DSM diagnostic criteria for vaginismus. Arch Sex Behav 39(2):278–291

Reissing Ed, Binik YM, Khalife S et al (2004) Vaginal spasm, pain, and behavior: an empirical investigation of the diagnosis of vaginismus. Arch Sex Behav 33:5–17

Reissing ED, Hattori K, Davis HJ (2003) Vaginal penetration disorder: an empirically based and clinically relevant alternative for the diagnosis of sexual pain disorders. In: 30th Annual conference of the Canadian Sex Research Forum, Edmonton, AB, Canada

Friedrich EG (1987) Vulvar vestibulitis syndrome. J Reprod Med 32:110–114

Lamont JA (1978) Vaginismus. Am J Obstet Gynecol 131:633–636

Pacik PT, Cole JB (2010) When sex seems impossible: stories of vaginismus and how you can achieve intimacy. Odyne Publishing, Manchester, NH, pp 40–47

Pacik PT (2011) Vaginismus: the Lamont classification revisited. Poster presentation at the ISSWSH Annual Meeting, Scottsdale

Brin MF, Vapnek JM (1997) Treatment of vaginismus with botulinum toxin injections. Lancet 349:252–253

Ghazizadeh S, Nikzad M (2004) Botulinum toxin in the treatment of refractory vaginismus. Obstet Gynecol 104:922–925

Abbott JA, Jarvis SK, Lyons SD, Thomson A, Vancaille TG (2006) Botulinum toxin type A for chronic pain and pelvic floor spasm in women: a randomized controlled trial. Obstet Gynecol 108:915–923

Shafik A, El-Sibai O (2000) Vaginismus: results of treatment with botulin toxin. J Obstet Gynaecol 20:300–302

Bertolasi L, Frasson E, Cappelletti JY et al (2009) Botulinum neurotoxin type A injections for vaginismus secondary to vulvar vestibulitis syndrome. Obstet Gynecol 114:1008–1016

Yoon H, Chung WS, Shim BS (2007) Botulinum toxin A for the management of vulvodynia. Int J Impot Res 19:84–87

Pacik PT (2009) Botox treatment for vaginismus. Plast Reconstr Surg 124:455e–456e
Acknowledgment
A grant received from Allergan provided free Botox for an FDA-approved study group of 30 patients. No compensation was given to the investigator.
About this article
Cite this article
Pacik, P.T. Vaginismus: Review of Current Concepts and Treatment Using Botox Injections, Bupivacaine Injections, and Progressive Dilation with the Patient Under Anesthesia. Aesth Plast Surg 35, 1160–1164 (2011). https://doi.org/10.1007/s00266-011-9737-5
Received:

Accepted:

Published:

Issue Date:

DOI: https://doi.org/10.1007/s00266-011-9737-5
Keywords
Botox treatment for vaginismus

Dyspareunia

Painful intercourse

Treatment of vaginismus

Unable to consummate

Unable to have intercourse

Vaginismus

Vestibulodynia