Abstract
Background
The eyebrow is one of the most important structures of the face from an aesthetic point of view. As age increases, the brow changes its shape and position. This age-related change decreases the vitality, youth, and expression associated with the aesthetically ideal face. This article describes changes in eyebrow position in Indian women with aging.
Methods
This study recruited 80 female subjects for each of the required age ranges (20–30 years and 50–60 years) from the staff and outpatient settings at a tertiary care center in central India. Women who had any condition that could affect the measurements were excluded from the study. Standardized digital photographs in frontal view were captured with the forehead and eyebrows in a maximally relaxed position and with the eyes open. Eyebrow position was determined by measuring from a reference horizontal plane drawn between the medial canthi to vertical points on the upper brow margin at the medial canthus, pupil, and lateral canthus. The result was statistically analyzed.
Results
With aging, the least rise was seen in the lateral segment, which was not statistically significant. This difference was statistically significant at the medial and midbrow positions (p < 0.05). In the younger group, the lateral brow position was significantly higher than the midbrow (p < 0.05). In contrast, the older group showed a nonsignificant difference in the position of the midbrow and the lateral brow. The mean horizontal distance of the brow apex from the midpoint of the pupil for young women was 15.2 mm.
Conclusion
The study results imply that the brow does not drop in women with age. It is recommended that in most instances, the lateral brow should be preferentially elevated, whereas the medial brow should undergo minimal or no elevation. Most patients require brow reshaping by restoration of the brow apex lateral to the level of the outer corneal limbus. By comparing eyebrow shape and position in both young and mature women, this study provides objective data that can be used to plan forehead-rejuvenating procedures in Indian women.
This is a preview of subscription content, log in to check access.
Access options
Buy single article
Instant access to the full article PDF.
US$ 39.95
Price includes VAT for USA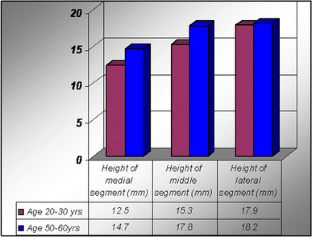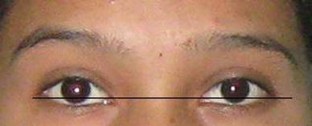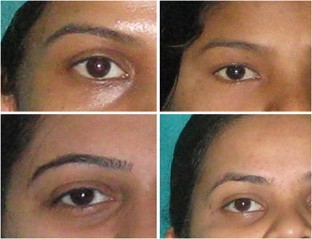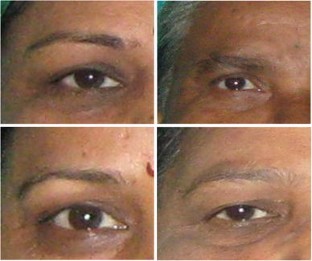 References
1.

Westmore M (1974) Facial Cosmetics in Conjunction With Surgery. Paper presented at the Aesthetic Plastic Surgical Society Meeting, May 1974, Vancouver, British Columbia, Canada

2.

Freund RM, Nolan WB III (1996) Correlation between brow-lift outcomes and aesthetic ideals for eyebrow height and shape in females. Plast Reconstr Surg 97:1343–1348

3.

Coombs AG, Sethi CS, Joshi N (2007) A standardized digital photography system with computerised eyelid measurement analysis. Plast Reconstr Surg 120:647–656

4.

Van den Bosch WA, Leenders I, Mulder P (1999) Topographic anatomy of the eyelids, and the effects of sex and age. Br J Ophthalmol 83:347–352

5.

Matros E, Garcia JA (2009) Change in eyebrow position and shape with ageing. Plast Reconstr Surg 124:1296–1301

6.

Lambros V (2007) Observations on periorbital and midface aging. Plast Reconstr Surg 120:1367–1376

7.

Goldstein SM, Katowitz JA (2005) The male eyebrow: a topographic anatomic analysis. Ophthal Plast Reconstr Surg 21:285–291

8.

Ramirez OM (2004) Subperiosteal brow lifts without fixation (discussion). Plast Reconstr Surg 114:1604–1605

9.

Pessa JE, Desvigne LD, Lambrose VS, Nimerick J, Sugunan B (1999) Change in ocular globe-to-orbital rim position with age: Implication for aesthetic blepharoplasty of lower eyelids. Aesthetic Plast Surg 23:337–342

10.

Pessa JE, Chen Y (2002) Curve analysis of the aging orbital aperture. Plast Reconstr Surg 109:751–755

11.

Troilius C (2004) Subperiosteal brow-lift without fixation. Plast Reconstr Surg 114:1595–1603

12.

Knize DM (1996) An anatomically based study of the mechanism of eyebrow ptosis. Plast Reconstr Surg 97:1321–1333

13.

Ana M, Mehryar T, Malhotra R Robert A (2009) Use of hyaluronic acid gel for upper eyelid filling and contouring. Plast Reconstr Surg 25:440–444

14.

Starck WJ, Griffin JE, Epker BN (1996) Objective evaluation of the eyelids and eyebrows after blepharoplasty. J Oral Maxillofacial Surg 54:297–302

15.

Gunter JP, Antrobus SD (1997) Aesthetic analysis of the eyebrows. Plast Reconstr Surg 99:1808

16.

Flowers RS (1991) Periorbital aesthetic surgery for men: eyelids and related structures. Clin Plast Surg 18:689–729

17.

Baker SB, Dayan JH, Crane A, Kim S (2007) The influence of brow shape on the perception of facial form and brow aesthetics. Plast Reconstr Surg 119:2240–2247
About this article
Cite this article
Patil, S.B., Kale, S.M., Jaiswal, S. et al. Effect of Aging on the Shape and Position of the Eyebrow in an Indian Population. Aesth Plast Surg 35, 1031–1035 (2011). https://doi.org/10.1007/s00266-011-9728-6
Received:

Accepted:

Published:

Issue Date:
Keywords
Aging

Brow-lift

Eyebrow

Indian