Abstract
Background
Transplant surgery has undergone tremendous advances within the last decade. Improvements in surgical techniques, availability of potent immunosuppressive medications, and utilization of more sophisticated post-transplant immunosuppression protocols have revolutionized the field. These developments have resulted in increased allograft survival, prolonged longevity, and improved quality of life in transplant organ recipients. Elimination of steroids in many postoperative immunosuppressive regimens has tremendously impacted the quality of life and physical appearance of these patients. They are living longer and more normal lives than previously considered possible. As a testament to the success of transplantation surgery, many transplant patients are now seeking aesthetic surgery.
Methods
A survey was sent to ASPS members asking about their experience with transplant patients undergoing aesthetic procedures.
Results
Of the 789 (18%) plastic surgeons who responded, 201 (25%) have performed aesthetic surgery on transplant recipients. A total of 278 patients underwent 292 surgical aesthetic procedures and 64 patients underwent 94 nonsurgical aesthetic procedures. The incidence of reported perioperative complications was 3.4%. There were very few additional precautions taken with these patients relative to the general population. With the exception of obtaining medical clearance, these additional precautions were inconsistent among plastic surgeons.
Conclusion
Cosmetic surgery in transplant recipients is being successfully practiced in the USA. Surgical and nonsurgical aesthetic procedures are being performed safely in organ transplant recipients without a significant increase in the incidence or degree of complications. If certain precautions are undertaken, these patients may expect a degree of success comparable to that of the rest of the population.
This is a preview of subscription content, log in to check access.
Access options
Buy single article
Instant access to the full article PDF.
US$ 39.95
Price includes VAT for USA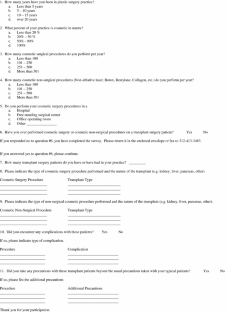 References
1.

Organ Procurement and Transplantation Network/Scientific Registry Transplant Recipients Data as of May 1, 2007

2.

Birkeland SA (1998) Steroid-free immunosuppression after kidney transplantation with antithymocyte globulin induction and cyclosporine and mycophenolate mofetil maintenance therapy. Transplantation 66(9):1207–1210

3.

Birkeland SA (2001) Steroid-free immunosuppression in renal transplantation: a long-term follow-up of 100 consecutive patients. Transplantation 71(8):1089–1090

4.

Ringe B, Braun F, Schutz E, Füzesi L, Lorf T, Canelo R, Oellerich M, Ramadori G (2001) A novel management strategy of steroid-free immunosuppression after liver transplantation: efficacy and safety of tacrolimus and mycophenolate. Transplantation 71(4):508–515

5.

Felkel TO, Smith AL, Reichenspurner HC, LaFleur B, Lutz JF, Kanter KR, Gravanis MB, Johnston TS (2002) Survival and incidence of acute rejection in heart transplant recipients undergoing successful withdrawal from steroid therapy. J Heart Lung Transplant 21(5):530–539

6.

Cole E, Landsberg D, Russell D, Zaltzman J, Kiberd B, Caravaggio C, Vasquez AR, Halloran P (2001) A pilot study of steroid-free immunosuppression in the prevention of acute rejection in renal allograft recipients. Transplantation 72(5):845–850

7.

Freise CE, Kang SM, Feng S, Posselt A, Hirose K, Hirose R, Stock P (2004) Experience with steroid-free maintenance immunosuppression in simultaneous pancreas-kidney transplantation. Transplant Proc 36(4):1067–1068

8.

Oaks TE, Wannenberg T, Close SA, Tuttle LE, Kon ND (2001) Steroid-free maintenance immunosuppression after heart transplantation. Ann Thorac Surg 72(1):102–106

9.

Sarwal MM, Yorgin PD, Alexander S, Millan MT, Belson A, Belanger N, Granucci L, Major C, Costaglio C, Sanchez J, Orlandi P, Salvatierra O Jr (2001) Promising early outcomes with a novel, complete steroid avoidance immunosuppression protocol in pediatric renal transplantation. Transplantation 72(1):13–21

10.

Freise CE, Kang SM, Feng S, Hirose R, Stock P (2003) Excellent short-term results with steroid-free maintenance immunosuppression in low-risk simultaneous pancreas-kidney transplantation. Arch Surg 138(10):1121–1125

11.

Rajab A, Pelletier RP, Henry ML, Ferguson RM (2006) Excellent clinical outcomes in primary kidney transplant recipients treated with steroid-free maintenance immunosuppression. Clin Transplant 20(5):537–546

12.

Jaber JJ, Feustel PJ, Elbahloul O, Conti AD, Gallichio MH, Conti DJ (2007) Early steroid withdrawal therapy in renal transplant recipients: a steroid-free sirolimus and CellCept-based calcineurin inhibitor-minimization protocol. Clin Transplant 21(1):101–109

13.

American Society for Aesthetic Plastic Surgery, Cosmetic Surgery National Data Bank 2006 statistics. ASAPS Communications, New York, NY

14.

Cohen M, Pollak R, Garcia J, Mozes MF (1989) Reconstructive surgery for immunosuppressed organ-transplant recipients. Plast Reconstr Surg 83:291–295

15.

Papadopoulos O, Konofaos P, Chrisostomidis C, Lionaki S, Georgiou P, Vlasis K, Kostakis A (2005) Reconstructive surgery for kidney transplant recipients. Transplant Proc 37(10):4218–4222

16.

Lee AB, Dupin CL, Colen L, Jones NF, May JW, Chiu ES (2008) Microvascular free tissue transfer in organ transplantation patients: is it safe? Plast Reconstr Surg 121(6):1986–1992

17.

Gohh RY, Warren G (2006) The preoperative evaluation of the transplanted patient for nontransplant surgery. Surg Clin N Am 86(5):1147–1166

18.

Whiting J (2006) Perioperative concerns for transplant recipients undergoing nontransplant surgery. Surg Clin N Am 86(5):1185-1194, vi-vii

19.

Foley RN, Parfrey PS, Sarnak MJ (1998) Clinical epidemiology of cardiovascular disease in chronic renal disease. Am J Kidney Dis 32:S112–S119

20.

Brown CJ, Buie WD (2001) Perioperative stress dose steroids: do they make a difference? J Am Coll Surg 193:678–686

21.

Glowniak JV, Loriaux DL (1997) A double-blind study of perioperative steroid requirements in secondary adrenal insufficiency. Surgery 121:123–129

22.

Kehlet H, Binder C (1973) Adrenocortical function and clinical course during and after surgery in unsupplemented gluco-corticoid treated patients. BMJ 2:147–149

23.

Salem M, Tainsh RE Jr, Bromberg J, Loriaux DL, Chernow B (1994) Perioperative glucocorticoid coverage. A reassessment 42 years after emergence of a problem. Ann Surg 219:416–425

24.

Bratzler DW, Houck PM, Surgical Infection Prevention Writers Workgroup (2005) Antimicrobial prophylaxis for surgery: an advisory statement from the National Surgical Infection Prevention Project. Am J Surg 189(4):395–404

25.

Kurella M, Bennett WM, Chertow GM (2003) Analgesia in patients with ESRD: a review of available evidence. Am J Kidney Dis 42(2):217–228

26.

Sehgal SN (1998) Rapamune (RAPA, rapamycin, sirolimus): Mechanism of action immunosuppressive effect results from blockade of signal transduction and inhibition of cell cycle progression. Clin Biochem 31:335–340

27.

Meadows EC, Prudden JF (1953) A study of the influence of adrenal steroids on the strength of healing wounds; preliminary report. Surgery 33(6):841–848

28.

Anstead GM (1998) Steroids, retinoids and wound healing. Adv Wound Care 11(6):277–285

29.

Ehrlich HP, Tarver H, Hunt TK (1973) Effects of Vitamin A and glucocorticoids upon inflammation and collagen synthesis. Ann Surg 177(2):222–227

30.

Wicke C, Halliday B, Allen D, Roche NS, Scheuenstuhl H, Spencer MM, Roberts AB, Hunt TK (2000) Effects of steroids and retinoids on wound healing. Arch Surg 135(11):1265–1270

31.

Phillips JD, Kim CS, Fonkalsrud EW, Zeng H, Dindar H (1992) Effect of steroids and Vitamin A on the healing of intestinal anastomoses. Am J Surg 163:71–77

32.

Poge U, Gerhardt T, Palmedo H, Klehr HU, Sauerbruch T, Woitas RP (2005) MDRD equations for estimation of GFR in renal transplant recipients. Am J Transplant 5(6):1306–1311
About this article
Cite this article
Sweis, I., Tzvetanov, I. & Benedetti, E. The New Face of Transplant Surgery: A Survey on Cosmetic Surgery in Transplant Recipients. Aesth Plast Surg 33, 819–826 (2009). https://doi.org/10.1007/s00266-009-9417-x
Received:

Accepted:

Published:

Issue Date:
Keywords
Cosmetic surgery

Transplant recipients

Survey

Immunosuppression