Abstract
Background
Silicone implants are often used in immediate breast reconstruction. Complications associated with silicone-based implant reconstruction, such as capsular contracture, implant palpability, and visibility, are best avoided by placing the implant under a reliable soft-tissue cover such as the pectoralis major muscle. This muscle, however, is not always sufficient for complete coverage of the silicone implant. This is especially true for large implants. By including the fascia of the upper abdominal muscles in the reconstruction, this problem can be overcome. We describe our experience with one-stage breast reconstruction utilizing the fascia of the upper abdominal muscles to provide adequate soft-tissue coverage of the implant.
Methods
This technique was used in the reconstructions of ten patients over 4 years (2005-2009). This method was selected by the operating surgeon at the time of surgery if the pectoralis major muscle was felt to be of inadequate size to provide adequate implant coverage. The pectoralis major muscle was released from its sternal and caudal attachments to the chest wall. The rectus abdominis fascia and external oblique fascia were elevated as a combined cephalic-based flap. This fascial flap was advanced cranially and sutured to the released pectoralis major muscle after insertion of the implant.
Results
The mean size of the silicone implant was 448.2 cc and mean follow-up was 19.7 months. All implants were adequately covered with soft tissue at the end of each case. Complications included one patient with a hematoma, one patient with skin necrosis at the suture line, and one patient with an implant infection necessitating removal.
Conclusion
There are many ways to provide soft-tissue coverage of silicone breast implants in breast reconstruction. These include acellular dermis slings, polyglycolic mesh, deepithelialized skin, and muscle. The ideal soft-tissue cover would be supple, easily harvested, of minimal morbidity, of minimal cost, and preferably autologous. We feel that the technique described here has these qualities and allows for complete coverage of silicone implants. An additional benefit of this technique is that it helps to increase the definition of the inframammary sulcus. This method is a good alternative in providing implant coverage during breast reconstruction, especially when there is a large implant or small pectoralis major muscle.
Access options
Buy single article
Instant access to the full article PDF.
US$ 39.95
Tax calculation will be finalised during checkout.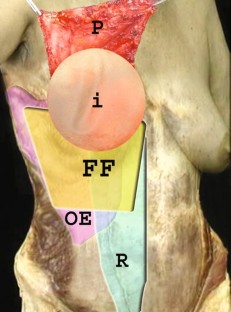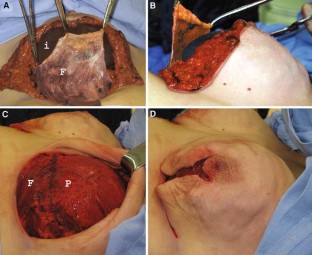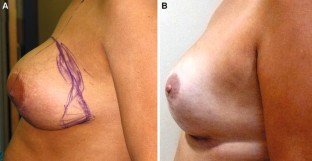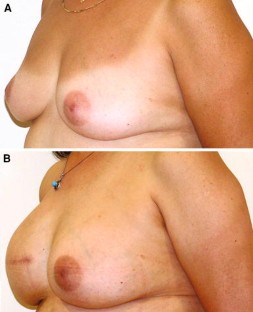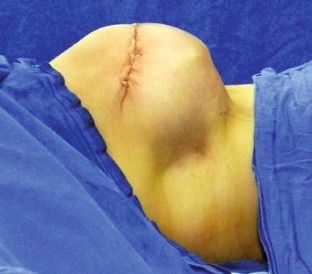 References
1.

Henriksen TF, Fryzek JP, Holmich LR, McLaughlin JK, Krag C, Karlsen R, Kjøller K, Olsen JH, Friis S (2005) Reconstructive breast implantation after mastectomy for breast cancer: clinical outcomes in a nationwide prospective cohort study. Arch Surg 140:1152–1159 (discussion 1160–1161)

2.

Gupta Y, Morgan M, Singh A, Ellis H (2008) Junior doctors' knowledge of applied clinical anatomy. Clin Anat 21:334–338

3.

Wang HY, Ali RS, Chen SC, Chao TC, Cheng MH (2008) One-stage immediate breast reconstruction with implant following skin-sparing mastectomy in Asian patients. Ann Plast Surg 60:362–366

4.

Little JW III, Golembe EV, Fisher JB (1981) The "living bra" in immediate and delayed reconstruction of the breast following mastectomy for malignant and nonmalignant disease. Plast Reconstr Surg 68:392–403

5.

Spear SL, Spittler CJ (2001) Breast reconstruction with implants and expanders. Plast Reconstr Surg 107:177–187 (quiz 188)

6.

Breuing KH, Colwell AS (2007) Inferolateral AlloDerm hammock for implant coverage in breast reconstruction. Ann Plast Surg 59:250–255

7.

Breuing KH, Warren SM (2005) Immediate bilateral breast reconstruction with implants and inferolateral AlloDerm slings. Ann Plast Surg 55:232–239

8.

Gamboa-Bobadilla GM (2006) Implant breast reconstruction using acellular dermal matrix. Ann Plast Surg 56:22–25

9.

Salzberg CA (2006) Nonexpansive immediate breast reconstruction using human acellular tissue matrix graft (AlloDerm). Ann Plast Surg 57:1–5

10.

Zienowicz RJ, Karacaoglu E (2007) Implant-based breast reconstruction with allograft. Plast Reconstr Surg 120:373–381

11.

Loustau HD, Mayer HF, Sarrabayrouse M (2007) Immediate prosthetic breast reconstruction: the ensured subpectoral pocket (ESP). J Plast Reconstr Aesthet Surg 60:1233–1238

12.

Hammond DC, Capraro PA, Ozolins EB, Arnold JF (2002) Use of a skin-sparing reduction pattern to create a combination skin-muscle flap pocket in immediate breast reconstruction. Plast Reconstr Surg 110:206–211
Acknowledgment
We thank Dr. Ryan Katz for his very valuable contributions to the article.
Electronic supplementary material
Below is the link to the electronic supplementary material.
About this article
Cite this article
Isken, T., Onyedi, M., Izmirli, H. et al. Abdominal Fascial Flaps for Providing Total Implant Coverage in One-Stage Breast Reconstruction: An Autologous Solution. Aesth Plast Surg 33, 853–858 (2009). https://doi.org/10.1007/s00266-009-9384-2
Received:

Accepted:

Published:

Issue Date:
Keywords
Autologous breast reconstruction

Implant

Silicon

Immediate

Fascia

Rectus

Pectoralis major

External oblique