Abstract
Background
Minimally invasive procedures for aesthetic surgery have become widely popular, and facial soft tissue augmentation is one of the most common procedures. Various kinds of fillers have been used, and recently the use of calcium hydroxylapatite was extended to cosmetic facial procedures. This article presents the authors' experience with primary and secondary nasal bridge correction using calcium hydroxylapatite (Radiesse).
Methods
This preliminary prospective study investigated the use of commercially available calcium hydroxylapatite (Radiesse) for correction of nasal bridge deformities. Calcium hydroxylapatite was injected on the plane of the periosteum in a retrograde fashion using a linear, threading, fanning, or crosshatching technique. The patients were followed for several months, with the outcome and side effects assessed both subjectively and objectively.
Results
Patients showed a persistence of benefit up to 1 year during the follow-up period, with pleasing long-term results.
Conclusion
Calcium hydroxylapatite (Radiesse) is a useful injectable filler for correction of nasal bridge deformities. Further efficacy studies seem justified.
Access options
Buy single article
Instant access to the full article PDF.
US$ 39.95
Tax calculation will be finalised during checkout.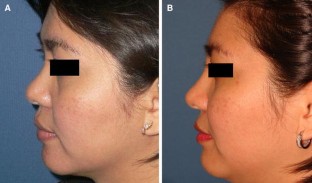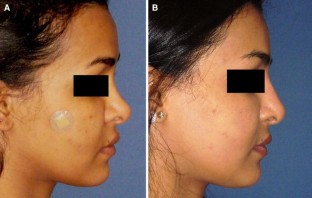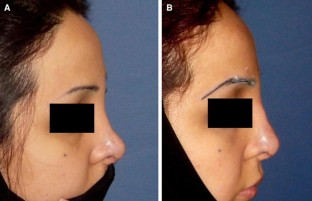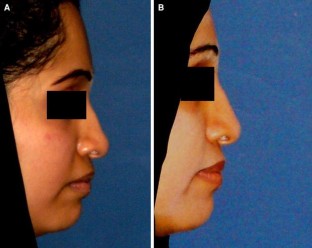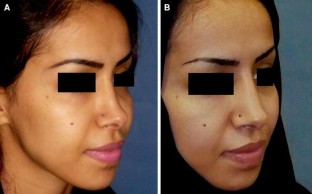 References
1.

Busso M, Karlsberg PL (2006) Check augmentation and rejuvenation using injectable calcium hydroxylapatite (Radiesse). Cosmet Dermatol 19:583

2.

Carruthers A, Liebeskind B, Carruthers J, Forster BB (2008) Radiographic and computed tomographic studies of calcium hydroxylapatite for treatment of HIV-associated facial lipoatrophy and correction of nasolabial folds. Dermatol Surg 34(Suppl 1):S78–S84

3.

Felderman LI (2005) Radiesse for facial rejuvenation. Cosmet Dermatol 18:823

4.

Goldberg DJ (2006) Calcium hydroxylapatite: fillers in cosmetic dermatology. Informa UK Ltd, Abingdon, England

5.

Graivier MH, Bass LS, Busso M, Jasin ME, Narins RS, Tzikas TL (2007) Calcium hydroxylapatite (Radiesse) for correction of the mid- and lower face: consensus recommendations. Plast Reconstr Surg 120(Suppl):55S–66S

6.

Hubbard W (2002) BioForm implants: durability. Bioform, Inc, Franksville

7.

Hubbard W (2003) BioForm implants: biocompatibility. Bioform, Inc, Franksville

8.

Jansen DA, Graivier MH (2006) Evaluation of a calcium hydroxylapatite-based implant (Radiesse) for facial soft tissue augmentation. Plast Reconstr Surg 118(Suppl.):22S

9.

Jones JK (2006) Patient safety considerations regarding dermal filler injections. Plast Surg Nurs 26:156

10.

Marmur ES, Phelps R, Goldberg DJ (2004) Clinical, histologic, and electron microscopic findings after injection of a calcium hydroxylapatite filler. J Cosmet Laser Ther 6:223

11.

Tzikas TL (2004) Evaluation of Radiance FN soft tissue filler for facial soft tissue augmentation. Arch Facial Plast Surg 6:234
About this article
Cite this article
Siclovan, H.R., Jomah, J.A. Injectable Calcium Hydroxylapatite for Correction of Nasal Bridge Deformities. Aesth Plast Surg 33, 544–548 (2009). https://doi.org/10.1007/s00266-008-9281-0
Received:

Accepted:

Published:

Issue Date:
Keywords
Calcium hydroxylapatite

Nasal bridge correction

Radiesse