Abstract
Background
This study aimed to compare the effect of the stabilized novel topical botulinum neurotoxin type A (BoNTA) cream (CosmeTox) and a placebo cream on subjects, to compare clinician-reported outcomes, and to assess the safety and utility of the novel topical BoNTA cream for treating the entire upper face, chin, and neck areas.
Methods
This study randomized 40 female subjects to receive either topical BoNTA (CosmeTox) cream (2 U/ml) or an identical placebo cream (without BoNTA) on the face, chin, and neck areas. The subjects were followed for 12 weeks. The main outcome measures were the Facial Line Outcomes questionnaire scores and results from the Self-Perception of Age instrument, which assesses age of appearance relative to actual age.
Results
The BoNTA topical cream (CosmeTox) treatment produced significant improvements in the Facial Lines Outcome scores, which were maintained throughout the study period and lasted more than 3 months. The BoNTA topical cream treatment also reduced the age of appearance for a majority of subjects. The placebo had no effect on any measure. No serious adverse events occurred during the entire study period.
Conclusion
Topical treatment with the stabilized BoNTA cream (CosmeTox) to the entire upper facial lines resulted in significantly improved facial features and age appearance, as measured by the subjects and clinicians. The BoNTA cream (CosmeTox) resulted in a significantly younger, more satisfying, relaxed appearance.
Access options
Buy single article
Instant access to the full article PDF.
USD 39.95
Price excludes VAT (USA)
Tax calculation will be finalised during checkout.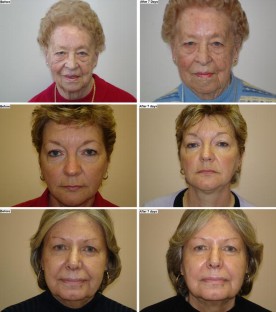 References
Carruthers A, Carruthers J (1998) History of the cosmetic use of botulinum A exotoxin. Dermatol Surg 24:1168–1170

Carruthers J, Carruthers A (1998) The adjunctive usage of botulinum toxin. Dermatol Surg 24:1244–1247

Heckmann M, Teichmann B, Schroder U et al (2003) Pharmacologic denervation of frown muscles enhances baseline expression of happiness and decreases baseline expression of anger, sadness, and fear. J Am Acad Dermatol 49:213–216

Finn JC, Cox SE, Earl ML (2003) Social implications of hyperfunctional facial lines. Dermatol Surg 29:450–455

Carruthers J, Fagien S, Matarasso SL, Botox Consensus Group (2004) Consensus recommendations on the use of botulinum toxin type A in facial aesthetics. Plast Reconstr Surg 114(Suppl):1S–22S

Fagien S (2003) Botulinum toxin type A for facial aesthetic enhancement: role in facial shaping. Plast Reconstr Surg 112(Suppl):6S–18S

Carruthers JA, Lowe NJ, Menter MA et al (2002) A multicenter, double-blind, randomized, placebo-controlled study of the efficacy and safety of botulinum toxin type A in the treatment of glabellar lines. J Am Acad Dermatol 46:840–849

Carruthers A, Carruthers J, Cohen J (2003) A prospective, double-blind, randomized, parallel-group, dose-ranging study of botulinum toxin type A in female subjects with horizontal forehead rhytides. Dermatol Surg 29:461–467

Carruthers A, Carruthers J (2007) Foreword to special issue on botulinum toxin. Dermatol Surg 33:S1–S1

Carruthers A, Carruthers J (2007) Botulinum toxin type A treatment of multiple upper facial sites: patient-reported outcomes. Dermatol Surg 33:S10–S17

Fagian D, Cox SA, Finn J, Werscheller W, Kowalski J (2007) Patient-reported outcomes with botulinum toxin Type A treatment of glabellar rhytids: a double-blind, randomized, placebo-controlled study. Dermatol Surg 33:S2–S9

Rzanzy B, Dill-Muller D, Grablowicz D, Heckmann M, Caird D (2007) On behalf of the German–Austrian Retrospective Study Group, repeated botulinum toxin A injections for the treatment of lines in the upper face: a retrospective study of 4,103 treatments in 945 patients. Dermatol Surg 33:S18–S25

Singh G, Kelly M (2003) Botox an "elixir of youth"? Eur J Plast Surg 26:273–4

Markey AC (2000) Botulinum A exotoxin in cosmetic dermatology. Clin Exp Dermatol 25:173–175

Carruthers A, Carruthers J (1998) Clinical indications and injection technique for the cosmetic use of botulinum A exotoxin. Dermatol Surg 24:1189–1194

Garcia A, Fulton JE Jr (1996) Cosmetic denervation of the muscles of facial expression with botulinum toxin: a dose–response study. Dermatol Surg 22:39–43

Benedetto AV (1999) The costmetic uses of botulinum toxin type A. Int J Dermatol 38:641–655

Carruthers A, Carruthers J, Lowe NJ et al (2004) One-year, randomised, multicenter, two-period study of the safety and efficacy of repeated treatments with botulinum toxin type A in patients with glabellar lines. J Clin Res 7:1–20
About this article
Cite this article
Chajchir, I., Modi, P. & Chajchir, A. Novel Topical BoNTA (CosmeTox, Toxin Type A) Cream Used to Treat Hyperfunctional Wrinkles of the Face, Mouth, and Neck. Aesth Plast Surg 32, 715–722 (2008). https://doi.org/10.1007/s00266-008-9151-9
Received:

Accepted:

Published:

Issue Date:

DOI: https://doi.org/10.1007/s00266-008-9151-9
Keywords